Tired of how your bathroom looks? Maybe you've used all of your budgets in redecorating the whole house, but somehow neglected the bathrooms… And now you're thinking about the ways you can remodel it on a budget, and still make it look like you've sent a lot of money.
The truth is, you do not need an astronomical budget for a luxurious bathroom remodeling as long as you know how to, for example, choose the right colors of the walls. According to foyr.com it is enough to learn how to combine the colors with the appropriate lighting and accessories to create a beautiful atmosphere, and the following suggestions can be well applied to bathrooms of all types and sizes.
1. Refreshing tiles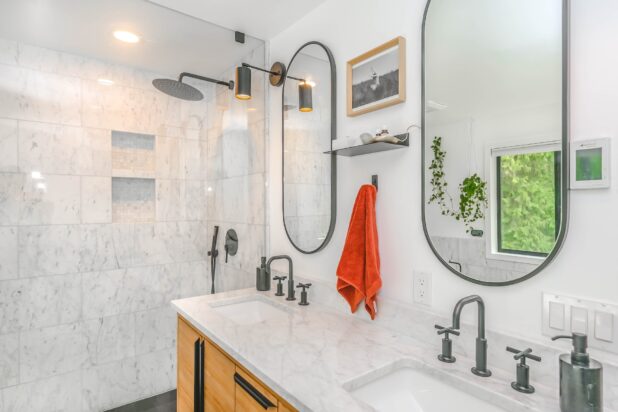 Changing the whole tiles structure in the bathroom is a very expensive investment. What if we told you there's a way to go around? The solution to refresh your tiles quickly and easily… It's called – water-based paint, or to be specific water-based paint for wall ceramic tiles – 3 in 1 system. It is applied directly to the tiles – no primer or sanding of the surface is necessary, all you need to do is wash the tiles well and thoroughly before painting. The paint has excellent adhesion and excellent covering power (when applied with a brush or roller it covers 8-10 m² / l and when applied by spraying 6 m² / l). It can also be applied to ceramic tiles on the walls of the shower tray – which are often in contact with water. Buying multiple colors of this kind will let you combine colors in the shower and in the rest of the bathroom.
2. Repaint the walls
Sometimes all you need for a luxurious bathroom look is a layer or two of paint. If you are skilled in household chores yourself, you don't have to hire masters for that at all, but with the help of tutorials from the Internet, you can also redecorate the bathroom with the help of paint. Choose a color that can be applied in various ways to various elements in the bathroom, such as white, beige, or gray.
Choosing adequate color, or a combination of colors can give a bathroom a whole different look. As well as an entirely new feeling you get when spending time inside. Here are some recommendations of which colors combined with details are best for transforming the bathroom:
Create an elegant bathroom with the help of white paint. White cabinets and surfaces in the bathroom are the basis for creating a bathroom with simple and elegant lines. Use a neutral color of gentle tones and white towels to replicate the look of bathrooms in hotels. See for yourself how important role ordinary details like the color of carpets and towels hanging on hooks play.
Gray is currently the most popular choice when it comes to decorating the bathroom. The choice of this color is quite obvious since it is a color that acts quite soothing and can be easily combined with all other colors. Especially popular is the choice of greige color, i.e. a combination of gray and beige that reduces the sterile appearance of the bathroom.
The most luxurious bathrooms are usually inspired by spas. Simple colors and materials are usually the most popular choice, and the monochrome color scheme is especially popular. It does not necessarily have to be a neutral color, but it can be various shades of blue or turquoise that are currently very popular. They remind you of water, and water relaxes.
3. Bathroom furniture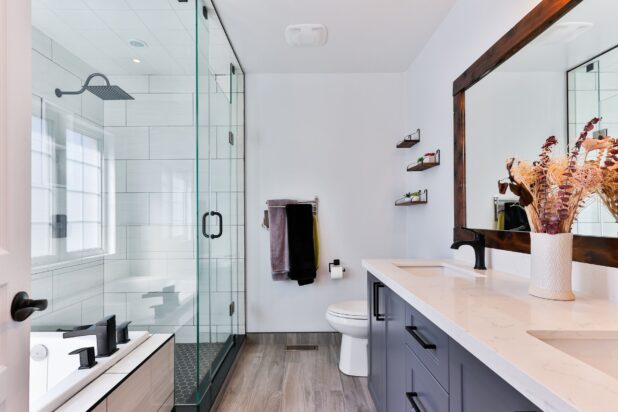 It doesn't necessarily need to be of expensive materials to look expensive. There are alternatives. The best solution is to choose MDF because it can tolerate the presence of moisture, steam, and water, but there are also different combinations of high-quality wood and metal. If the tiles are darker, choose lighter, white, and beige colors and vice versa, if the tiles are lighter, choose gray, brown, or black bathroom furniture to give your bathroom a new look. Closed shelves can make the most of space because they can be placed under doors, radiators, corners, windows, etc.
4. Lighting
In addition to its primary function, proper lighting, like LED lighting also adds a new glow to every part of the bathroom, especially on the mirror, because the mirror is definitely an indispensable part of the decoration of this room. A shelf under the sink can save a lot of space. The idea is many, you can choose the most suitable space for your needs.
5. Choose the right shower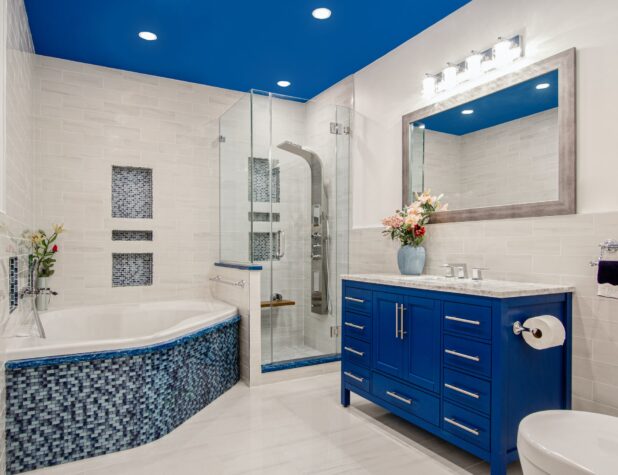 Choose based on the size of your bathroom area. If you have a small bathroom, choose clear glass because the bathroom will look bigger, or choose frosted glass if your bathroom is medium in size. Modern showers are very similar to a jacuzzi, so they are larger in size, especially in terms of depth. What adds to the expensive look is the seating area. With a seating area and plenty of water, you will have a relaxation almost like in a real bathtub.
The bathroom is an essential room for any space – whether it is a private space (such as houses and apartments) or business premises (such as buildings, offices, and other office spaces). Mostly because it's a space where you spend time with yourself. It's so much more than a place to do your hygiene. The modern trend of bathroom decoration has given rise to many ideas whose application can create an extraordinary modern space, an oasis of peace and relaxation. With modern creativity you don't have to spend a lot of money, just combine beauty and practicality. The combination of different colors, patterns, materials, and decorative items will make the bathroom unique. Regardless of the size and available space, any bathroom with a little creativity can look like the cover of an interiors magazine. Just don't be afraid to experiment.
Read Also:
How Much Does a Bathroom Renovation Increase Home Value