If you are renovating your house or especially your bathroom, you might be wondering about the best type of shower head that can help you to not only have an impressive bathroom but also be highly accessible and easy to use.
Your shower time is a relaxing time, and to make it more peaceful and mind pleasing, you must know what the best heads are and how you must choose the best among the rest. If you are looking for the best shower heads, this further article will give you an idea about how many types of showerheads there are and how you can choose the most suitable one for you.
Some of the types of showerheads that you can choose from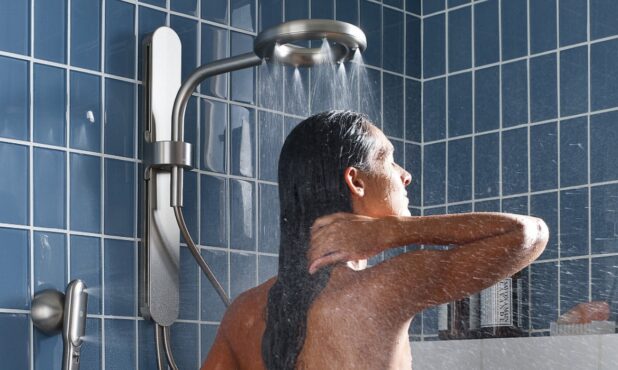 If you are even thinking of replacing the old one with a new one at pocket-friendly prices, you must read further.
Rain Shower Heads
These rain shower heads are some of the most amazing showerheads, and when water falls from them, it looks like it is a waterfall, also known as rainfall showerheads. These vary from size to size. To get a full waterfall experience, you can take the shower head 12 inches or more.
It can easily be mounted from the wall or the ceiling as there are already pipes installed inside your ceiling running; if you want a cost-efficient shower head, you might go for an overhead one, but it generally varies from brand to brand. As it might be on top of your head, it is important to check the water pressure and choose the size according to your bathroom size to look systematic and give you a luxurious bathroom experience.
Handheld showerheads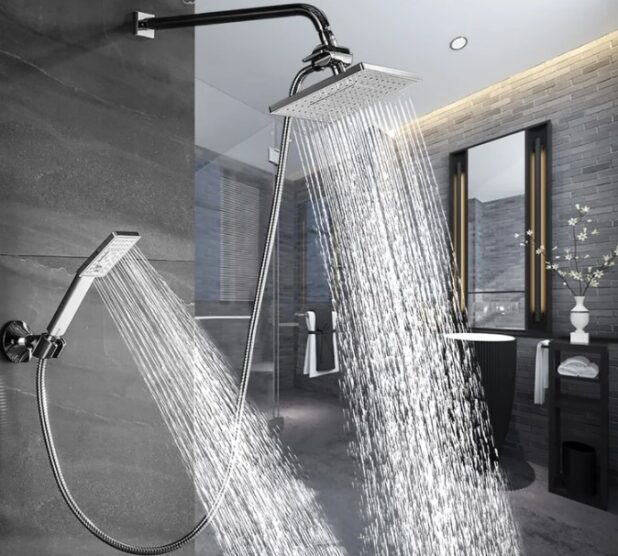 One of the most used shower heads is the handheld shower, and there is a reason behind it, it is highly convenient, and the user can use it at their convenience and control it accordingly. Also, they are not too expensive, so they can easily be bought without taking a lot from your pocket. They usually come in a chrome finish that is highly reflective and gives a luxurious experience.
There are mainly two types of handles shower first is the wall mount one, and another is the flexible hose of metal and plastic. If you already have the mount and hose at home, you only have to buy the showerhead.
Metal ones usually give a luxurious look and also are very cost-effective. One advantage that handheld heads have is that they can easily be roasted to 360 degrees, and other showerheads usually do not have this advantage.
Shower panels
Shower panels are installed mainly on the wall and cover a large part of the wall. It is futuristic and stunning at the same time. Their amazing features such as temperature control, water spurting randomly from various directions, LED screens, etc. These features usually attract a lot of consumers, but one thing that should be considered is that it takes a lot of space.
They also come in different varieties, such as handheld or installed in the wall. It provides enough water for a thorough rinse and makes your bathroom look incredibly chic and luxurious. They are low maintenance, and their unique designs ensure that they don't clog. All these features are incredible, but they can be expensive to install.
LED Shower Head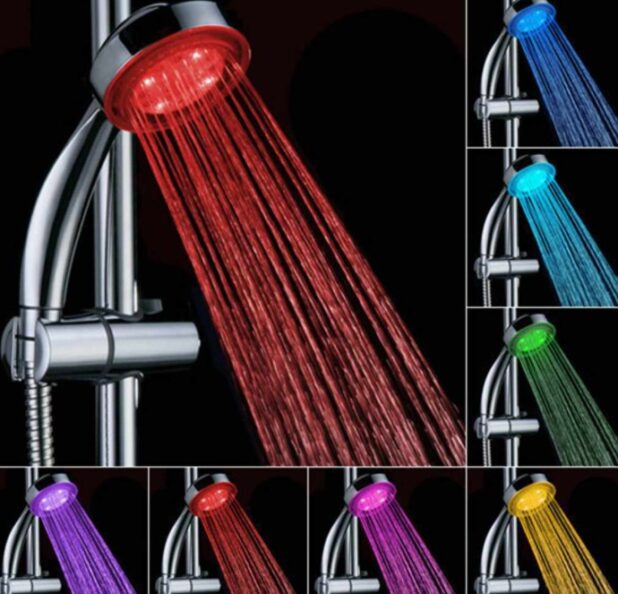 LED showerheads are one of the most futuristic and best for changing your whole bathroom vibes just by changing the lights and giving your bathroom a whole new mood and vibe. It gives a fancy vibe to your bathroom, changes the whole regular bathroom into something highly elegant, and helps you to add a new dimension to the shower experience.
This one will illuminate your shower room with different colors with varying temperatures of water, which will eventually enlighten your mood. If you are looking for one for your bathroom, you can check it out on bad-und-dusche.com, and maybe you will get some other ones that you might find suitable for yourself.
High and Low-pressure showerheads
High and low pressure helps you give a spa-like experience in your own bathroom. It also will give you a soothing, soothing experience without increasing your water bill. If you like to enjoy the high-pressure water to come out from your shower head, you can also go for it. It comes individually also and with dual settings also.
It's designed to features such as rainfall, massage, etc., and also works efficiently in low-water pressure and gives the power of controlling your water pressure which is pretty good. It is a pretty convenient showerhead, but it is more on the costly side, and it is one of the disadvantages that limit its purchase. It can ave your water bill if you use the low-pressure setting, and it requires low maintenance also.
How to choose the best shower head?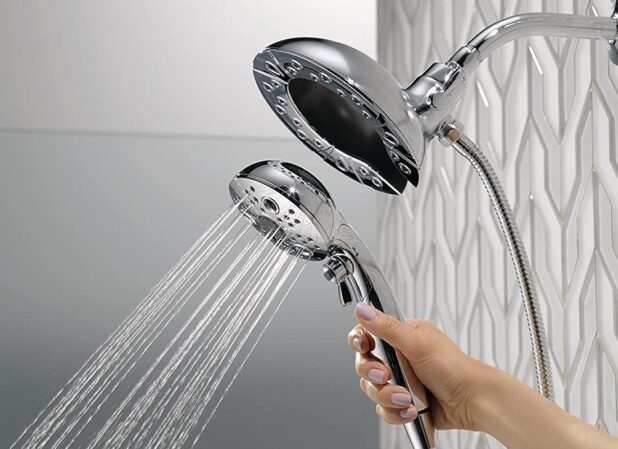 The best showerhead is always the one that will satisfy your requirements and your bathroom type. Many people usually go for fancy and chic-looking showerheads that do not take a lot of space but give an amazing look to your bathroom, and for that, the LED and handheld showers are the best.
If you like the rainfall and waterfall, feel then the waterfall showerhead will be the one for you. If you like to control the pressure of the weather, then the high low pressure will be most suitable for you. Basically, it depends on your choices and your needs, and that's how you can choose which is the best one for you.
Parting Words
Now you might know more about shower heads and how many of them are there in the market. The list shared here is some of the most used ones and are cost-effective, and have low maintenance.
If you are thinking of adding a chic and elegant showerhead to your bathroom, this article will help you a lot to make the right decision and give you the best bathroom and the amazing new look which you always wanted.