When renovating at home, you should pay enough attention to every possible detail, including the lighting in all the rooms, and of course, in the kitchen too. No matter if you have a separate kitchen, or it's connected to the dining room, proper lighting will enhance the whole experience while cooking, decorating the food, and taking great shots for your food blog or Instagram page. In general, we can group the types of lighting into three groups – ambient, task, and accent lighting, but there are many sub-types, that are made to customize the whole fixture at your home, and it combines different shades, colors, tones, and technologies too, for the best possible solutions.
You can get plenty of ideas on how to combine the lights and the cabinets if you visit this website, and get inspiration on how to renovate and plan the whole project too. Also, you have to plan the expenses, so you can better determine the budget you need. Never forget to include the lighting in your plan, because even though it seems like replacing a few things only, it sometimes needs more time to be fixed, especially if the whole installation is old, and needs some upgrades to be safer for use.
When choosing appropriate lights for your kitchen, you have a unique chance to combine the functional side, and to make it all look attractive. You should take care of the working surfaces to be nicely illuminated, which is your top priority. But, if this room is visible from the living room or dining room, then you can pay more attention to the aesthetics, and choose a beautiful, but still functional fixture. Here are a few ideas for the best kind of lighting for it:
1. Recessed type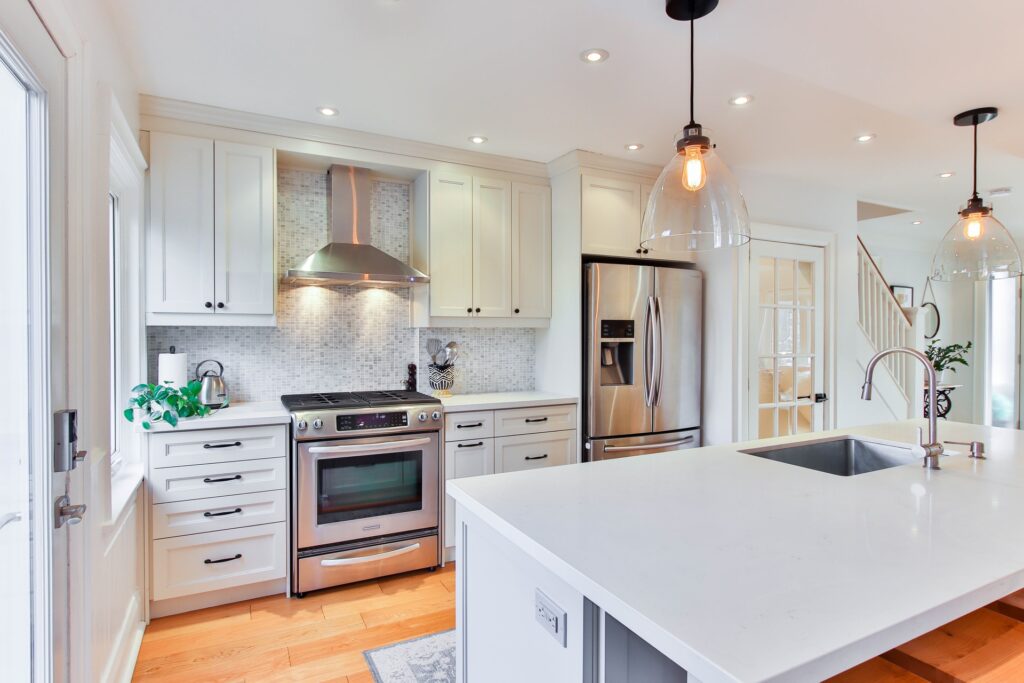 It's a great idea for general lighting, but at the same time, it's focused on important surfaces, like the worktable, the sink, the stove and microwave oven, and over the refrigerator. There are a few smaller lighting fixtures that are tactically placed on the ceiling, and you can combine traditional bulbs, halogens, or LED lights, depending on what you want to accomplish. They can be an excellent solution when you have to enlighten all the crucial parts of the kitchen, without using separate switches to turn them on.
2. Ambient lights
This is a very popular approach when you choose the lighting for your kitchen. First, you have to determine how much of the natural light is getting in during the day, and then try to accomplish the same thing when it's dark outside. These lights are glowy, and they have a more decorative purpose, and when you need to work and cook, you will have to use additional lighting too, because the ambient type is simply not enough when it comes to cooking and preparing meals in the evenings. On the other hand, they work great when you eat, especially if your dining table is placed in there.
3. Direct lights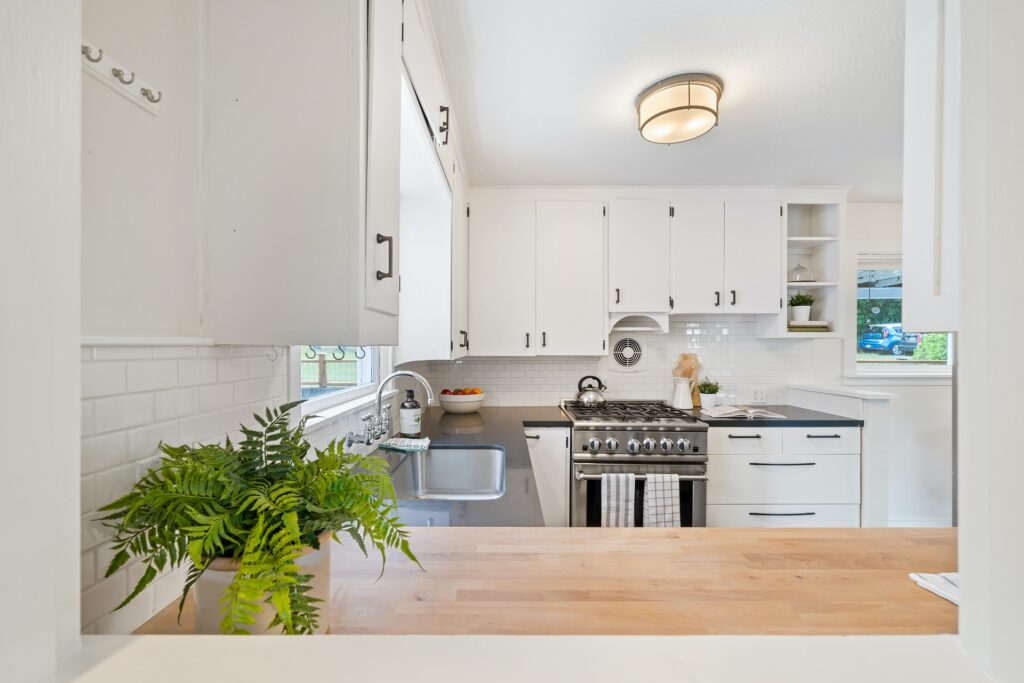 This is the easiest way to ensure you will get an enlighten room. Just use the traditional lights, and place them over the spots you use most. You can choose LED lights, as the most economic choice for those who want to save some money, even when they have a whole redecoration project planned.
4. Decorative lights
Why not? They can add a stylish dash on everything, and still be functional when you need them for work. You can go for ceiling fixtures when it comes to general lighting, but you can surely combine it with decorative designs, that come in different shapes and sizes. You only have to make sure they fit the rest of the design in the room, so you can avoid overdoing the whole thing. For example, you can put pendants over the kitchen island, and you can even make them adaptable from highly-functional to ambient – it's your choice.
5. Multiple fixtures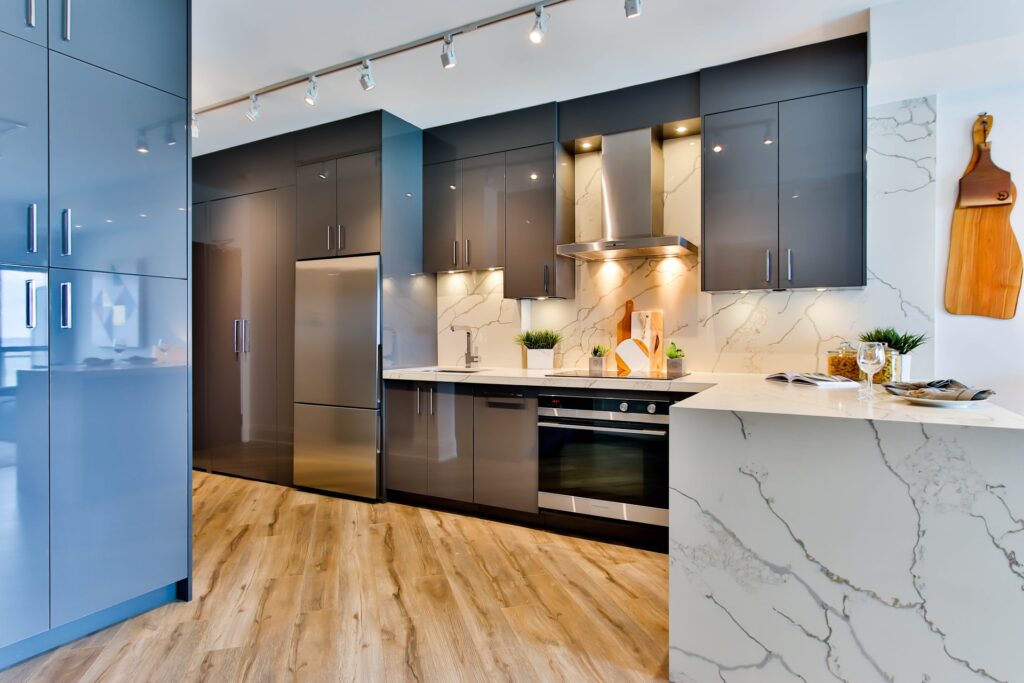 You can improve the illumination over the important spots in your kitchen by using multiple fixtures that will focus the light just where it's needed. Also, you can combine with ceiling fixtures, for the best lighting, especially if there isn't enough daylight during the day.
6. Different colors of the bulbs
We don't mean you have to put red and green lights in the kitchen, but if white light doesn't seem enough for you, you can replace it with the yellowish bulbs, or combine them both, until you see what works the best for you. Also, if you want to experiment with different colors, you have to be aware it's a very brave step you will have to take, and you should do that with a lot of love and taste, and always know what do you want to accomplish.
7. LED lighting tapes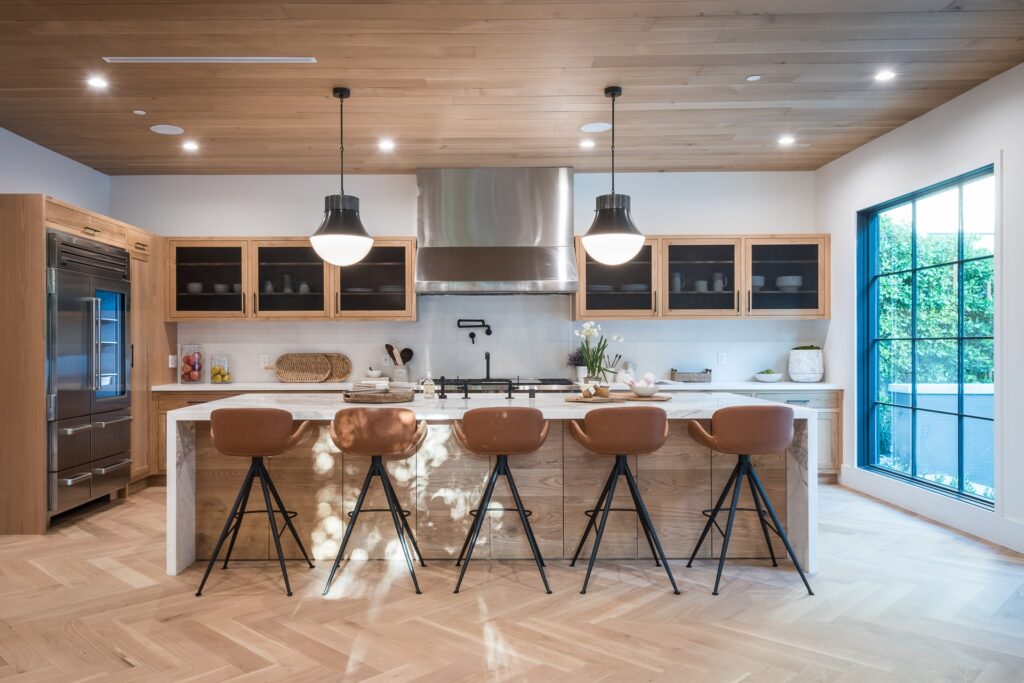 This is an excellent way to provide enough light in the kitchen in the evenings, and you can place the tapes on the upper part of the cabinets, making sure they provide enough light for them, so you can always find everything you are looking for. The best thing is that this type of lighting is maybe the most affordable and eco-friendly too.
Many people forget to include the lighting expenses when they plan the renovation budget in advance. Sometimes we decide to keep the current solution in every room because the redecoration and renovation can be pretty expensive, and we try to save money on everything we can. But, even if you don't replace the current fixtures, you have to maintain them regularly, because many problems with the electricity come from the lighting installation, without us being aware of that fact.
Furthermore, if you still don't have an inspiration, our recommendation is to take enough time to visit a few stores, or even look for some ideas on social media, like Pinterest, and then consult with a professional if it's possible to install something like that at your home. Renovation can be pretty exhausting, but surely it's possible to do that with huge pleasure, especially when you know exactly what do you want.