Flower arrangements are adding romance and attractiveness, so it is not strange to hear that brides want them on their wedding day. They can enhance the overall wedding and make it look like a fairytale. Every bride wears a special flower bouquet and flowers as hair accessories, however, flower arrangements are also set to the ceremony venue and reception area to create a beautiful decor. They are added to the wedding cake as well.
There is a wide range of different options when it comes to flower arrangement, including different colors, flower types, etc. Therefore, we can understand that selecting the right flower arrangement is a difficult task. Because of that, you are going to need the right florist that will help you achieve the perfect florals for your big day taking into consideration both your desires and budget. In order to find the right florist, you need to ask a couple of questions, so you can be sure that the two of you are on the same page and that she is the right person to hire.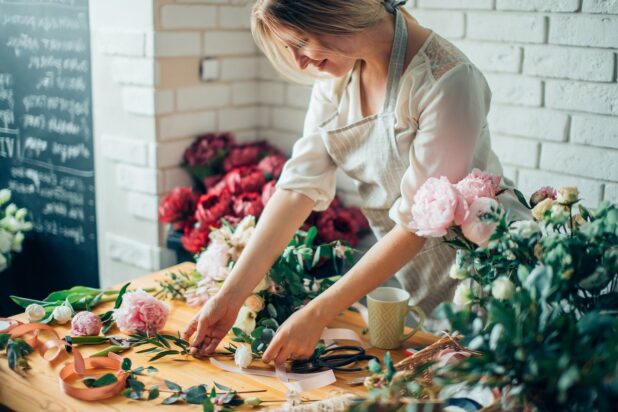 Are you available on my wedding date?
The crucial question you need to ask your potential wedding florist is whether or not the person is available for your wedding. In the case the person is not available, you should not have the reason to continue with the interview and other questions. However, you can ask whether that florist knows someone good and gives you some recommendations.
Ask your florist about the experience
Experience truly counts whatever the service someone is offering to you. Therefore, once you find out that a florist is available on your wedding day, do not forget to ask how much experience the person has with flower arrangements for weddings. One more thing that you can do is check the social medial pages or website if the florist has and see the previous work. Despite that, ask how many weddings the person handled and whether she or he worked with the same style of a flower arrangement as you want for your wedding theme. Do not be shame to ask for pictures of their work as well.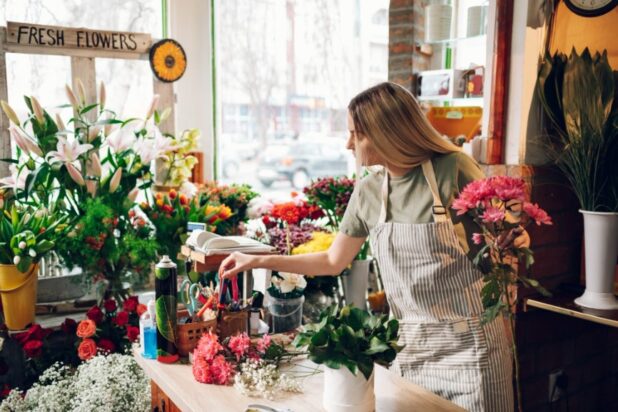 Ask the florist about the prices
Money is the factor that matters a lot when it comes to weddings. Since you are going to spend a lot on your big day, it is important to have a strict budget for everything, so you can achieve to provide yourself with everything that you wanted. Therefore, ask the florist how much he or she is charging for the service. If that is too expensive for you, you can ask whether the florist can offer you some ideas for achieving the wanted look within your budget limit.
You should be honest when it comes to your expectation and budget because, in this way, the florist can come up with some options for you. There are so many different factors that can affect the current price such as choosing flowers that are out of season, some extraordinary and complex arrangements, etc. You can easily find some alternatives and minimalize the price.
Ask the person how she or he would describe the floral design style
All experienced and professional wedding florists have usually worked with so many clients that asked for different floral designs and styles. Therefore, in most cases, if you ask for something specific when it comes to design, the florist will know how to achieve the wanted look. On the other hand, there are some florists who specialize only in a certain type of floral design, therefore you must check this information and see whether the person's work will suit your aesthetic sense.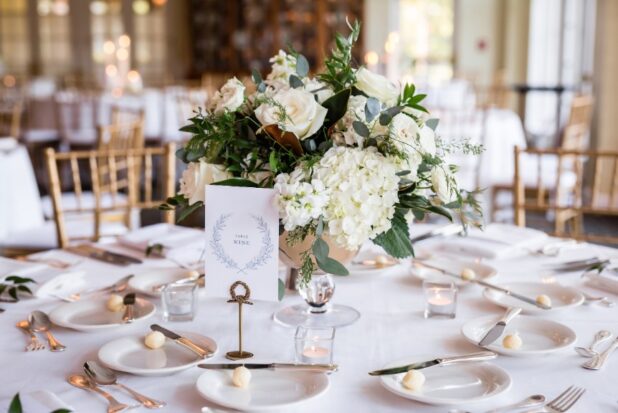 Ask the florist for the portfolio
You must check out what the florist has to offer you. Therefore, be free to ask for examples of the previous work. Every professional person will already prepare a portfolio for the interview to show the work. In that way, you will ensure that the work of that person is matching your taste, wedding theme, and floral arrangement vision.
Ask – which flowers do you recommend given my color scheme, vision, and budget?
Before you go and visit the florist, you can look at some flower arrangements on the Internet and collect some good ideas and see what you want and what you like. Once you start talking with your florist, you two need to be on the same page and understand each other when it comes to ideas for your big day.
Logically, after you suggest your ideas and tell about your vision, you should let the professional do the job. Most important of all, you need to trust her or him when it comes to choosing the best blooms that will work best for your wedding theme and overall style. You can match different colors, and different types of flowers and make your arrangement very authentic and unique.
Ask about schedule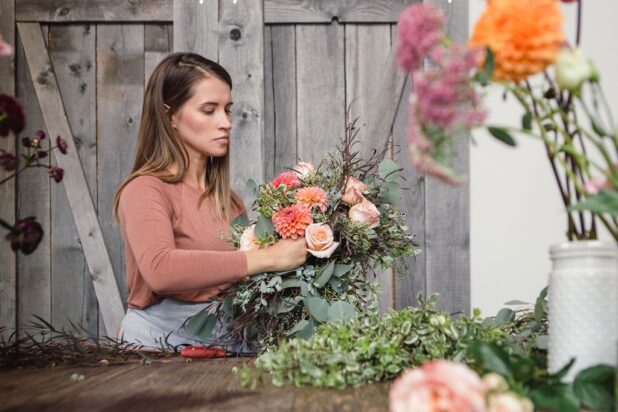 One more important thing that you need to do is to book the florist about 6 months before the wedding date. This especially counts in the case you want some flower arrangements or blooms that are going to be out of season. In that way, the florist can find them and keep them for you until your wedding day. Additionally, if the person can not achieve your goals until that date, you will know that you can not work together. If everything goes right, you must ask when the flower arrangements are going to be delivered and set up.
Ask whether they are having insurance
In most cases, people forget about this because they are so focused on many different things regarding their big wedding day. However, many venues are expecting that vendors and suppliers have liability insurance. Because of that, check with your venue and the person you want to hire as your florist about this type of requirement.
Conclusion
If you do not know where to start searching for the perfect florist that will provide you with beautiful and romantic flower arrangements that will bring your wedding to life, check the experienced sunbury florist on amazinggrazeflowers.com.au. You can be sure that your dreams are going to become reality!