Weddings are all about creating precious memories you'll cherish until your last day. Capturing it on camera is the best way to preserve those moments forever – something that's best done via a photo booth!
It's a practical, fun, and affordable way to create beautiful memories for your wedding's photo album. Hiring one is also quite affordable – there's an option for every budget out there!
Here's how the prices vary depending on the features, size, and type of photo booth you're planning to rent out for your special day.
Depends on the type of booth you're choosing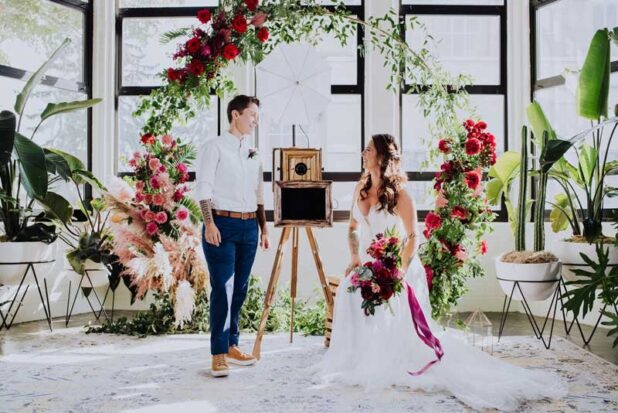 There are many different types of photo booths you can hire for your wedding – from modern, open-air "booths" to classic designs, the options are limitless! They're all priced quite differently, which makes it difficult for us to provide an exact estimate. We advise you to do your own research and look into photo booth rentals near you to be able to decide on the budget in time for your wedding.
Either way, they're one of the most fun activities you can provide for your guests besides dancing. No matter which type you choose to hire, we're certain they'll be a hit among everyone attending!
Again, the more features you want to include in your photo booth experience, the higher your budget needs to be. Sometimes paying a few extra dollars for props and special effects is worth it, especially if you're having a large wedding. Make sure you check out all available photo booth trends for the best possible results – there's a wide range of features to choose from out there!
Most photo booths have hourly price ranges
If you're working with a tighter budget but you'd still like to include a photo booth in your wedding agenda, no need to worry! Most of these services come with hourly price ranges to accommodate a large variety of wedding budgets. You probably won't need the booth to stay there for the entire day anyway, especially if you're having a smaller, more private reception.
Now, even though the exact pricing depends on your location, supplier, and the features of the booth itself, average prices range from around $500 for 3hr rentals to around $700 for 5hr ones. Again, make sure you've browsed through different options before you settle for an offer – comparing different prices and suppliers is the best way to go about it.
It's your wedding after all, so there's no need to rush into making a decision – you'll want everything to be as perfect as you've imagined it. Talk to different suppliers until you've found something that suits your needs and your budget properly.
Depending on the photo booth items you want to be included in your package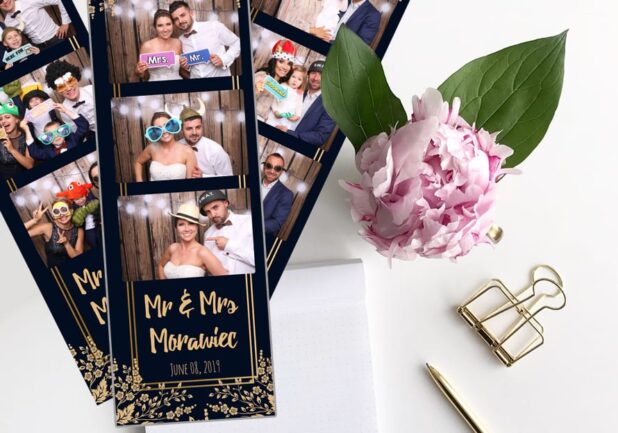 Additional props and features such as a DVD of all images, flipbooks, and social media integration will all cost some extra money. If you have a limited budget to work with, it's best to focus on a single feature you'd like to have the most. Prioritize what matters to you, and don't settle for less than that!
Now, we're not saying you should cut on your other wedding expenses just to be able to afford extra props for your photo booth – just having one at the reception could be enough to entertain your guests and capture beautiful memories from your special day. However, if you'd really like to go all out with it, make sure you check out all the available options – there are many fun features to choose from!
Overall, the price at which you'll be able to hire a photo booth will depend on your specific needs and preferences. If you'd like to have as many extra props and features as possible, you'll need to pay a higher price for your photo booth.
Depends on your supplier
Different photo booth rental services have different prices for their services. The price mostly depends on the quality of their booths, as well as their popularity on the market. You don't have to go for the most expensive service out there, but make sure to check their reputability and trustworthiness either way.
If you'd like to follow the most popular photo booth trends at the moment, you can click here to view more. Get inspired by other people's experiences, and choose your supplier as carefully as possible. It will all be worth it once your special day arrives!
We recommend reading reviews and ratings online, as well as asking other couples about their experiences (if you know any). All of this may seem like a lot of work for such a small part of your wedding, but it's something that will pay off eventually.
 Photo booth attendants are an extra cost to think about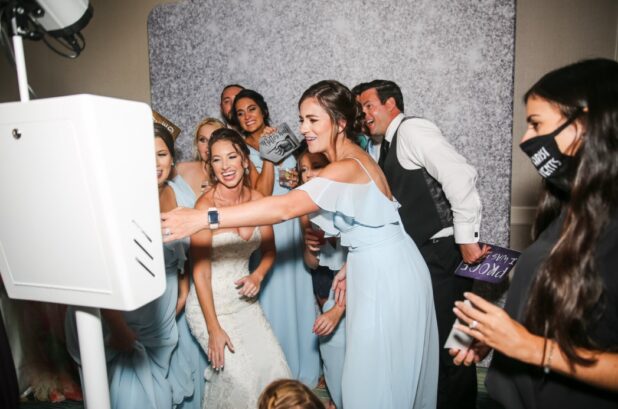 Having a photo booth attendant present at your reception is usually not included in the rental price – it's something you'll need to pay for separately. Whether this is necessary or not is up to you to decide, but it's what's recommended for bigger weddings.
Photo booth attendants can help your guests feel more comfortable using the service, as well as provide immediate assistance if something goes wrong with the booth. They can also assist you in closing the booth during the appropriate moments at your reception, so nobody misses any crucial parts of the wedding such as your first dance or your loved one's heartfelt speech.
Of course, again, if you don't have the budget for it, there's nothing wrong in choosing not to hire an attendant for your photo booth – it's your wedding and your choice.
The bottom line
The average amount people spend on a wedding photo booth is around $500-$600. If you, on the other hand, want to follow the most popular photo booth trends at your wedding, expect to pay somewhere around $1000 for the "premium" experience. Whatever you choose, make sure it's the option that fits your needs and preferences the most – everything else is less important.
We hope our article helped you choose the best option for your wedding and we wish you many beautiful moments on your special day!