Flowers have been part of weddings for many years now, but they are not necessary for you to tie the knot. While they look pretty and smell good, they could also represent waste and a large investment. Some couples stay away from cut flowers due to sustainability reasons, while others are simply not a fan of them. Whatever reason you find to cut off flowers from your wedding budget, we have some cool ideas you can use to replace them and host a flower-free wedding.
Since planning a wedding without flowers is not common, you must get creative with decorative elements. Start by choosing your theme and color palette; from there, you can incorporate natural elements like wood, glass, candles, and so on. Mixing different textures and colors is a great idea to create the effect flowers usually make.
1. Statement Pieces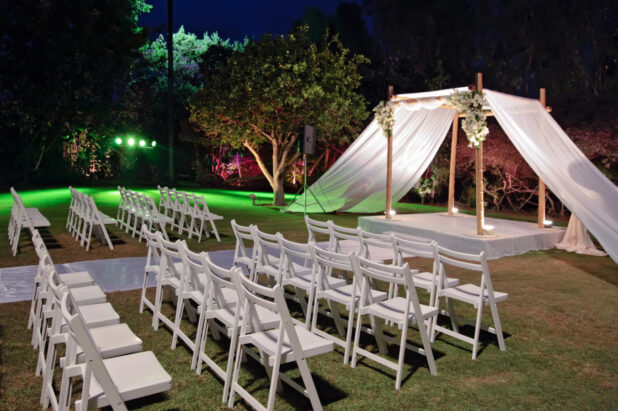 Florals are usually the wow factor for many weddings; you can see amazing and very expensive floral walls or hanging installations. But you can replace them with other elements that will not end up in the trash can the very next day. For example, you can rent and learn how to make a chuppah, and it is easy and less expensive than any floral installation you can think of. As a result, you will have a beautiful setting for your ceremony or perhaps your honor table, all without the associated cost.
You can also incorporate a majestic entrance with pipe and drapes you can DIY; you will instantly transform the whole wedding venue without any flower involved. And you can add the design of your preference with single and double valance drapery and many other options.
2. Greenery
For those who want some nature in their décor without adding blooms, greenery is the ideal alternative. You can incorporate garlands or glass vases with single stems of your favorite varieties. And the best of all is you will find the perfect ones for every season and style. For example, a winter wedding will look amazing with the pine tree, a summer wedding with some tropical leaves, and a fall celebration with orange and red maple leaves.
Combine greenery with lights or candles to make them stand out and fill the spaces you might have on your tables. You can even have a green wedding bouquet and boutonniere. Get creative adding ribbon or fabric to your centerpieces and bouquet.
3. Fruity Centerpieces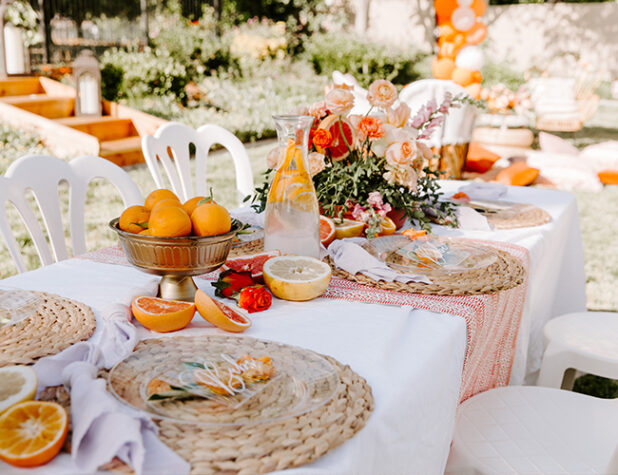 Long before flowers made their center appearance on wedding tables, the fruit was the item of choice for families organizing weddings. It is a great idea if you want to avoid waste at your wedding. Fresh fruit will serve not only as a centerpiece but as an appetizer or snack. In addition, it will look beautiful if you choose fruit and veggies within your color scheme.
You can have it whole or sliced and place it on glass or wooden fruit bowls. Try to find vases with different shapes and sizes to give your tables some dimension and structure. You can also place the fruit right on the table runner or tablecloth.
4. Light up Some Candles
Candles are usually a complement to floral centerpieces, but you can make them the centerpiece of décor. Find block candles in different sizes and even colors and place them in unique candle holders matching the rest of your décor. If you are hosting an elegant and luxurious wedding, taper candles are the best option for you.
They can be part of your ceremony, too; pillar candles will look amazing on the sides of your ceremony arch or table. Complement them with taper candles in various heights, and do not forget to place them inside candle cylinders to protect the flame from the wind and your tables from wax.
5. Plants and Pots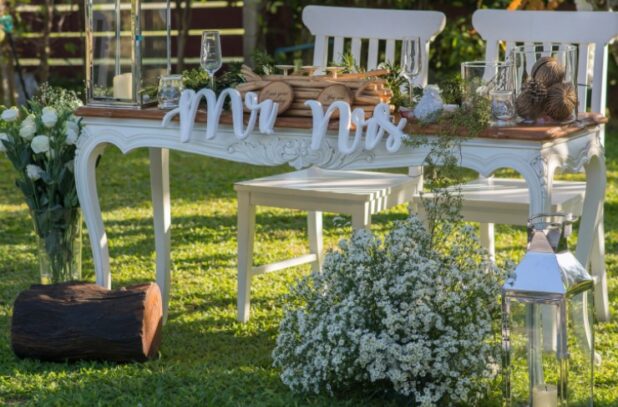 If you love flowers but cannot stand the idea of cutting them only to display them as decorative elements for your wedding, we have the right alternative for you, potted plants. You can choose your favorite seasonal flowers and aromatic plants to place them inside cute pots along with your tables, they will serve as centerpieces, and you can encourage your guests to take them once the night ends. They will be a beautiful and alive reminder of your marriage, and your guests will watch them grow just like your love.
6. Feathers and Pearls
For couples aiming to host an elegant wedding without any floral décor, you can make beautiful centerpieces by combining tall crystal vases with unique feathers in the colors of your wedding theme, and you can also add other materials such as pearls, stones, crystals, and beads. So get creative and find ideas online to make this DIY project to the next level and save some money.
7. Paper Flowers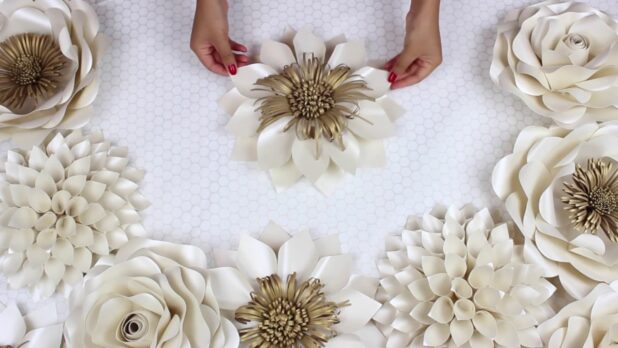 Floral patterns can be part of your wedding decoration without actually having natural flowers. For example, you can order DIY paper flowers for an incredible photo backdrop or serve as centerpieces. There are many different styles and materials you can choose from to adapt them to your wedding theme and aesthetic. Plus, you can repurpose them or store them for your next birthday celebration.
8. Lighting Décor
Lighting is more than a necessity; it is a decorative element for your wedding. You can add vintage and sparkly chandeliers, market string lights for a rustic wedding, or fairy lights to create a magical and romantic atmosphere. You do not need much time or money to decorate your entire venue since you can rent the lights and set them up yourself.
A monogram projector can replace floral statement pieces, and it will print your personality to your wedding venue. You can order a personalized design with your preferred font and add the date of your wedding. Then, install it and aim for a wall you want to stand out from the rest of the venue; it will look amazing on your wedding photos.
There are many alternatives to stay away from the high cost of fresh flowers, and your wedding will not only be memorable but unique. The only thing you need to do is let your creativity loose and find the style that matches your wedding theme. We offer many alternatives to embellish any wedding venue or complement its beauty. For more DIY advice visit our wedding blog for helpful articles & tutorials.