Women who dye their entire hair blonde or have blonde highlights often experience discomfort in the form of unwanted yellow and orange tones on their hair. Sometimes it happens immediately after painting, because it is a bad choice of the salon. However, platinum tones cannot keep their shape for long and it slowly starts to lose its shine after a while. It usually happens after two weeks, but it all depends on how often you wash your hair.
However, blondes do not have an easy task, but there is a solution to the problem. You don't need a lot of effort, money and time to keep your color fresh. All you need is purple shampoo. If you want to know more about it, how it is used and who it is intended for, continue reading the text.
What is purple hair shampoo?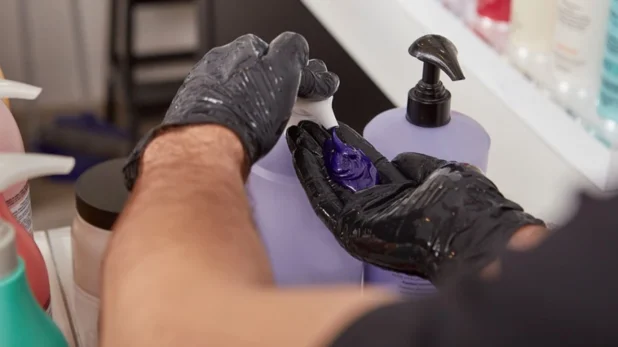 It's a purple shampoo, but don't worry, your hair won't turn purple! This color is used for a reason, because the purple pigment eliminates yellow, warm undertones and thus refreshes the look of your hair. Therefore, the shampoo works according to a very simple principle – purple color is the opposite of yellow, which is why it neutralizes warm tones on bleached hair. Just as the green concealer hides red pimples on the face, the shampoo works on orange tones. By mixing, opposite colors "cancel" each other, that is, they soften each other's intensity.
The end result is a silver shine, which is why this product is also called silver shampoo. The intensity of the color depends on the amount of product you have used, so you should be careful. If you make a mistake with the dose, you can have the exact opposite effect. An excessive amount of opposite colors creates a black, brown or dark gray shade. Although it can be used on any hair color, it is specifically designed for blonde hair.
Does it matter which purple shampoo I use?
Since there are several different brands, you should take your time to decide on the product that best suits your hair color and type. Before you buy them, read their ingredients and the manufacturer's instructions. Do not forget to look at the reviews, because customer feedback will be of great importance to you. For example, if you dyed your hair just three weeks ago and want to maintain the color, buy a milder version of this shampoo. It is recommended to use darker tones once a week if you want to keep yellow tones away from your hair. That way, your hairstyle will look fresh for a long time.
Is purple shampoo only for blondes?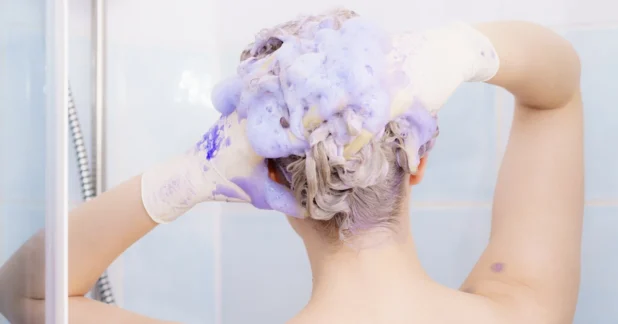 This shampoo is intended for dyed blonde hair or blonde highlights, but everyone can use it. It is completely safe for other colors and types, but it will not make any difference on dark hair. We have to mention that it only neutralizes warm tones on dyed hair. So, if you have naturally red or warm brown hair color, don't try to pull out the gray strands. You can try, but you won't achieve anything. However, it is not intended exclusively for bleached blonds. You can also use it if you are painted in darker shades of blue. This means that they can use it even if they want to give their hair an ashy tone. If you still have any doubts about this topic or we have not answered some of your questions, find out more at www.herabeauty.sg or visit the nearest hair salon.
How to use purple shampoo?
The first rule is to always protect your skin, and that means wearing gloves. Also, be careful not to get the shampoo in your eyes or other parts of your face. Don't worry, because it won't damage your skin. The reason for wearing gloves is the purple pigment that sometimes wants to stay longer on the skin. It is particularly difficult to wash off the nails. Shampoo stains are just as dangerous for your bathtub or shower. Therefore, you should clean it immediately after washing your hair, as purple shampoo can leave permanent stains. After putting on the gloves, you can apply shampoo. It is not applied directly to the scalp. First, apply the product to your palms and rub your hands together. Only after that you can apply it to your hair from root to tip. Repeat this process until foam forms. Be persistent on the parts that are yellow to completely eliminate unwanted yellow tones. Purple shampoo does not wash off immediately unlike most traditional shampoos.
Leave it on your hair for up to five minutes and then rinse it off. If you want a subtle toning effect, rinse off the shampoo immediately, but if your goal is intense toning, delay rinsing. The next step is to apply the conditioner. It is important not to skip this step, as purple shampoos are quite drying. Therefore, she needs additional hydration. You can repeat the hair toning procedure every week or more often. it all depends on your hair type and shade. In order not to get a purple tint on it, try to dilute the use of shampoo.
Do I still need regular shampoo?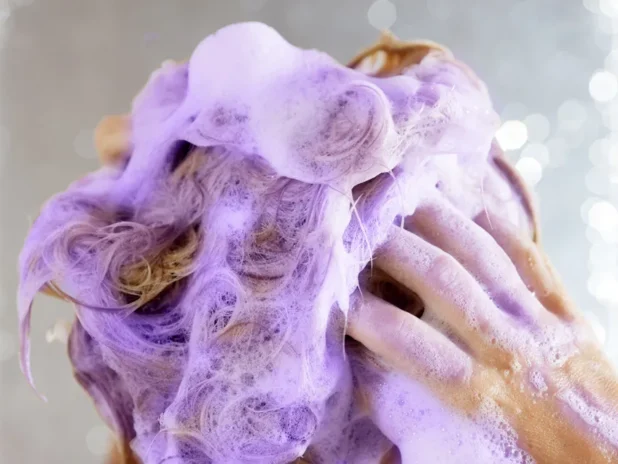 Purple shampoo washes your hair and cancels yellow tones at the same time. It will clean the scalp well just like any other shampoo. After using it, you should not use ordinary shampoos to wash your hair, because you will only cancel its effect. So, use regular shampoo on days you don't use purple shampoo, but never together.
Conclusion:
Every blonde should include purple shampoo in their daily routine. Yellow hair looks very messy in the world of ravishing blondes. Chemically treated hair requires much more care than natural hair. Make sure you provide her with everything she needs. In addition to the appropriate purple shampoo, find the right care. Hydration is very important in this process, and your chosen hairdresser will help you the most. He will give you many useful tips that will contribute to an even better look of your hairstyle.