White shirt is well-known for its versatility – it can be styled in a multitude of ways, combined with most other items in your wardrobe and worn for a variety of occasions. There is no shortage of advice on internet for styling a white shirt but some of these tips should really be taken with a pinch of salt as not to overdo it and end up looking ridiculous instead of stylish.
Of course, no rule in fashion is absolute. Rules are there to be broken but as the famous saying by Audemars Piguet goes: "to break the rules you must first master them". This is a list of the most common mistakes people unknowingly make when styling an elegant outfit with and around the white shirt. It does not mean, however, that a rule or two should not be broken occasionally to express one's personality and sense of style.
1. Avoid Clashing Styles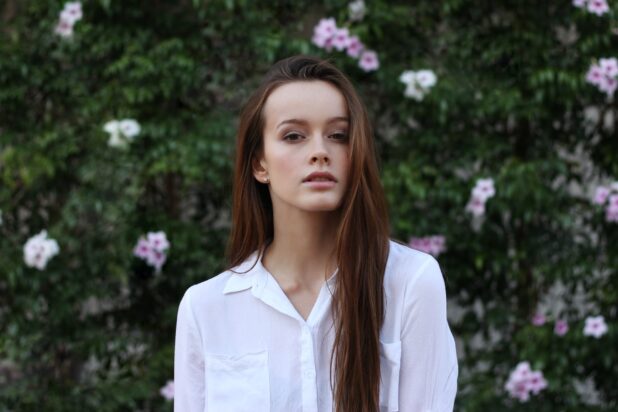 Even though the white shirt combines perfectly with most items in your wardrobe, it is not necessarily a good match with absolutely everything. Skirts, pants, jeans, chinos are all good choices but when it comes to athleisure wear and workout clothing, some caution is in order.
Whether a white shirt is a good match with a pair of joggers or even cycling shorts depends very much on the style of the button-up. Formal and fitted shirts designed for office would probably not be a good fit because of a severe clash in styles. A more relaxed white button-up of linen, on the other hand, may work well with joggers for a cool and casual outfit.
2. Over-Accessorizing Kills the Outfit
White shirt is often referred to as an ultimate bank canvas for any outfit. It can be accessorized in several ways to spice up your look and to help you create a style that is truly you. However, the key is not to overdo it to avoid ending up looking messy and tacky.
Most outfits cannot handle multiple bold accessories at the same time. If you decide on wearing a bold necklace, it is best to avoid the matching earrings and to go for a simpler, classic design. When in doubt, only wear one statement piece per outfit or one accessory for each area of the body. Some of the best one-for-each-area options for diamond engagement rings can be easily found via this link: https://www.itshot.com/jewelry/engagement-rings/preset-diamond-engagement-rings.
3. Mind the Gap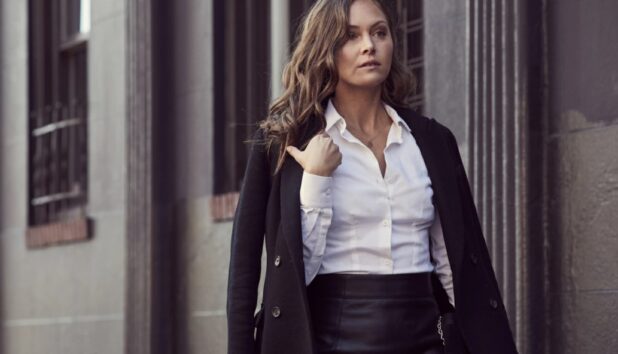 A white dress shirt is only great if it fits well and does not gape in the bust. Finding a well-fitting button-up that is large enough in the bust and snug in the waist, however, may not be an easy task. For a seemingly huge choice of women's white shirts in the market there are surprisingly few of those that work well for women's bodies.
One sure way to avoid the gap is to just keep looking for a well-fitting shirt with ample room in the bust area. One brand that makes fitted white shirts for curvy women is, for instance, Ella Hopfeldt (Link: https://www.ehshirts.com/luxurious-womens-white-shirt/)
Another option is to buy a shirt that fits in the bust and have it tailored in the waist or to go for a custom-made white shirt entirely.
Even though a gap can also, in principle, be concealed by wearing a sweater or a sweater vest, there really isn't much point in owning a white shirt that can only be styled in a very limited number of ways.
4. Don't Forget Your Personal Style
When it comes to styling, your voice is just as valid as anyone else's. Nobody should feel compelled to try out avant-garde outfits and to follow the ultra-trendy fashion advice from style influencers. You should always dress for you, remembering your personal style that feels comfortable to you and distinguishes you from the rest.
It shouldn't matter if someone claims that tailored shirts are out, and oversized white shirt is the way to go for a modern look. If your personal style is leaning towards classic and if elegance is what you are aiming at, get a shirt that is in line with your personal preferences and wear it proudly. White shirt is such a timeless staple that there really is no risk of looking either outdated or dull.
5. Is Your Bra Shining Through?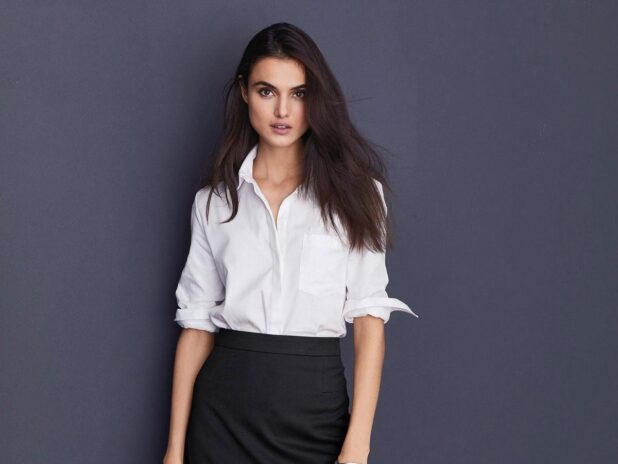 If you want your white shirt to really look elegant on you, you will have to make sure to wear the right bra. Wearing a bra that shines through the fabric can be a major distraction and will overshadow the beauty of the white button-up.
Many women believe that white bra is the perfect match with the white shirt, but this is unfortunately not the case. A white bra contrasts with your skin which is why the underwear should not be matched to the color of the fabric but to your skin tone instead.
The better the bra matches your own skin color, the less you can see it under the white shirt. For lighter skin tones the colors pink, nude and lighter shades of red are best suited, while women with darker skin tones should prefer darker shades of red such as bordeaux.
In Conclusion
White dress shirt is a superb item of clothing, and it is a good idea to ensure that you have a perfect one hanging in your wardrobe. Enjoy finding the shirt that works for you best and have fun styling it – you will look awesome as long as you remain true to yourself and your sense of style.