Wooden flooring is a timeless classic that adds natural beauty and durability to any space. These are unquestionably the most popular flooring option because the flooring type goes with most furniture and home décor. These exotic-looking flooring options are low-maintenance and repair-friendly.
However, due to day-to-day activities, this attractive flooring option may suffer from unsightly scratches. The movement of furniture can scuff and scrape even the most well-kept and maintained wooden floor. It's especially true in high-traffic sections of the house, such as the living room or dining room, where most of the furniture is.
These scratches on your wooden floor are a blight. There are, fortunately, techniques to keep your floor free of scratches and scuffs. You can keep your hardwood floor looking good for years to come by following the five tips mentioned below.
1. Furniture Pads And Seat Caps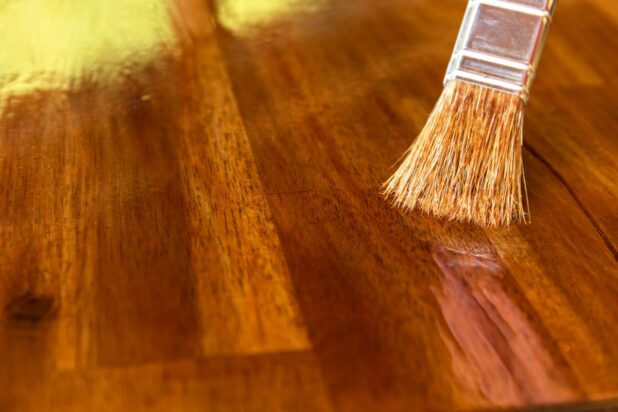 These self-adhesive seat pads and seat caps are widely accessible or are most likely sitting unused in your almirah drawer. These are heavy-duty and work well as a floor protector. It aids in the gentle movement of furniture across the floor, preventing scratches and scuffs on the smooth hardwood surfaces.
These are simple to use, and the peel-away layer can be placed directly on furniture legs and other surfaces. You can easily find commercially accessible self-adhesive furniture pads and seat caps at any local hardware store. You can also get the best seat caps on this site.
Even if you enlist the help of a few friends to move your furniture, you must use these pads to avoid regret later. These cushions the furniture's feet and corners, elevating them slightly off the floor. It's made of rubber, cork, and felt, and it protects your floors from scratches caused by furniture movement.
You no longer need to place wheels on your big furniture or lift it, and they're also the most comfortable to sit in. When people sit in chairs or rise, they tend to move, creating slight but apparent scratches on the floor. The chair feet will never scratch the floor again if you use these furniture pads and seat caps.
2. Use Rugs And Keep The Entrance Tidy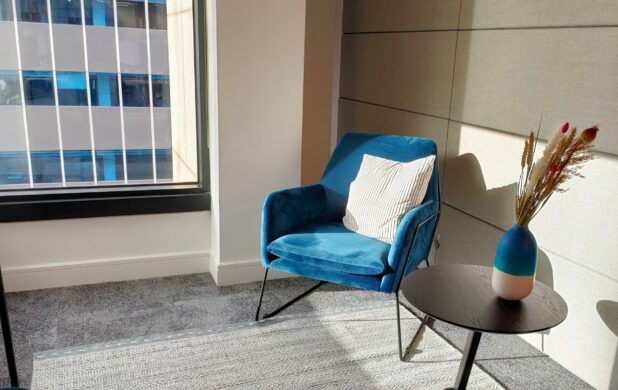 Keeping the surroundings outside the front doors of your house tidy will save you a lot of trouble. When we return home, our shoes track in various rocks, dirt, and debris, causing damage to your hardwood flooring. A small amount of pressure from walking, the soil, or a pebble in your shoe can leave an unsightly stain on your lovely wooden flooring. If it's dirty outside, a strong breeze will often blow dust particles inside your foyer or living room. As a result, paying particular care to areas such as entryways, garages, and patios can help prevent scratches.
You can keep scuffs and scratches away by placing two rugs at each door. On the outside of the entrance, choose a full walk-off mat or carpet. It makes your visitors and family clean their shoes automatically before entering the house. It's even better if you use a second, softer rug because it collects more dirt when you enter.
Another option is to enforce a no-shoes policy in your home or any rooms with wooden floors. The solution to everyone's troubles is to remove all footwear and replace it with soft slippers.
3. Use Rugs For Areas Where You Keep Most Of Your Furniture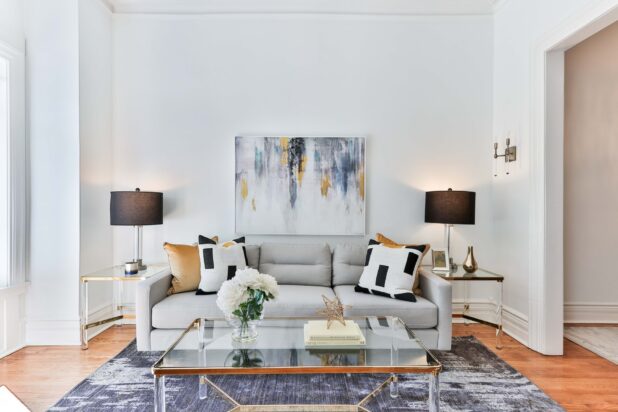 Invest in an area rug, and you'll discover that it's the handiest and the most effective way to protect your flooring from potential scuffs. A rug not only adds a touch of style to your décor, but it also creates a welcoming atmosphere.
Place it in the areas of your room where you feel your flooring is under the most strain. It's also effective in preventing water damage to your flooring. However, avoid rubber-backed mats because they trap moisture and can cause extra harm to your floor.
A good mat will not only improve the look of your room but will also act as a cushion for your furniture. You can quickly move the furniture around without harming or denting the floor.
When it comes to rugs/mats, though, you may run into a problem. These could detract from the beauty of your hardwood floors. On the other hand, rugs will blend in nicely with your décor if you use them sparingly and only in high-traffic areas, as previously said.
4. Do Regular Cleaning And Use TopCoats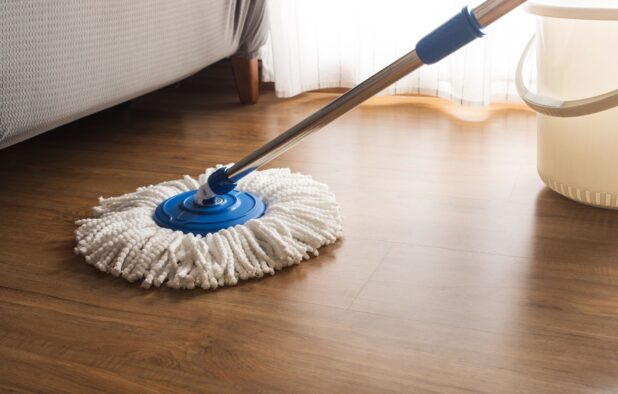 Protective topcoats provide your flooring the best chance of resisting scratches and other damage. Choose the best topcoats to give your flooring a lavish finish. Even though your flooring comes with a topcoat, you can always apply a better finish later.
Polyurethane based on water or oil is the most incredible option here. Wax coating is one of the oldest, but it's also one of the least lasting, requiring many touch-ups and finishes. Oil-based one, on the other hand, is a durable finish that you can even apply yourself.
Other options include water-based polyurethane and moisture-cured urethane. The latter is the hardest and most durable, but it requires professional assistance for application.
Maintaining the beauty of your wooden floors requires a regular cleaning routine. A clean floor is a protected floor, as dirt and debris accumulate and increase the risk of dings and scratches. Brooms, mops, and vacuums are the most effective equipment for keeping your floors clean.
Cleaning should be scheduled daily, weekly, monthly, and yearly based on what part of your floor requires cleaning and whether it will require any professional assistance. Cleaning is an integral part of preventative maintenance that you should not overlook.
Conclusion
You're investing in your home's long-term value when you install hardwood floors. New flooring can give your home a fresh look and inspire you to renovate and rearrange your furnishings. To avoid scratching or denting your floors, exercise caution when moving objects around. We hope these pointers will assist you in maintaining the scratch-free condition of your new hardwood flooring.