When constructing your house or doing some renovation, flooring is an important task. It gives a complete look to your house. If you are trying to get rid of carpet, tiles or marble flooring, you might be thinking about the wood flooring. Wood flooring is the structural and aesthetical flooring using the products from timber. It provides the classical style and has been descending for centuries.
It is even harder to decide what kind of wood flooring you want. It can either be hardwood flooring or laminate flooring. Usually, people start looking up on the internet to find out the best flooring among both. ChestnutFlooring has listed some specifications of both types of flooring, so you can easily decide what you will choose.
What is Hardwood Flooring?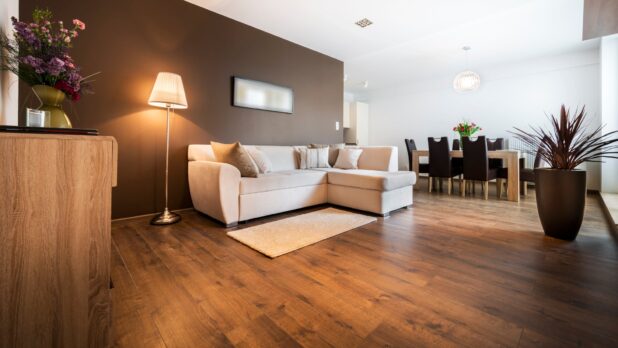 Hardwood flooring comes with natural beauty and gives an elegant look to your house. It comes from matured trees and undergoes many processes to become in the state of being used as a floor. This flooring can be refinished easily. There are two types of hardwood flooring.
Solid Hardwood
Solid wood is whole wood throughout the plank and is about 5/8" to 3/4 "thick. It is susceptible to many surrounding changes and is also long-lasting.
Engineered Hardwood
It is made up of different layers of wood, just like plywood. The topmost layer is a veneer of real wood. It gives stability and durability to this wood.
Hardwood is made up of wood from different trees like:
Oakwood
Maple wood
Cherry wood
Wenge wood
Bubinga wood
Sydney blue gum
Bamboo
The hardwood flooring is done in different styles:
Plank flooring
Strip flooring
Wire brushed floors
Hand-scraped floors
What is Laminate flooring?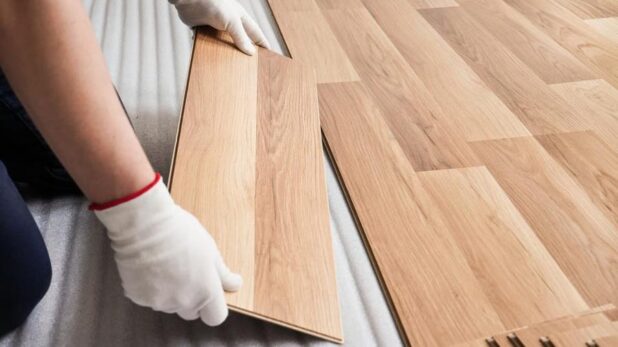 Synthetic flooring consists of different layers combined by the lamination process. In the present day, laminate flooring is quite popular in the market. Some people might think that laminate flooring is done using plastic, but this is not correct. It is not plastic, since it is very affordable, at first its appearance was not focused, and it didn't appear that good.
But with time, laminate flooring has gained a decent and wood-like appearance, and now many people prefer it. It is really good for decorative purposes and is used in cabinets, ceilings, walls, furniture etc.
The laminate wood comes in 4 different layers. These layers are stuck together under conditions of high temperature and pressure. The layers of laminate wood are:
Back layer (bottom layer)
Core layer
Design layer
Wear layer (top layer)
Laminate flooring comes in a wide range of flooring that differs based upon their prices, surfaces and finish. You can choose the perfect one by checking the AC rating that helps in telling the suitability of use. You can find almost 57 types, few are mentioned here.
Matte-finish laminate
Textured laminate
Gloss-finish laminate
Metallic laminate
PVC-finish laminate
Acrylic-finish laminate
Exterior laminate
Hardwood vs. Laminate flooring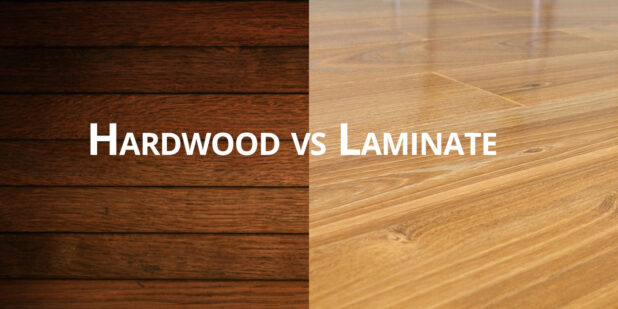 We have all been there at some point when we have to decide on choosing the perfect one. Let's take a look at the features of both.
Appearance
In terms of appearance, HARDWOOD is the best option.
Hardwood

Laminate

Pros

It is attractive.
It has a natural and beautiful texture.
It is all wood and has various stains and finishes.

Pros

It resembles real wood.
The appearance does not change over time.
It is very smooth and splinter-free.

Cons

It is very hard.
It can be discoloured.
It can be scratched easily.

Cons

It looks like wood from far away, but upon a closer look, it does not appear genuine.
It is slippery under socks.
Durability
In terms of durability, HARDWOOD is the best option.
Hardwood

Laminate

Pros

It can be long-lasting if maintained properly.
It can be recoated and refinished.
Resealing is also recommended.

Pros

Good resistance to damage and stains.
Easy to clean.
Durable due to pressed wood.

Cons

It can be scratched, stained and dented.
Moisture can damage it easily.
Lack of proper maintenance wears it out.

Cons

No refinishing or sanding.
Replacement is the only solution if damaged.
It may look artificial because of its low quality.
Cost
In terms of cost, LAMINATE is the best option.
Hardwood

Laminate

Low: $2 to $3 per square foot
Medium: $3 to $4 per square foot
High: $5 to $9 per square foot

Low: $0.50 to $2 per square foot
Medium: $2 to $3 per square foot
High: $3 to $5 per square foot
Installation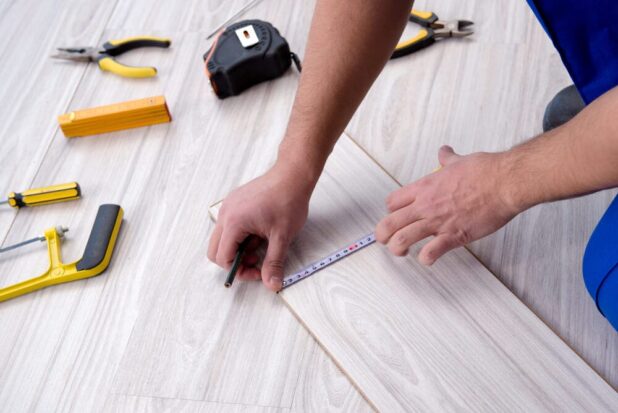 In terms of installation, LAMINATE is the best option.
Hardwood

Laminate

Pros

The installation is done by nail-down or glue-down methods.

Pros

It is easy to install.
It does not need glue or fasteners.

Cons

Installation is comparatively difficult and takes time.
A professional is needed.

Cons

It cannot be used in basements.
Repair and Maintenance
In terms of maintenance, HARDWOOD is the best option.
Hardwood

Laminate

Pros

It can be refinished many times.
Minor scratches are reversible.
On some types, scratches add more character.

Pros

Repairing is not costly.
No sanding is required.

Cons

Refinishing is expensive.
Professionals are needed for refinishing or sanding.

Cons

Whole plank replacement is the only solution if damaged.
Replaced wood may differ from old one.
Care
In terms of care and cleaning, BOTH hardwood and laminate are good options.
Hardwood

Laminate

Pros

It can be cleaned by sweeping, vacuuming or damp-mopping.
Refinishing can give a new look.

Pros

It can be cleaned easily using a light vacuum or broom.
It is water-resistant.
No discoloration.

Cons

It cannot be polished or waxed.
It cannot be cleaned with excessive water.
It can be discoloured.

Cons

Excessive water and steam cleaner should be avoided.
If damaged, the repair is not easy.
Size
In terms of size, BOTH hardwood and laminate are good options.
| | |
| --- | --- |
| Hardwood | Laminate |
| Boards are 48 inches long and 11/2 or 21/4 inches wide. The thickness of the boards is ¾ inches. | Planks are 4 inches wide and 48 inches long. Planks can think from 6-12 mm. |
You can now choose the best flooring depending on the features you like, so go get the product of your choice!