Bintan Island offers an array of delights for visitors, including families with children or large groups. Coming to the transportation part, you are easily covered with Bintan Resort Ferries. This is the ideal option for taking a picturesque one-hour ride to Bin tan Island from Singapore.
The island itself has several popular luxury resorts and diverse activities on offer for guests. You can book your ferry tickets in advance and get on the premier catamarans offered by Bintan Resort Ferries for your trip.
Once you arrive, you will have several hotels to choose from. These top options include the following!
Natra Bintan, Treasure Bay Bintan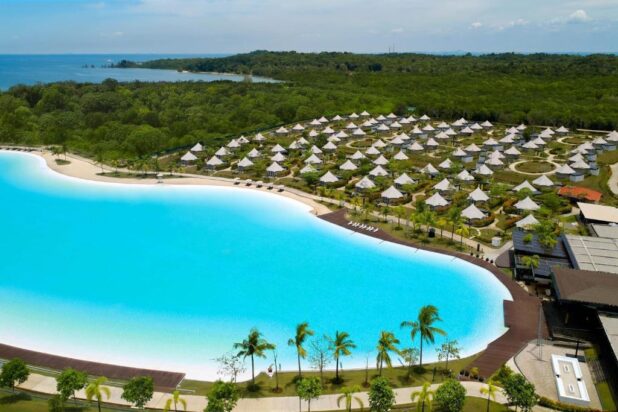 This offers novel glamping adventures for guests along with the Crystal Lagoon which is the first seawater body of 6.3 hectares in Southeast Asia, in addition to the Bintan Wake Park and Water Playground nearby.
The Canopi is a great camping option for families without any comfort compromises. Glamping or Glamorous Camping is also available within the resort compound itself. There are lavish safari tent suites with air conditioning, four-poster beds, televisions, Wi-Fi, and more.
There are other amenities like outdoor Jacuzzis, BBQ pits, and private gardens. The Treasure Bay day pass ensures access to the Crystal Lagoon even if you are not staying here.
Watersports activities here include wakeboarding, cable skiing, canoeing, stand-up paddle boarding, solar boat rides, water tricycles, and more. There are also UTV/ATV tours and mangrove kayaking tours along with sailing, spa treatments, and more.
Nirwana Garden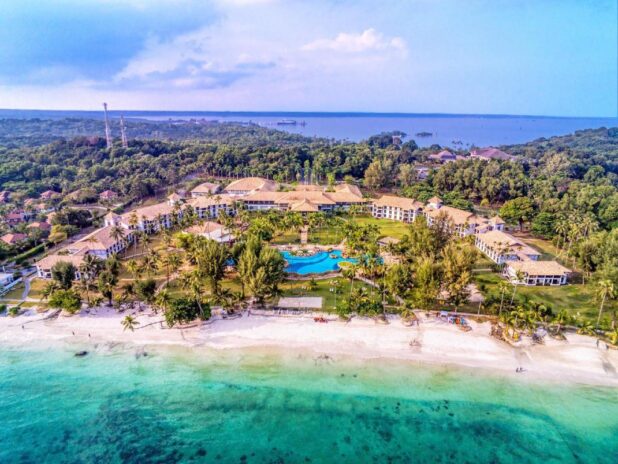 The resort offers access to activities like scuba diving, horse riding, air rifle shooting, and coastal rock trekking. There is a mini residence called Wildlife Explorer that houses exotic snakes, birds, and other species.
Accommodation options include pool villas and beach huts alike. There are sea-facing cabana rooms at the Nirwana Beach Club along with ATV rides, parasailing, diving, activities at the Nablez Kids' Club, and spa treatments. There are several gourmet dining options including the Kelong Seafood Restaurant, Spice Restaurant, The Poolside, and the Calypso Floating Bar.
Bintan Lagoon Resort
This offers mini-golfing, Petanque/Boules, Laser Quest, and Futsal. Other activities include bicycle tours, painting classes, and more. There are luxurious villas with BBQ zones, living areas, personal buggies, and swimming pools on offer.
Archery, PlayStation and Wi-Fi gaming, sea sports, and the Silk Nightclub are also available. There are several dining choices including Nelayan on the beachfront, Miyako, and more. Spa and massage treatments are also available here.
These are only a few of the top resorts available at Bintan Island.
Places and Activities Worth Considering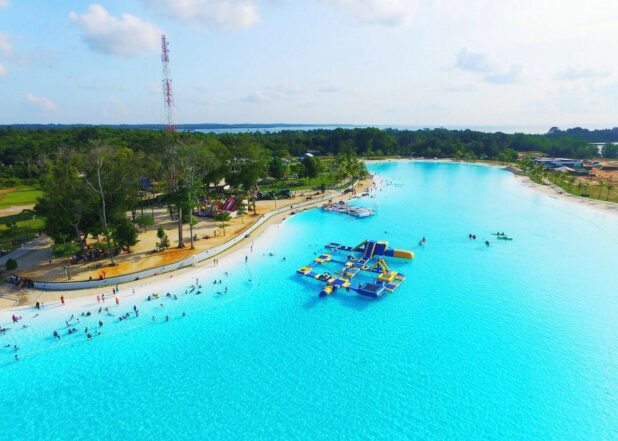 There are many other activities and destinations that you can check out while at Bintan Island. They include the following:
Heritage and culture tours ─ There are several tours along the East Coast including the large Buddha, the temple within a banyan tree, a fishing village on stilts, and the Grotto Santa Maria.
Golfing ─ Bintan has numerous golf courses including the Laguna Bintan and Ria Bintan.
Gurun Pasir Busung ─ This was once a site for sand mining and is an exotic natural wonder today, ideal for photography and relaxation. There are natural lakes here with unique colored water.
Turtle conservation programs ─ Many establishments have conservation programs for turtles, including the collection of the eggs of the Hawksbill and Green turtles and burying them for greater safety. The eggs are tracked and upon hatching, baby turtles are released into the ocean. Getting a glimpse of this unique activity is possible for visitors.
Plaza Lagoi ─ This is an outdoor shopping center that is vibrant and bustling on the weekends and is usually quieter on weekdays. There are several attractions here including Lagoi Beach where chairs may be rented along with partaking in activities like banana boating, jet skiing, paddle boarding, and ATV rides. Pop-ups, performances, and markets are regular fixtures here, especially on special occasions. Some of the top restaurants include Warung Yeah! and Chek Bakar's for its fresh and local seafood delights, spanning several options along the way.
Bintan Island offers diverse opportunities for enjoyment and merriment to visitors. The above-mentioned tips will help you enjoy your vacations to the hilt!