A study has revealed that Miami Beach in Florida is by far the most popular beach in the US.
The research, compiled by world geography resource World Meters, analyzed Instagram hashtags to find out which US beaches were tagged the most.
Miami Beach in Florida came out on top with 15.9 million hashtags — almost twice as many as second-place South Beach, which had 8 million hashtags when the research was carried out.
The third-most popular US beach is Venice Beach in California, with 4.3 million Instagram users tagging it — that's almost half the number of hashtags South Beach has. Venice Beach is followed by three more Californian beaches: Newport Beach, Huntington Beach, and Laguna Beach, which come fourth, fifth, and sixth place, respectively. Newport Beach has 3.9 million hashtags, Huntington Beach has 3.4 million hashtags, and Laguna Beach has been tagged 3.2 million times on Instagram.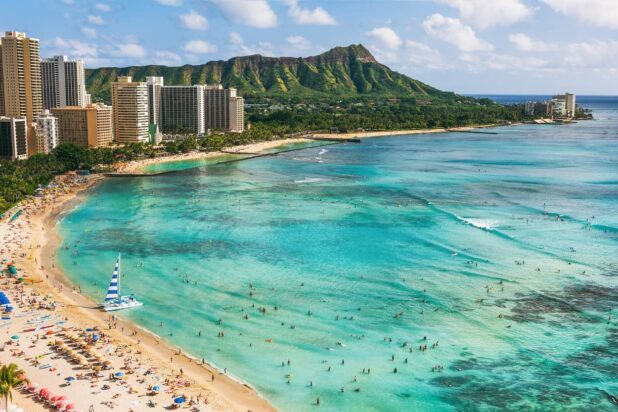 With 2.8 million Instagram hashtags, Myrtle Beach in South Carolina places seventh in the study, while Florida's Clearwater Beach comes eighth, with users tagging it 1.2 million times. That's less than half the number of people who are tagging Myrtle Beach.
In ninth and tenth place are Waikiki Beach in Hawaii and Wrightsville Beach in North Carolina, both receiving less than a million Instagram hashtags. Waikiki Beach has 970,000, while Wrightsville Beach has 600,000.
What are America's most popular beaches?
According to the study, the ten most popular US beaches are:
| | | | |
| --- | --- | --- | --- |
| Rank | Beach | Location | Number of Instagram hashtags |
| 1 | Miami Beach | Miami, Florida | 15.9 million |
| 2 | South Beach | Miami, Florida | 8 million |
| 3 | Venice Beach | Los Angeles, California | 4.3 million |
| 4 | Newport Beach | Orange County, California | 3.9 million |
| 5 | Huntington Beach | Orange County, California | 3.4 million |
| 6 | Laguna Beach | Orange County, California | 3.2 million |
| 7 | Myrtle Beach | Horry County, South Carolina | 2.8 million |
| 8 | Clearwater Beach | Pinellas County, Florida | 1.2 million |
| 9 | Waikiki Beach | Honolulu, Hawaii | 970,000 |
| 10 | Wrightsville Beach | Wilmington, North Carolina | 600,000 |
Commenting on the findings, a spokesperson for World Meters said: "The results of the study show that While Miami Beach in Florida is by far the most popular US beach with Instagram users, California has the highest number of popular beaches, most of which are in Orange County.
Looking at the findings more closely, considering that South Beach is actually a part of Miami Beach when the number of hashtags each beach has received is added together, it makes 23.9 million. This means that technically speaking, Miami Beach is almost 40 times more popular than tenth place Wrightsville Beach."
What makes these US beaches so popular?
Here are some of the reasons why you may want to consider visiting some of the US's most popular beaches:
1. Miami Beach, Florida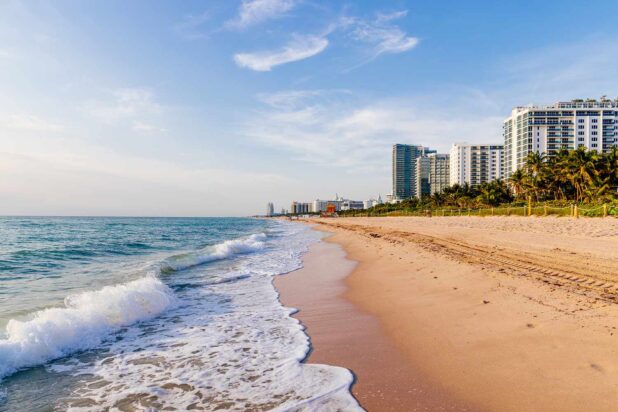 When most people think of Florida, they conjure up images of white sand, turquoise waters, and towering skyscrapers. What they're picturing is Miami Beach.
Home to some of America's wealthiest individuals, Miami Beach is great for people-watching and celebrity spotting. Other activities include scuba-diving, wakeboarding, taking a coastline speedboat tour,  and relaxing on the sand while you enjoy the year-round sunshine.
2. South Beach, Florida
If you're looking for a livelier beach, head to Miami's South Beach, which has plenty of activities, such as surfing, diving, boating, and parasailing, as well as white sands and crystal-clear water for relaxing and swimming.
Plus, the beachfront — which is lined with shops, cafes, restaurants, bars, and clubs — has something to offer at night as well as during the day.
3. Venice Beach, California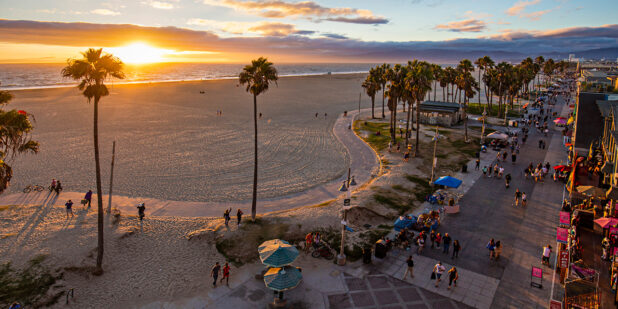 Venice Beach is located in a buzzing bohemian town that's known for its rebellious spirit and eclectic art scene. People come from all over the world to see the many murals painted on the walls of buildings across the town.
The beach itself is wide and sandy, featuring a promenade for performers and artists to showcase their talents.
4. Newport Beach, California
Newport Beach is popular with swimmers and sunbathers, but thanks to its large harbor, it is also a great place to take a boat tour.
If you prefer to be in the water, a range of watersports is available, including surfing, kayaking, and stand-up paddleboarding.
The beach's long stretches of boardwalks attract a large number of walkers, runners, cyclists, and Segway riders too.
What's more, Newport Beach boasts some stunning sunsets.
5. Huntington Beach, California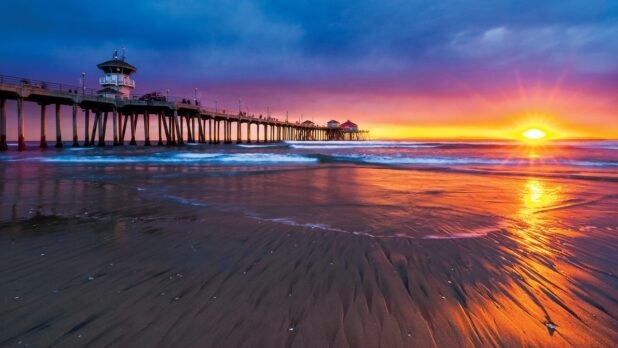 Nicknamed "Surf City", Huntington Beach is best known for — yep, you guessed it — surfing.
Not only that, though. This 9.5-mile stretch of sand plays host to many other outdoor activities, such as kayaking, fishing, beach volleyball, and cycling tours.
6. Laguna Beach, California
Like many of California's beaches, Laguna Beach has a relaxed, laid-back culture. The calm sea is perfect for a gentle swim, there's a boardwalk so you can admire the coastal views while taking a stroll, and its consistently mild climate means you can sunbathe on the beach no matter what time of year it is.
Other than the beach, there's a selection of galleries, museums, and theaters to check out in the main town.
7. Myrtle Beach, South Carolina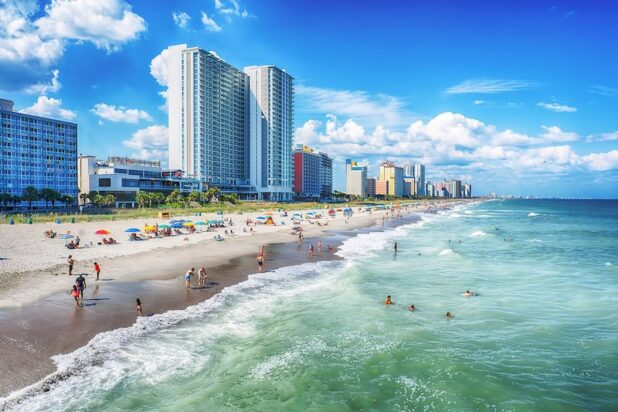 South Carolina may not be as famous for its beaches as California and Florida, but if you have a family, it could well be your number-one choice.
This stretch of coastline has an array of attractions for all ages, from rollercoasters, a Ferris wheel, and a haunted house to souvenir shops and a Ripley's museum.
If you want to escape the crowds, the 60-mile coastline provides plenty of opportunities for spotting wildlife and witnessing beautiful sunrises.
8. Clearwater Beach, Florida
Like most Florida beaches, Clearwater Beach consists of soft white sand, blue sea, and towering skyscrapers.
Visitors come to this little stretch of paradise all year round to jet-ski, stand-up paddleboard, and parasail in the tranquil waters. Meanwhile, rollerbladers and cyclists glide down the restaurant and cafe-lined promenade.
Come sunset, there's a nightly festival featuring street performers and craft sellers at Pier 60.
9. Waikiki Beach, Hawaii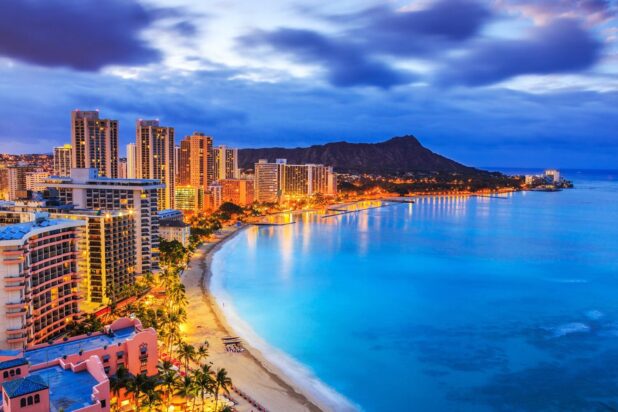 Waikiki is another beach that's known for its surfing, but it's not just popular with surfers.
Millions of tourists are drawn to this stretch of golden sand for its free hula shows, waterside cocktail bars, and fine dining restaurants.
Located close to the airport and lined with high-rise hotels, Waikiki Beach is in a vibrant neighborhood, yet it still manages to retain some of its historic beach charm.
10. Wrightsville Beach, North Carolina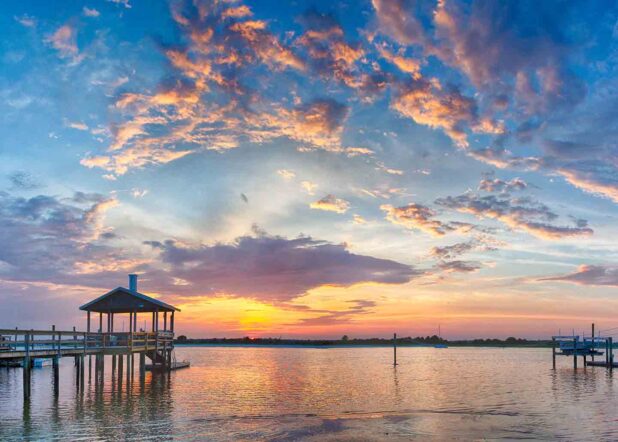 A year-round warm climate, easily accessible from the state capital of Raleigh, and a wide variety of beach activities make Wrightsville Beach one of the best and most popular beaches in North Carolina.
Whether you want to be active or relax, this beach has plenty to offer, from sunbathing and paddling in the water to paddleboarding and exploring the area on a beach cruiser.