At the end of a long and tiring day, the only thing we dream about is getting in a comfortable bed and diving right into a relaxing and peaceful dream. There is nothing better than recharging your whole body and well-being with a perfectly healthy nightdream. That is why paying attention to the look and feel that the bedding and the bed provide you is very important. You can end up having an unhealthy night's sleep with constant waking ups and turns from one side to another. How to achieve getting a healthy and quality night sleep and an optimal sleeping environment? The answer is pretty simple – when you have the right beddings you can enjoy a comfortable and cozy night's sleep.
How Bedding Material Affects Sleep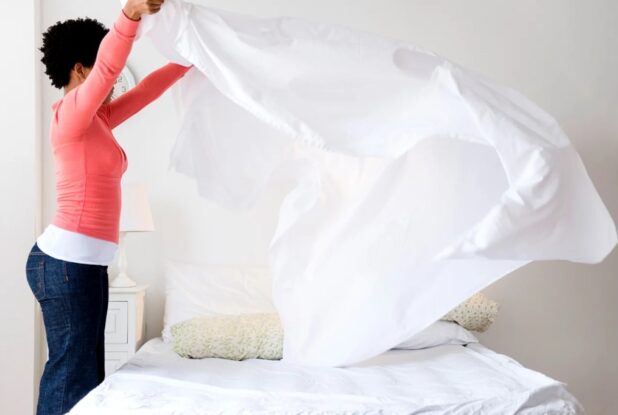 Unfortunately, many people do not know how significantly bedding can affect night sleep. While perfect bedding can contribute to a peaceful and healthy night's sleep, the wrong and uncomfortable bedding can affect very negatively on the quality of sleep. We listed some of the main ways how inappropriate bedding material can affect your sleep.
Inequality bedding material can irritate your skin
If you are sleeping on bed sheets that are too coarse or are made from some material such as harsh synthetic, your skin can become irritated. Additionally, your skin condition can become exacerbated and there is no chance that you can get comfortable during sleeping time. You are going to wake up constantly and be frustrated.
Inappropriate Bedding material can trap too much heat
Many people become overheated during the night while they are sleeping. This condition can lead to excess sweating and dehydration of the body. If you are experiencing heat during sleep you can start consuming more water to regulate your body heat or getting up for cooling your body. This will result in going to the bathroom frequently and not having a stable night's sleep.
Unhealthy bedding material can not keep you warm
Even though overheating while sleeping in the night can be a huge problem to someone, others can experience the opposite problem. More precisely, if the person is more sensitive to the cold, he or she can still have the problem of sleeping peacefully through the entire night. These types of people should not use too many breathable fabrics because they will keep struggling to get warm at night. This can lower sleep quality a lot.
Things to Consider Choosing Your Bedding Material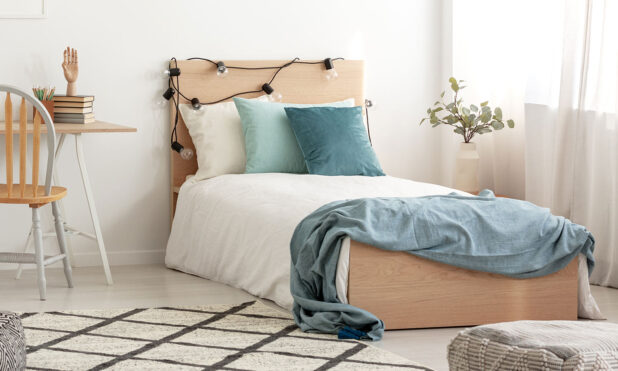 After we listed some of the most common things of how bedding material can affect sleep, you can conclude by yourself that it is very important to choose the right bedding material. When it comes to setting up your bed, you should try different materials in order to find the best quality material option that will suit your needs and your budget. Some of the factors that can influence buying bedding are the following.
Comfort
The material of the bedding fabric can play a very important role in how comfortable you are going to feel. Very few people know about this trick but the higher the thread count is, the softer a sheet will feel. Thread counts actually refer to the number of woven threads in a square inch of fabric. They can range from 100 to 1 000. Logically, the higher number of tread counts in the sheet means that it is more expensive. Some experts recommend buyers choose bedding in the 200–400 thread count range for getting the best feeling.
Breathability
It is important to keep the needed sleeping temperature in your mind while purchasing the bedding material. That means that if you are getting too hot through the night, you should focus on purchasing more breathable materials. On the other hand, if you are usually getting chilly over the night, you should rather be considering at least one synthetic layer that will keep your body heat stable.
Hypoallergenic
People who have allergies of any kind should know that they can take advantage of bedding materials with antimicrobial qualities. Therefore, they should buy bedding materials that are naturally resistant to any dust mites or mold. In that way, nothing will bother you while you are sleeping and you can be completely relaxed.
Quality
Even though it is better for your budget to buy the bedding material that is not expensive, you will make a huge mistake. Investing in a quality bedding material can completely change the quality of your sleep from which your body can benefit in a long term. Your organism will have more time to rest adequately.
What kind of bedding material is right for you?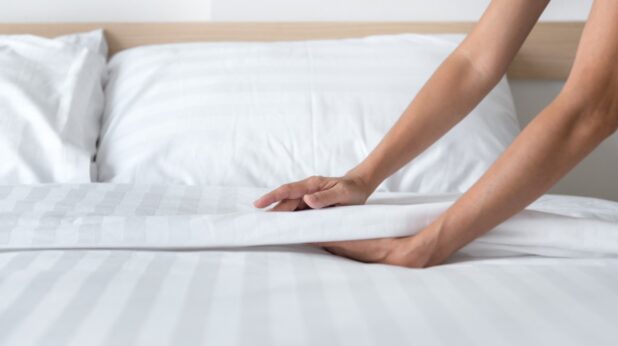 Most bed materials usually fall in the category of linen, silk, and cotton. They are all-natural fibers that are breathable, which means that they can regulate the body temperature. At the same time, these bedding materials will provide you with a healthy night's dream. Egyptian cotton is one of the finest since it is made from a long staple fiber.
If you are looking for a fresh bedding material that will provide you hydrated and glossy look, you should decide on silk material. This material has a protein-infused structure that keeps moisture close to the skin.
Pure-linen material would be the best bedding material option for those who are looking for a relaxed feeling. This type of fabric is commonly seen in breezy beach-side villas. Also, this material becomes softer and softer after every washing, so it feels incredible on the skin.
When it comes to the satin and sateen bedding materials, you probably know that these two materials are characterized by a smooth and glossy surface. Satin fabric is made f silk and a sateen one is made of cotton. They are incredibly comfortable for sleeping.
Every bedding material is different and has specific features, therefore you should decide on one based on your personal preferences. There is a wide range of different beddings that you can check on hutch.pk. Since they truly provide a big selection of different beddings, you will find something for yourself as well and finally see what a perfectly relaxed nightdream stands for.