Owning a home is something that most people work and sacrifice towards during their lives. Being the sole owner of the place where your family lives means security, safety, and warmth for the people closest to you. On top of that, it is the place where most of your experiences and memories will happen. There is a lot to think about when, as a homeowner, you want to change or improve something in or around your home. Decoration and renovation does not come cheap but it is necessary if you want to prolong the lifespan of the house itself as we as to increase the comfort and happiness levels of people living inside.
Taking care of the interior is far more prevalent because it is where you will actually live and where you and yours will be safe. This is where most of the money will be going towards and whenever something inside is lacking, it is usually taken care of pretty quickly. However, what about the exterior and the outside portion of your property? Can a home truly be a home without a dedicated area in front, behind, and around the very building? It certainly increases the curb appeal and makes things more aesthetically pleasing.
Since most people enjoy spending time outdoors more than they do inside of their home, it is very advantageous to have a home with a yard or a garden that you can use. Still, these are all additional costs to cover and obligations to take care of. So how does one decorate the outdoor section of a home? More importantly, can it be done on a tighter budget? In this article we explore exactly that and bring to you some of the most useful ideas to try. Keep on reading to find out more and make sure to click here in case you require further information and help about outdoor decorations.
1. Simple Patio Furniture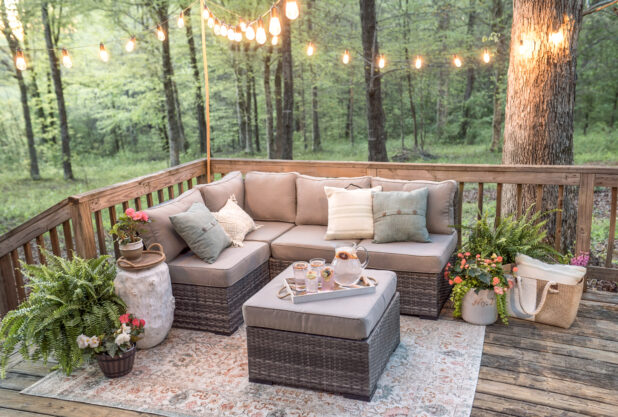 You do not have to actually own a patio in order to use patio furniture. Chairs, tables, and benches look good anywhere, on gravel, grass, or concrete. If you have an empty area that you want to fill out with outdoor furniture, you do not have to spend too much on it. There are countless DIY ideas on the web that tackle this very problem. Inexpensive furniture also exists and it does not mean that will look cheap or seem to lack taste. You can use logs or stubs as makeshift furniture, stack pallets on top of each other or cut them into smaller pieces and put pillows on top of them… The list goes on! Be creative and utilize the space you have. The important thing is that it is comfortable and enough for you. It does not need to look flashy and extravagant.
2. Smart Flower Ideas
Any backyard or garden looks better with flowers planted all around it. However, depending on the type of plant you have and the area you live, some varieties may not be available or are too expensive. Moreover, you will need to spend a lot of time to care for them. This is why it is always better to plant flowers that do not require a lot of watering and special care, but look beautiful and picturesque. For example, perennial flowers will bloom every year in the same area and you will hardly have to do a thing. When their time comes they will decorate your property for a few months, then die out, only to start blooming next year again. Cactuses, wall crawlers, and living fences are perfect if you cannot be bothered with frequent care too.
3. Lights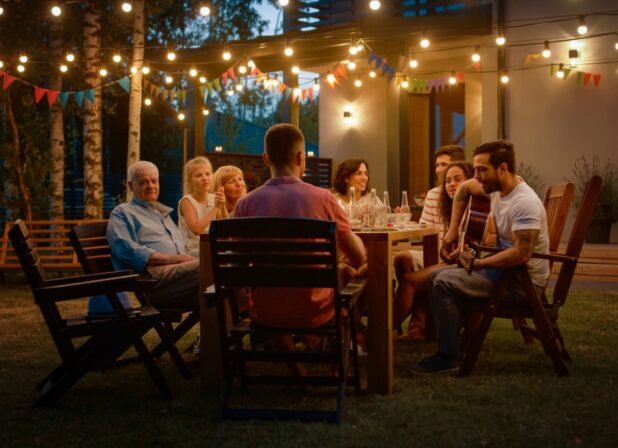 Lighting is often enough do decorate any area, especially at dusk and during the night. Considering that most outdoor gatherings last beyond nightfall no matter the season, and the fact that you will have other work around your home, it would be best if you tactically install lighting throughout your property. Individual sun-powered lamps are the cheapest and require the least amount of work. String lights can survive year round in most scenarios and they have the ability to transform anything, elevating the overall look and feel. Make sure all of the lights are LED to conserve power and have smaller energy bills to pay!
4. Stones and Pebbles
Paths and sidewalks on your property could probably use some decoration too. The most efficient and cheapest way to make everything look better and go along with the flowers and lights we already mentioned are larger stones or boulders, and little pebbles. Pebbles are great for drawing the path alongside which you will be walking. You can either make the whole path out of small white stones, or edge the one you already have to separate if from the flowerbeds, grass, or other elements. On the other hand, bigger boulders can truly steal away the show if you place them strategically and surround them with plants. You can find stones outside of the city or ask around to check if somebody is trying to get rid of some huge boulders. Both of these are not only cheap, but could hardly cost you anything!
5. Grills and Fire Pits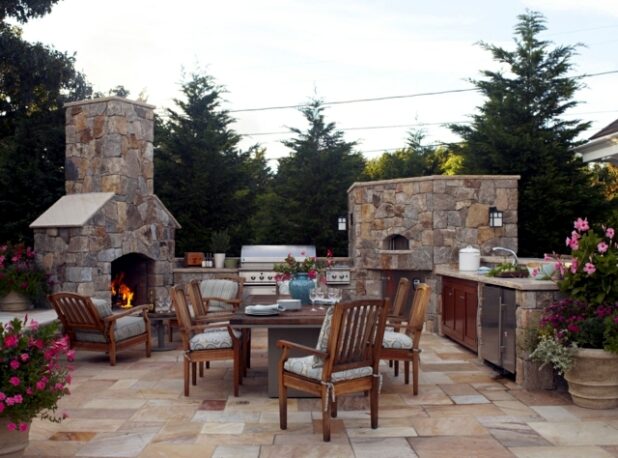 Lastly, here is a little DIY project that does not cost a lot. All you will need is some handy skills, a bunch of bricks and mortar, and imagination. One of the most useful things you can have in your yard is a place to light a fire. It can either be a practical fire you will use to prepare food, or a neat little fire to sit around and chill. Or, it can be both. The choice is yours, but make sure you do it on your own and not hire experts. It is something anyone can do, it saves money if you do it alone, and it instantly elevates your outdoor experience to new heights. Combined with the things we already mentioned above, your outdoor decoration will make the property look so much better, warmer, comfortable, and appealing.