Playing video games today is much more than it once was, as today, not only are there many more spectacular games to choose from, there are also many gadgets that you can and should use. Namely, these gadgets can really improve your overall skill, which can be pretty important for those who invest much of their time in playing video games. In general, gaming equipment is there to make the whole experience even better. Just think about a gaming mouse or adjustable keyboard. These gadgets for someone unfamiliar with what it means to sit in front of a computer or laptop for hours may seem as not that important, but when mouse fits perfectly to your hand and has many buttons and addons which you can customize and set as shortcuts, all this gets much more sense.
The same is with the keyboard, but people often neglect the role of the microphone for gaming, which shouldn't be the case because it can really be a lifesaver, and those fond of Call of Duty or Quake, for example, know where are we going with this. So, since the microphone has such an important role, let's focus on what you should look for when buying one, and also go through the vast offer and pick the best one in order to make your choice easier.
TONOR Computer Cardioid Condenser, TC-777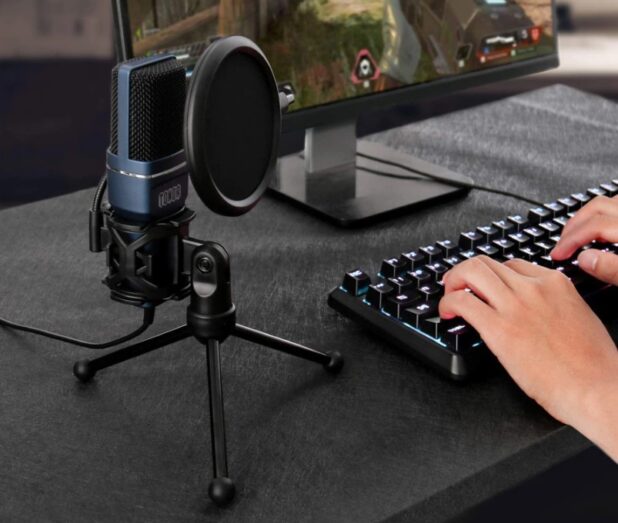 If you are searching for a great mic for a fair price that can be used on every computer, including laptops, TONOR Computer Cardioid Condenser is a perfect choice for you. It comes in wonderful blue color, and thanks to the tripod stand, you do not need to worry about its stability, which provides even better sound. Since this mic has an integrated pop filter, it is not perfect only for gaming, and you can use it for podcasting, streaming, and any vocal recordings. Although physical installation is more than easy since all you need to do is to adjust the position of the pop filter and tripod stand and simply plug it into a computer, keep in mind that it is necessary to install an additional driver.
Thanks to the shock mount and cardioid pickup pattern, the sound this mic provides is crystal clear without the background noise, which the whole gaming experience to another level. In the end, another fact that makes it a gamers favorite is the best quality/price ratio. If you think that this one is the perfect choice for you but do not know where to buy it, visit here and get it in a few clicks.
HyperXQuadCast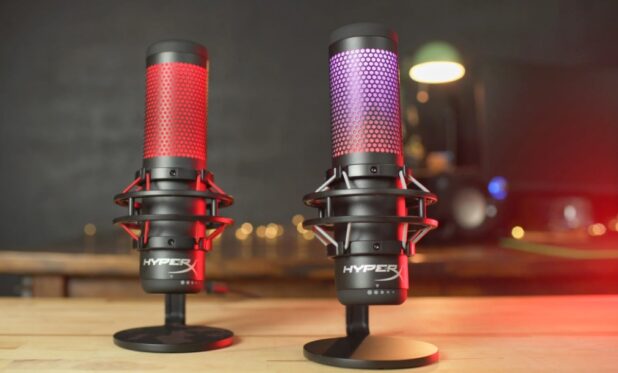 Many gamers will agree that the first place on this list is HyperXQuadCast Gaming Microphone, and it is one of the best possible mics we can buy for gaming. It provides a clear, high-quality sound, and the great thing is that we can use a button to mute ourselves in a second. Thanks to the shiny red light, we can always know when it is on, so we do not need to worry about being live when we do not intend to. It might be a little distracting for players who like to play in the dark, but it is still an amazing feature that can be pretty useful. HyperXQuadCast allows us to fine-tune the sound, adjust its sensitivity and decide which one of four polar patterns we want to use, which is more than enough for any player. Another great thing is that it is shock-resistant, so there is no need to worry about accidentally hitting it during the game because it will not affect the sound.
Razer Seiren Mini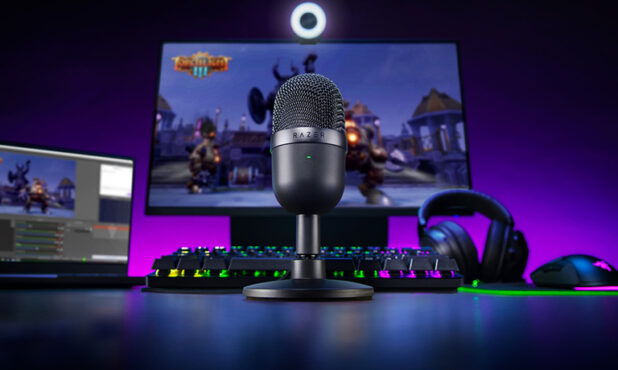 The looks aren't everything but, if someone wants one with exceptional looks, then the Razer Seiren Mini should be on top of that list. It's one of the cutest and also the funniest mics on the market, and it can be found in various colors. Thanks to the variety of colors, it can fit into every room, and there is the best Razer Seiren Mini for every person. It is also known as one of the best budget-friendly mics, which makes it perfect for those who do not want to spend too much money, but still want to have a crystal clear sound for their gaming hours. Razer Seiren Mini does not have multiple cardioids patterns, but that does not affect its sound, which is clear and flat enough to please every gamer. Also, there are almost no features, and you cannot even mute the mic by using the button because there are no buttons at all or attach the headphones because there is no jack for them. Even though it has some disadvantages, it is still the most budget-friendly option. It provides a great sound and is portable and colorful, which makes it a perfect choice.
Final Thoughts
As you can see, even though the offer of gaming mics is vast, when you know what to look for, it can really reduce the time spent browsing. What you want from your microphone is mobility, meaning that it is easily adjustable, so that, depending on the position of your body and whether you are sitting in front of a computer or on a couch, you can easily modify it to meet those purposes. Furthermore, the device itself needs to be light so that you can actually move it with ease, as otherwise, it can be too close or too far from you, meaning that you will not be comfortable using it. These are just some of the basics, as what's also pretty significant is the mic sensitivity, and you would also want the option to adjust it as needed. But, this shouldn't be a problem as almost all new gaming mics come with this feature, and, most usually, one can choose between the 8 mV/Pa to 32 mV/Pa range. Of course, the price also plays a huge role, and one can easily end up spending more than they want, but these options mentioned above should keep those costs around 150$ or less.