If you are a tourist or enthusiast about traveling, you might have known about Ardennes. It is one of the best-rated tourist places with beautiful nature and lots of outdoor spots. Ardennes is a province in the southeastern area of Belgium. Some reasons people prefer to visit Ardennes at least once in their life is due to its pleasant rivers, beautiful lakes, rugged terrains with valleys, widespread caves and thick forests intersected with hiking roads.
Top 7 Popular Tourist Places And Fun Things To Do In The Ardennes
If you would like to make a booking to do different activities in Ardennes, make sure to click here and check out the available timings and dates. Here, we have listed all the incredible places and fun things you can not miss out on when traveling to Ardennes.
1. Bastogne War Museum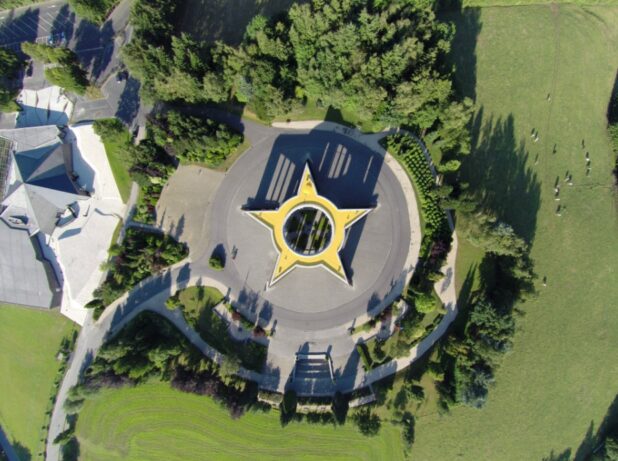 The Bastogne War Museum is the primary monument devoted to the Second World War in the Ardennes and Belgium. It is situated near the prominent Mardasson Memorial and maintains an average of 150000 visitors every year. The Bastogne war museum is relatively immersive and provocative.
It has audio guides with entertainers in order to really establish the war scene in front of your eyes. This museum details the build-up and crucial incidents of the war. You can visit the museum every day from Monday to Sunday between 9:30 AM to 6:00 PM. In order to have a good view of everything, it is better to spend at least two to three hours.
Location: Colline du Mardasson 5, 6600 Bastogne, Belgium
2. Citadel of Dinant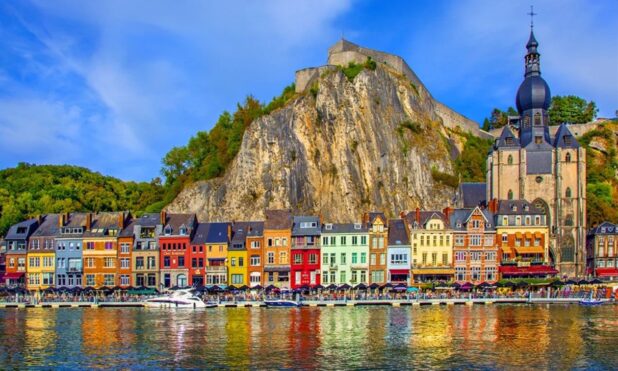 The Citadel of Dinant is a mansion in the Belgian province of Namur. The modern fort was erected in 1815 in the area where a fortress was built in 1051 when the region was under the jurisdiction of the Prince-Bishopric of Liège.
The citadel has a commanding view of the city and the Meuse River. It rides through the city and is accessible to the general public. You can also visit Meuse Citadels, which is the combination of Huy, Liège, and Namur, the Citadel of Dinant.
Location: Chem. de la Citadelle 1, 5500 Dinant, Belgium
3. Barrage de Nisramont (Nisramont Dam)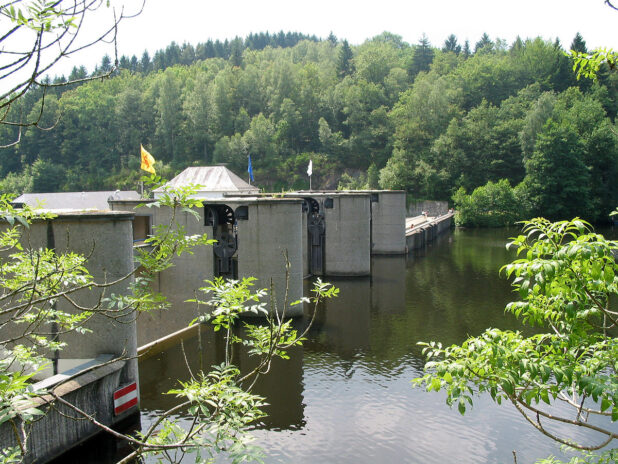 If you would like to enjoy the local nature and greenery of the Ardennes, make sure to pay a visit to Barrage de Nisramont. It has another name called Nisramont dam, which is a hydraulic dam fixed in the communities of La Roche-en-Ardenne and Houffalize. This place is known for its great natural scenery as it is situated two kilometers down to the convergence of the double Ourthes.
The barrage height (river bed) is about 16m and has a length of about 116 m. As for the reservoir, it has an altitude of 285m and it is spread across an area of 47 hectares. You can visit it anytime as it is open 24 hours a day from Monday to Sunday.
Location: Nisramont, 6983 La Roche-en-Ardenne, Belgium
4. Caves of Hotton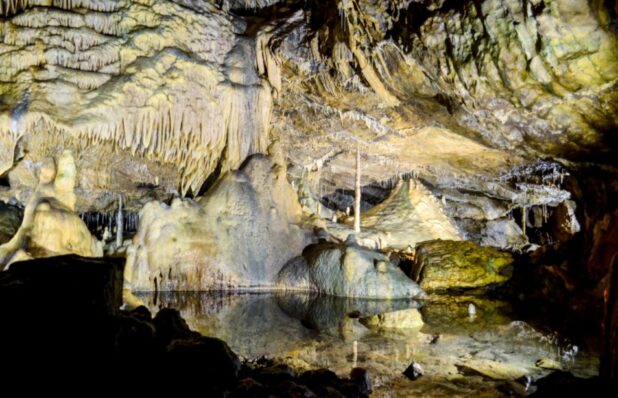 The Caves of Hotton are situated close to Hotton in Belgium. They are speleothem caves
found in 1958 and are over 6 km long and have a depth of about 70 metres. You can find Syphon stream which passes at the bottom of the caves. The caves have some steeps along with a few interesting structures that look unique. Before visiting, it is better to check the opening hours and make a pre booking.
Location: Chemin du Spéléo-Club 1, 6990 Hotton, Belgium
5. Kayaking in the Ardennes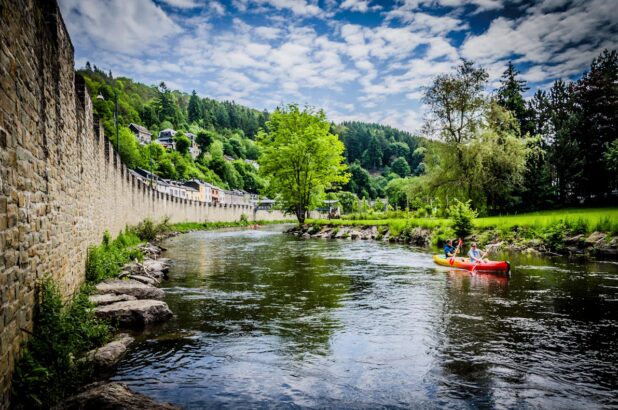 Kayaking down the river is definitely one of the incredible ways to enjoy the gorgeousness of the Ardennes. If you are a water sports enthusiast or an adventurer, you will surely enjoy this kayak ride. Depending on the total number of people and personal preference, you can rent out kayaks, canoes, or stand-up paddle boards.
If there are children with you, you can pick kayaks that can fit three persons, two grown-ups and a kid in the middle. Select a route between the 2.5-kilometer, 7.5-kilometer, or 15-kilometer kayak path and paddle down the river. You can also meet birds, ducks, and swans throughout the paddle.
The cost of renting a canoe or kayak is 10€ per individual, and there is no age restriction. There are life jackets available (including small sizes for little children). In addition to that, there will be a spot to fix your wet clothes at the final stop of the kayak path.
6. Grand Curtius Museum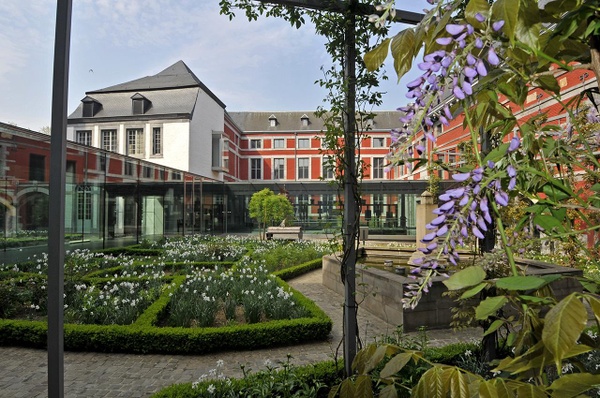 The Grand Curtius building really stays up to its incredible name, and its stunning red brick facade is readily recognizable. The structure has been magnificently and meticulously renovated from the inside. In addition to that, it has a museum that shows the history of art from its beginnings to the present day.
The Grand Curtius Museum is a gallery of archaeology and decorative arts. The museum is relatively hard to explore at first, and you might need at least a few hours to view and absorb everything there is to see. Audio guides and temporary exhibitions are available for visitors to see.
Location: Féronstrée 136, 4000 Liège, Belgium
7. Domaine de Berinzenne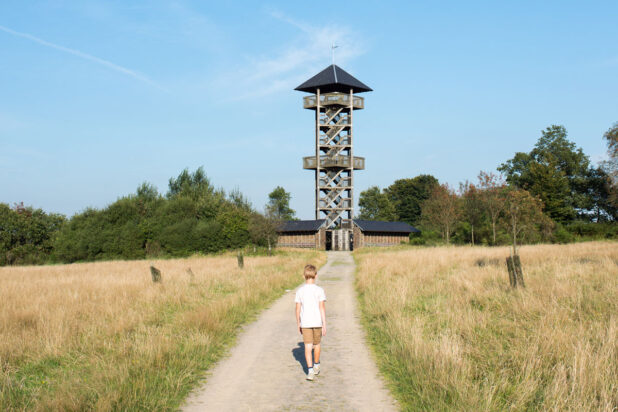 Domaine de Berinzenne is located in the center of the Spa forest and on the horizon of the Fagne de Malchamps. This place has some free spaces available to the people, including a pond, Park, panoramic tower, and picnic areas. There are several paths to walk around the place. The opening hours differ from time to time, so you have to check it ahead of your visit.
Location: Bérinzenne 4, 4900 Spa, Belgium
Bottom Line
There are plenty of elegant places to visit and a plethora of fun things you can experience in Ardennes. However, if you get a chance to travel to Ardennes, make sure to go around the places we mentioned in this list and give a try to the local activities. If you want, you can simply walk down the streets and enjoy the roadside scenery of the lake while having street food.