Keeping your things organized is important for the cleanliness of your place. Having a chaotic and clogged place not only that it affects your mood, but it is also not efficient since you will not know where everything is.
Although there are many storage options, there is nothing similar to the free-standing closet. It is great because it does not occupy too much floor space, and it makes the room look nice and clean.
Since there are many free-standing closets, you might have trouble picking the one for your home. That is why we have made this article, where we will show you how to pick the right closet for your place, and we will list you some recommendations that you should consider.
1. Consider the space that you have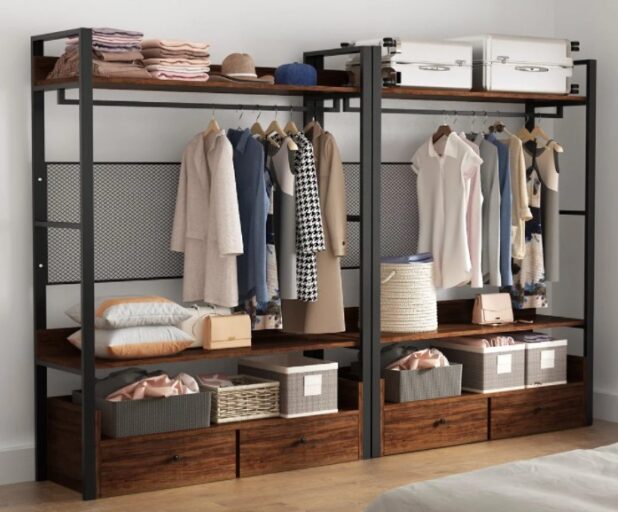 The first thing that you should consider is how much free space do you have to place your new closet. It is a bummer purchasing a new wardrobe, and not having where to place it.
For that purpose, make sure that you measure the place where you want your closet to be. With those measurements, you should proceed to look for the right piece of furniture.
2. How much stuff do you have to store
Another really important thing is the number of clothes and stuff you have to store. If you are having a lot of things, consider a larger closet. Even if you don't have many things at the moment, it is better to get a larger one, so you can be prepared in the future.
3. Aesthetics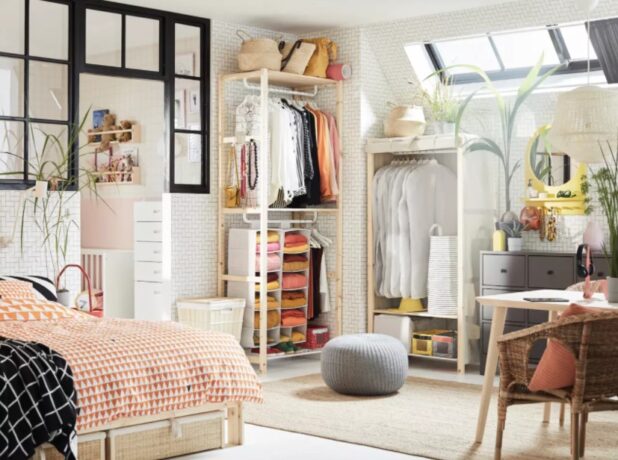 The most important thing is to fit the closet to the aesthetics of your home. Consider the shapes and colors because it has to match everything nicely. You don't need to go for the regular squared shapes if you have thought about having a unique furniture piece. The rounded ones are also an option, but make sure that you have something to match it with.
There are two separate options when it comes to free-standing closets. The first ones are being completely closed, and they suit places that many people will see, like the living room and the hallways.
The second one is being open, and they are more practical in my opinion. You just hang and place your items there, and you have the visibility to find them easier. They are meant to be put in bedrooms, so you can personalize them, while nobody who visits your places has to see them.
4. Quality
Since you are not purchasing closets often, we suggest not cheap out on the one you like. However, make sure that you are getting one made from durable materials that will last you longer. Going for wooden or metal materials can be your best shot if you are looking for something more durable. Some options are made from recycled materials, and you may consider them if keeping the earth clean is what matters to you.
Since we have shown you what should you look at in your next closet, it is time to recommend you some pieces to see if they suit your place nicely.
5. Prepac Monterey Armoire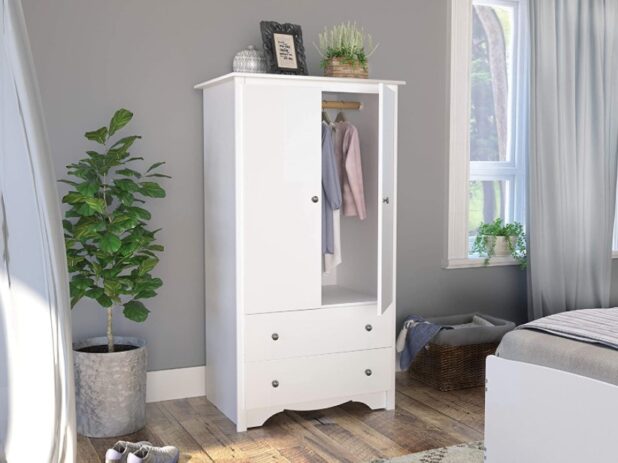 If you are looking for a more casual piece, that fits everywhere then this might be your choice. Its white color in addition to the tall structure, makes your place look bigger. It has enough room to fit lots of your stuff while hiding them well under the white doors. It has an upper compartment with two doors, and a lower one with two drawers. That helps you to separate all your things and organize yourself better.
6. Free-standing Closet Armoire
This Hodedah's large closet will suit your bedroom nicely because of its aesthetic. In case you have a darker-themed room, this will be a nice accent piece for it. While it is spacious, it still looks nice because its color hides it well. It has two doors upper compartment with two draws under it just like the one we listed above.
However, there is a mirror on one of the doors that you will find great use to it. It is really practical in a way where you pick your clothes, and you can see the complete outfit in the mirror.
7. Free-standing closet organizer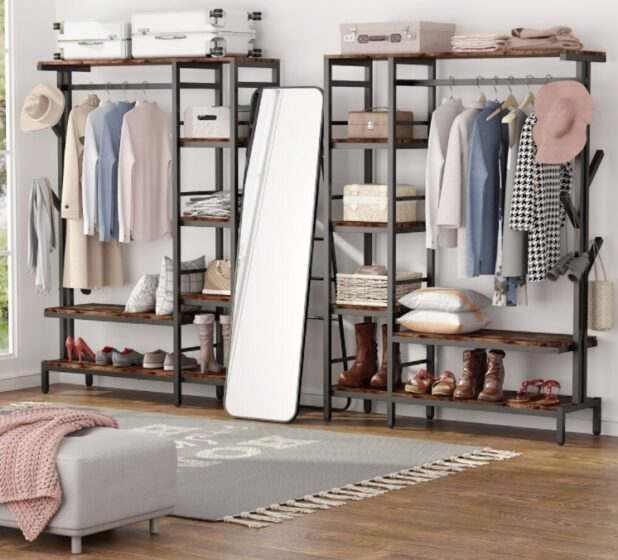 One of the greatest open-standing closets comes from the firm named Tribesigns. As we have talked about above, free-standing closets are the most practical pieces which are a great solution for your bedroom's storage problem.
As you can see on Tribesigns, most of these are made from metal, so it can withstand a lot more weight than most of other types of closets.
There are many storage options, since you have two bars to hang your clothes on, and six more shelves for folded pieces. Depending on your organizing plan, you can have both footwear and regular clothes, so you can be more efficient and practical whenever you are getting ready.
The assembling process is really easy on this piece since you don't need many tools. All you need to do is follow the list, and you will come up with a finished product in no time.
8. Corner Closet System
Another practical piece that can find its place in your home is the corner closets from Navarra. Since the corners are usually not used efficiently, and you have stuff just leaning against the wall, you should consider this piece.
It has a couple of color options, that are mostly regular like white black, and brown tones. It has a couple of storage options. The rods are being used for hanging some of the clothes, and the shelves for folded ones. That will help you organize yourself nicely while keeping your place free since you are using an unusable corner space.
Conclusion
Coming up with a storage solution is highly personal since you are equipping your space in the way that you like the most. Consider the number of things you have that need to be organized and the free space for it. The aesthetical part of the process is the easier part when you know the required dimensions. Make sure that you look for more products so you can make a better decision, and keep your home organized nicely.