A living room should be a space that is cozy, laid-back, comfortable, and welcoming. Everyone who visits you feels welcomed and has a vibe that says out loud – come and sit. Today, modern designers have experimented and created exquisite interior designs that express their taste and love for art. It includes bold patterns, eye-catching color combinations, catchy antiques, and a choice of weird but attractive pieces.
To provide you with an idea for your next modern wood home design for the living room, we have gathered a selection of elegant and inspiring wood decors. These stunning spaces speak sleek modernism, and since there is a touch of wood, it has added warmth and softened color contrast to your area.
So, let's get going, shall we?
1. Rustic Headboard
Headboards are great for giving your place a rustic, country look. Though they are typically used in bedrooms, you can also attach them to any wall in the living room and nail small shelves on them to make them useful. You don't need to purchase a brand new headboard because it can also be created from an old barn door lying around in your backyard.
You may also visit your nearest modern plywood shop to purchase the headboard material. But if you want to add a rustic touch to your living room, we advise you to use pallet boards or old barn wood. If you use anything else, it might not give out the feeling that you want to add.
2. Cabinet Handles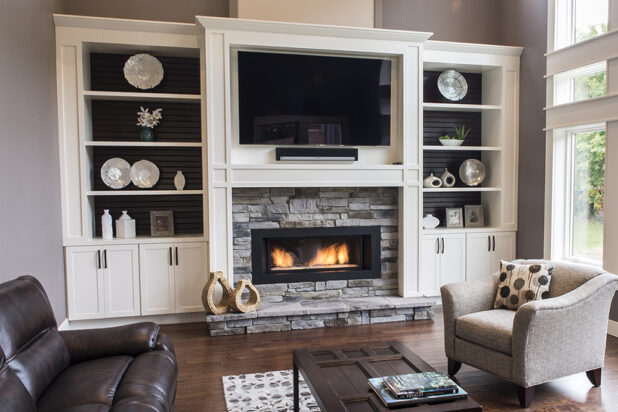 You might think that who is going to notice cabinet handles. But people do see; especially if you have a designer friend or are yourself a designer, you would know how crucial of a decor item it is. When everything in your living room speaks modern wood, a cabinet handle made of metal, or something else, wood will show clearly.
To update the look of your cabinet handles, you can use twine – it is affordable and gives a brand new look to the cabinets by wrapping around them. It adds sparkling beauty to any living space and is no doubt one of the most accessible materials to use. If you decide to carry out this project in your living room, make sure you have paints, glue, and strings.
3. Pallet Shelves
You can easily find pallets at any woodshop near you. At first, you must think that they are old, used, and useless pieces of wood, but surprisingly, you can do so much with them. For example, if you are crafty enough, you can even make shelves or tables out of them to add a modern touch to your living space.
Making shelves out of pallets is not such a hectic task. It takes around three hours to get started on a frame and finish with the project. The best thing is that you have the freedom to add a few supplies to your work. For example, ask your kind to stain it with a variety of colors. Doing this will add a personal touch to the piece, which you and your kids will remember forever.
4. Pallet Stalls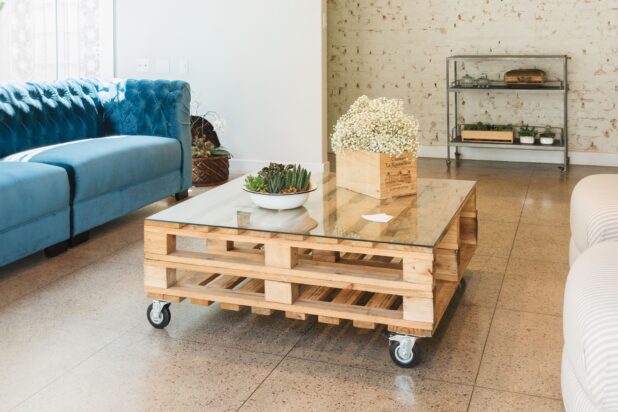 There is no limit to what you can do with wooden pallets. These rusty-looking items are great for adding a country touch to your place. So, if there's any unused wooden pallet lying around your backyard or your friend's home, you can use it to create a table or even a bench. Just make sure to have all the necessary supplies within reach, and you will get done with the task in a few hours.
Take little breaks in-between the task but not so long that you forget what you wanted to create. You can place the bench in your living room to add a fabulous look and finish it using sand and stain to your choice of color. Now you have a beautiful place to sit on that costs you nothing!
5. Photo Frames
Not everyone likes hanging the cliche-looking photo frames on their living room walls. If you are thinking of updating the overall look of your living room to modern wood, it is best that you also update the photo frames. Whether it is a family photo, a portrait, or a quote frame, turn them into classy rustic decor with a little bit of effort.
You can use burlap formatting and add black-white photos to it. If you don't find it attractive enough, you can add satin ribbons or paint to decorate them. Adding wooden photo frames to your space will not only make your place look elegant but enticing to your heart as well.
6. Small Pieces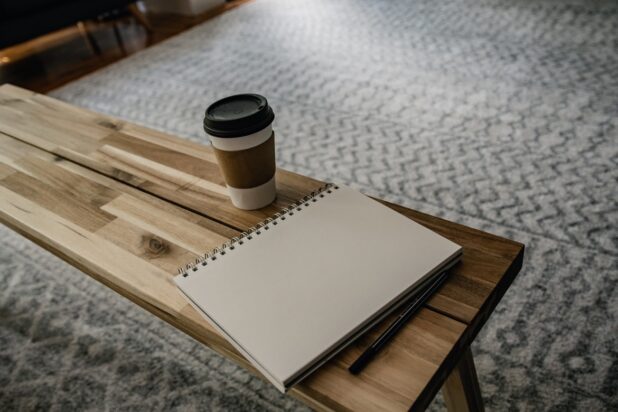 It's funny how you can do so much with just a piece of wood. Previously, we discussed how you could make a table, bench, and even frames out of the wooden work lying around a storeroom. Now we have discovered much other stuff that you can create using it, including fruit boxes. If there are some fruit boxes in your home, you can recycle and varnish them to make a classy wooden interior design.
You can also use them for storage purposes or as a coffee table. Attach wheels to its bottom so that it can move around and add a designer touch to your living room. Visit this website to learn about some more amazing modern wood decorating ideas for your living space.
Final Words
We hope the above modern wood decor ideas unlock the most significant potential of your living room. There is no limit to what you can create out of wood from contemporary to mid-century, minimalism and maximalism.
As this material adds a touch of warmth and gives your space a rustic look, it has become one of the most natural materials used by people. It is used for making many things, including lighting fixtures, coffee tables, photo frames, shelves, decorative accessories, and others.
We truly hope the above design ideas help you decorate your living room interior according to your taste.