Have you ever considered living in a luxury waterfront community? Unlike standard waterfront communities that simply place you near the beach, a luxury waterfront community offers amenities that make you feel like you're already on the beach.
For example, ModernLivingRE.com recommends a luxury waterfront community in Florida called SeaGlass Jupiter Island. This community features all the amenities you'd expect from a luxury condominium: gated entry, secure parking, an attendant, a fitness center, private cabanas, and more. This community also has a poolside sandy beach, so you can effortlessly move from the pool to the shore.
If luxury waterfront living is on your mind, there's a reason. If you're living in the city and you're looking for a new view, here are some good reasons to splurge on luxury waterfront living.
1. Easy access to the beach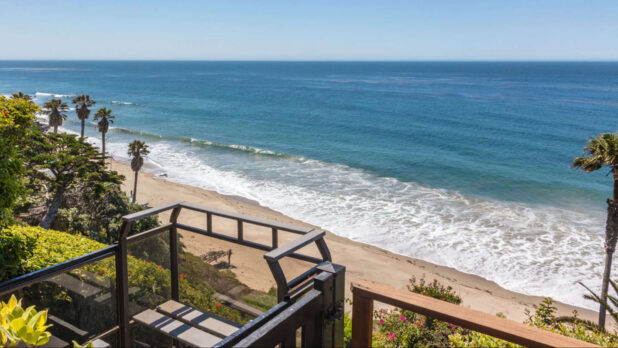 If you love going to the beach, that's the best reason to move into a waterfront community. When you live in the city, a trip to the beach is usually chaotic and frustrating. For example, you have to pack everything you'll need in bags you can carry out to the sand. If you forget something, you're out of luck. You also have to drive to the beach, circle around several times to find parking, pay for parking, and then carry everything down to the water.
When you live in a luxury waterfront community, you can just walk down to the beach whenever you want. If you forget something, you can head home to grab it and go back to the beach. You never have to find or pay for parking.
2. Access to a private café – an entrepreneur's dream
Many luxury waterfront communities have a private café in the lobby. That's perfect for entrepreneurs who enjoy working in a café environment but don't want to waste gas driving into town.
For entrepreneurs, having a private community café is like having an exclusive shared office space. Other people will use the café, but it won't get overcrowded since it's not open to the public.
If you're an entrepreneur working on a big project and you don't have time to cook or make your own coffee, you'll love living in a community that has a private café.
3. Amazing 360-degree views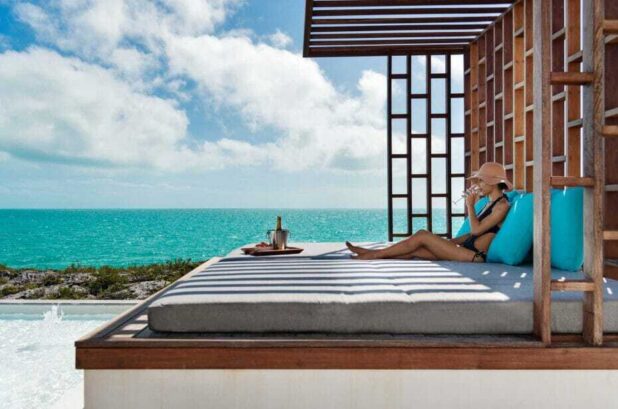 You can't beat the views from a luxury waterfront apartment. Many waterfront apartments are built with a 360-degree view of the water and city with floor-to-ceiling windows. That's something you won't find in the average waterfront house. In fact, even though many of the world's top luxury waterfront and island homes have amazing views, it's rare to find a 360-degree view.
Imagine waking up in the morning and looking straight out over the ocean. Imagine walking around your house and you see the ocean and the beach everywhere you look out the window. Imagine making your morning cup of coffee and staring out into the distance watching the sunrise, while smelling the crisp clean, ocean breeze.
You'll never get those experiences while living in the city.
4. Fresh ocean air is therapeutic
Most people would agree that breathing in fresh ocean air is therapeutic, but there's actual science to back it up. Ocean air contains a higher concentration of oxygen and negative ions. This combination accelerates the body's ability to absorb oxygen and balance serotonin levels.
If you need better sleep, you won't find a better place to sleep than by the ocean. In fact, a research study from the University of Exeter analyzed census data belonging to 48 million adults in England and found those living near the coast had lower levels of mental distress. When those people moved away from the coast, their stress levels increased.
While living by the coast is naturally less stressful, the contents of ocean air do play a large role in stress reduction.
Another health benefit to living by the coast is the combination of saltwater and UVB exposure. In 1999, researchers from Germany found that seawater and UVB radiation can help improve skin problems like psoriasis and dermatitis. UVB light is commonly used in the medical field to speed wound healing and has been known to help with skin problems for decades.
5. Some communities have a private golf course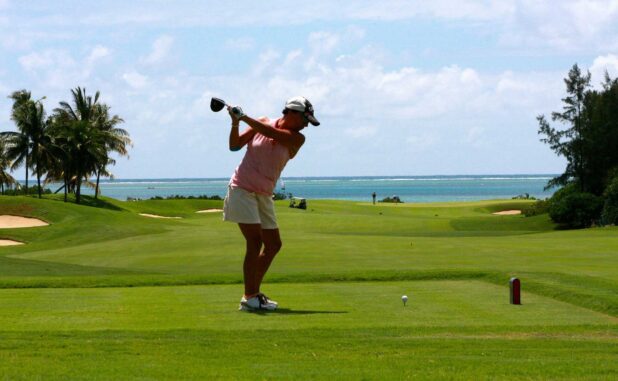 If you love playing golf, what's better than having a private golf course in your backyard? Granted, most private courses aren't as vast or challenging as a full course, but they're equally fun and great for practice.
When you love golf, nothing beats waking up in the morning and heading out to the golf course without having to drive. You can invite your friends over for a simple game and relax or play another round if the course is small enough.
6. You can enjoy a private beach experience when the tourist season starts
Living in a beachfront tourist town is difficult. For example, many people who live in waterfront tourist towns have a hard time parking on their own streets during the summer. It's nice to live near the beach, but it's frustrating to compete with tourists for parking and space on the beach.
However, when you live in a luxury waterfront community, you don't have to contend with tourists. You won't have to fight for parking since you'll already be living on the shore. With the right community, you won't even have to compete for space on the beach to enjoy the sand and the summer sun.
Many luxury communities extend well into the sand, so you can enjoy the beach in a secluded spot without having to field stray frisbees and dogs. You can watch the crowd and wait for a clear spot before heading out further.
Tired of city life? The beach is calling you
City life has its perks, like being able to walk to the grocery store or wander around downtown without having to find parking. However, there's something extra special about living by the water. Even more so, living in a luxury waterfront community comes with amenities that can't be beaten.