People have found new and innovative ways of doing things in the modern world. They can perform tasks in a creative way that was not possible earlier. Technology and urbanization have led to remarkable growth that cannot be measured.
With the increasing technological development, there are several areas and sectors that have upgraded their level. One of the most impressive developments through technology has been the education field.
Today, students have become sharper and more capable of grasping concepts. Smartphones, gadgets, virtual interactive programs, and many other such elements have provided the students with a great learning experience.
Interactive displays have improved the teaching and learning process. There are various modes and ways of getting interactive displays to foster a student's growth. A person can find these interactive displays and tools on this website to aid student engagement in classrooms. The following section gives a detailed analysis of how these displays can promote student engagement.
6 Incredible Ways To Enhance Student Engagement In Classrooms Using Interactive Displays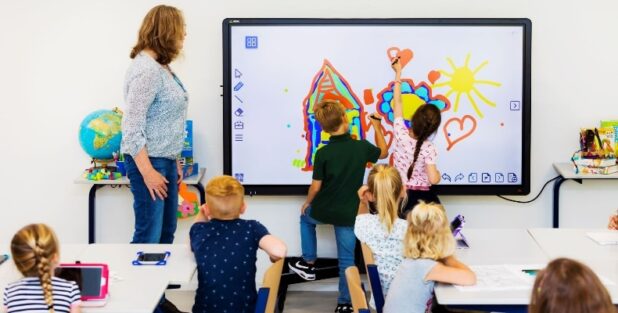 Nowadays, various schools and institutions use different ways to increase classroom engagement. Some of the most impactful ways of using interactive displays are shown in the following points.
1. Usage Of Team Post Applications
Most students hardly like to open textbooks and assignments after class. Parents complain about the lack of students' engagement in class as well as at home. Prior to digitization, teachers tried to involve students in the concepts by having learning games.
However, with the introduction of digital whiteboards, learning games have become more fun. In the team post-application, there are different sections allotted on the board. In these four or multiple sections, some random students are called and required to solve a problem (mathematics).
On a real-time basis, this application enhances competition among the students to complete the problem in the fastest way possible. The board is embedded with a timer. In this way, teachers can promote teamwork by making different teams and promoting students from each team to win points for their team.
This competitive team application can make the toughest and the most boring subjects and concepts interesting. Moreover, these activities can boost the enthusiasm level of students. Touch screens gather more interest and facilitate visual stimuli.
2. Electronic Sticky Notes
The best thing about interactive displays is that it promotes gathering insights into the students' understanding level. In other words, a teacher can easily look into the students' response to a particular problem or question simultaneously.
Electronic sticky notes are a great medium to get maximum participation from students. Every student is provided with notes present on their personal devices. When the teacher posts a question, all the students write and post it on the notes simultaneously.
The teacher can go through different responses and select the best one for an open discussion in the classroom. They should not name the student who posted the best answer as it can make introverts more nervous.
An added advantage of this digital feature is that it saves time. Traditionally, the teacher would ask questions and listen to all the answers separately. In this process, they might also miss out on some unique answers.
3. Receiving Instant Feedback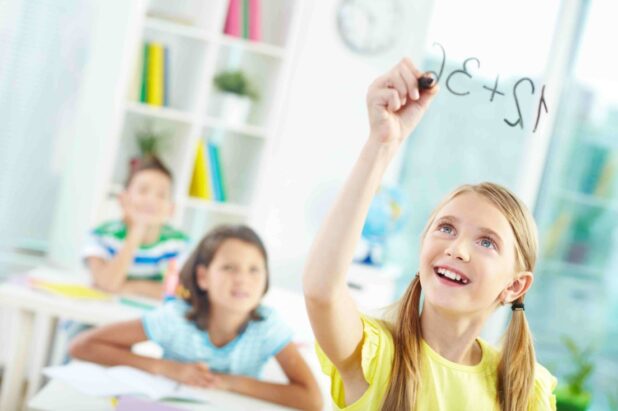 Students generally lose interest in the assignments and in in-class learning due to a lack of proper feedback from the teachers. Through visual display and regular interaction, people can guarantee feedback more often.
There are various apps for feedback that enables and notifies the teachers to give timely and consistent feedback to the students. Through these apps, they can know whether they are performing a practical task or activity correctly or not. As a result, it also boosts the individual's overall productivity.
4. Access To Quality Material Through Cloud
In the traditional mode, students were provided with a book that had all the necessary content for learning. It contained minimal visuals and a lot of content. As a result, students would get bored more frequently.
Through interactive visuals, this boredom has been reduced. Today, digital whiteboards can get content from Google Drive, Microsoft OneDrive, mobile phone images, etc. In this way, students can get more clarity about the concepts through videos and better graphics.
Moreover, mentors can guide students in a better way. They can teach complex concepts easily through Wikipedia and Youtube. They can relate certain topics with the internet and offline textbooks. Apart from these innovations, 3D images can give students more interesting and engaging content.
5. Switching Between Presentation And Collaboration Modes
There is a massive increase in the number of schools using the BYOD (Bring Your Own Device) format. Students can bring smart gadgets to have a live interactive classroom session. It has enabled the students to work and learn simultaneously with the teachers.
This is made possible through presentation and collaboration modes. Through collaboration mode, students and teachers can simultaneously make changes on the digital board. For example, teachers can use this mode when they want students to explain a concept diagrammatically on board.
However, there are chances of students using this mode for drawing inappropriate visuals or wasting time. In order to avoid mischievous activities in between the class, teachers can switch to presentation mode where only teachers can edit the whiteboard. In this two-way communication, all the students can pay attention regularly.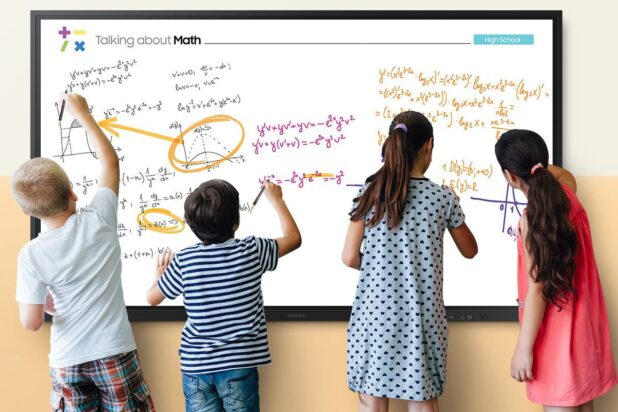 6. Split Screen Feature Sharing Homework And Classwork
How impressive would it be to browse through different windows and multiple screens? Split-screen features in interactive display boards allow teachers and students to check the work in the class simultaneously.
A student can share their classwork or homework with the teacher on a real-time basis along with learning a concept. Moreover, teachers can check a particular assignment of all the students at once. It will help save time. It offers excellent convenience for teachers to move between different students' work and leave comments on them.
Bottom Line
Interactive displays have proved extremely beneficial for both students and teachers. It has provided better ease of usage and shown positive results in students. It streamlines the entire education system, assisting in management and communication among the institution authorities.