Banners have traditionally been seen as crucial promotional and marketing tools, and they have gotten more complex as printing technology has advanced.
You may now order a banner from lushbanners.com for any reason. The many forms of banners are suitable for a variety of applications. Depending on your scenario and why you want a banner, you will discover an ideal kind for you in the list below.
Before ordering a printer to create a banner for you, consider its function and where you will place it since some banners are best suited for interior use while others perform admirably outdoors.
What exactly is a banner?
A banner is a long piece of fabric or a flag with a phrase, emblem, symbol, advertising, or other forms of message printed on it. They are used in advertising, public events, demonstrations, and protests. Since the introduction of eCommerce, the word banner has also referred to advertising messages shown on websites.
Some of the most common banner kinds are listed here.
1. Flags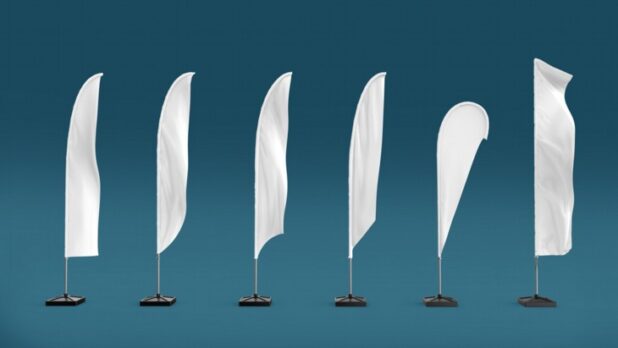 For any outdoor event or roadside company, advertising flags are a necessity. Feather banners, sometimes called swooper flags, are named after their feather-like design, curled at the top but hanging free at the bottom. Teardrop flags form a flipped teardrop, with a curved top and a pointed bottom where the flag connects to the pole.
These banners may be customized with bespoke branding during fundraising events and major celebrations. Enterprises can also choose from a selection of pre-printed texts for realtors, cafés, and other small businesses. Standard commercial terms such as "Open House," "Hot Coffee," and "Sale" are put on pre-printed messages. These banners come with various mounting options, including ground spikes for use on turf or grass, a car foot for use under tires for tailgates, or a water base for use on hard surfaces.
2. Retractable Banners
Retractable banners are remarkably simple to use and are often employed by companies because of their simple structure. These banners are constructed from durable and long-lasting vinyl material and are mounted on a robust aluminum base. They may be quickly rolled up to show the banner and then retracted when not being used. Retractable banners are often used as an interior display since you can quickly replace them without replacing the base, rendering them cost-effective and reusable. Thanks to the retractable function, the banners may also be folded and transported without taking up too much room.
3. Step and Repeat Banners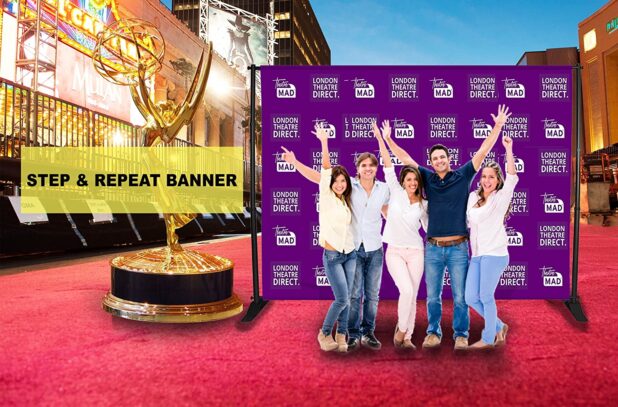 Step and repeat banners include a repeated printing design of the business and logos promoting the event and are best utilized as a background for events to snap photographs and as a promotional backdrop. It helps provide additional promotional chances and increases brand awareness. These may be readily reused for several occasions with the durable stand they are mounted on, printed with fade-resistant printing.
The dye-sublimation technique has high-quality, rich colors and a no-glare look, allowing the backdrop to appear clearly in images. The banners can be washed, and the stands can be collapsed, enabling them to be reused for a long time!
4. Hanging Banners
Banners may be hoisted above a crowd using rods and wires for added impact and visibility. Although installation will take some time, nothing is more eye-catching than a hanging sign over everyone's head. These are excellent suggestions for festivals, fairs, big opening events, gatherings, or public announcements. The traditional appearance and feel of the hanging banner can't be overstated. An extra benefit is that you may have the banner cut into whatever shape you desire, such as triangular, round, or diamond, rather than the typical rectangular banner.
5. X-Banners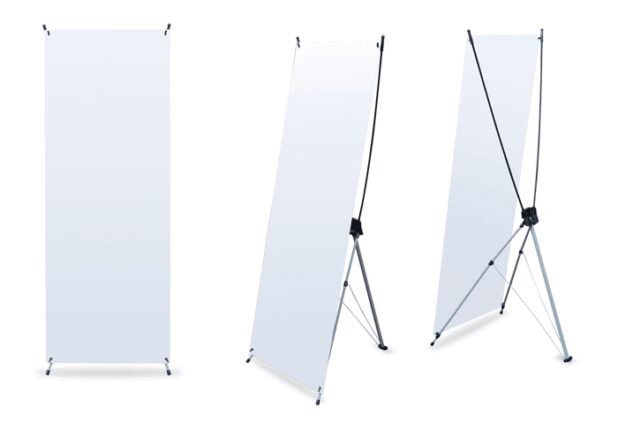 The X-Banners' moniker comes from the appearance of their stand. Because these stands are so light, you can simply carry them from one location to the next without taking up too much room. Besides the fact that they are inexpensive and easy to create, these banners are popular since they are the only ones that are made to employ grommets. It enables you to repurpose your existing hanging banners into banners with support without creating a new one. Companies love X-banners because of their variety and adaptability!
6. Tension Fabric Banners
Tension Fabric Banners are made of a wrinkle-resistant stretchy material that easily wraps around stands and displays your message without folding or slipping. Due to their flexibility, they are a popular banner style since they enable you to quickly incorporate your visuals to produce a stunning, fluid presentation. With the portable and lightweight tension fabric banners, you can add a contemporary touch to your advertisements. The material is durable and sturdy, and it can be washed and cleaned without causing damage. Due to its elastic characteristic, the cloth simply glides on the hardware, enabling unlimited advertising chances with vibrant colors and design.
7. Pole Banners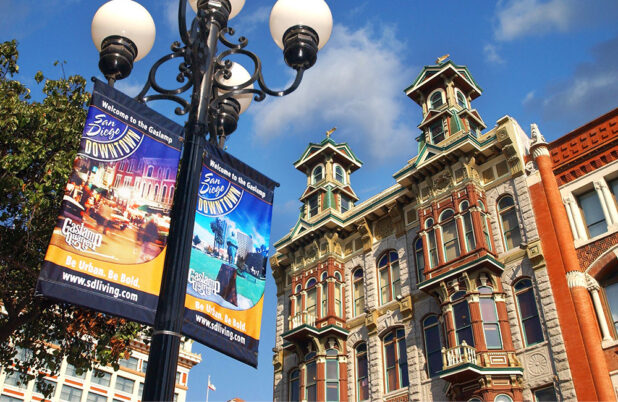 Outdoor pole banners are often seen advertising festivals, concerts, and events on the streets and avenues of downtown areas. However, You can utilize them for a number of additional functions, such as adorning college and university major thoroughfares, advertising retail places such as shopping malls, or giving a splash of color to casinos, hotels, and other entertainment facilities. Pole banners, which are often printed on durable vinyl material in square or rectangular shapes, may be placed using hardware kits that enable you to attach the banner to a pole using two extended brackets.
8. Framed Banners
You can frame almost any banner in the same way framed wall art is seen in workplaces and homes. This terrific technique makes the framed banner seem more sleek, professional, and long-lasting. There will be considerably fewer undesirable wrinkles or external disturbances such as wind as the cloth gets more taught. If you want your banners to look better and last longer, especially if it is a donor recognition display, you may want to check https://www.donorsigns.com/.
Conclusion
Thanks to a wide range of materials, shapes, sizes, and finishes, banners are making a resurgence as a cheap and eye-catching way to make a statement. Whatever your requirements are, there is a banner to assist you in attracting attention. Whatever banner style you pick, make your colors vibrant, your text large, and your messaging explicit.