Kashmir is truly a heavenly place on earth, with its gleaming lakes and lush meadow dotting the picturesque landscape enclosed by the snow-clad mountains. Surrounded by the mighty ranges of the Great Himalayas, it is no surprise to see Kashmir referred to as India's Switzerland.
Every year, millions of tourists head for the various picturesque places in Kashmir that are blessed with the most scenic views. They look forward to enjoying an enthralling experience as they explore Kashmir and its famous tourist destinations that offer an array of exciting things to do and see. Browse ekashmirtourism.com for more information on the unbelievably beautiful landscape of Kashmir.
However, there are some picturesque locations that should not be missed by any traveler. Check out the following list of some of the top places to visit in Kashmir for your next vacation.
1. Srinagar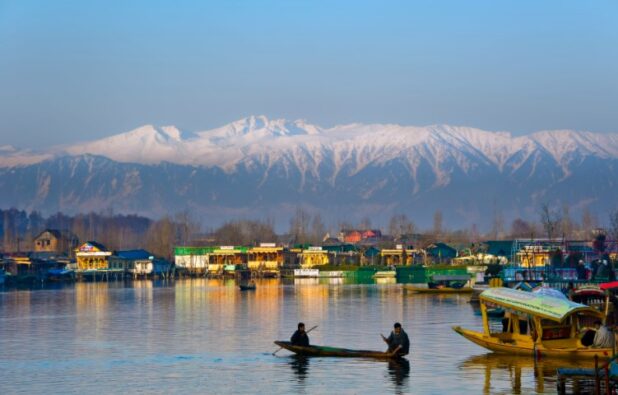 You must start your trip with a stay at one of the most beautiful places in Kashmir, Srinagar, which is also the capital of J&K. Srinagar, enclosed by the green mountains is home to the majestic Shalimar Gardens, and Dal Lake is the highlight of the city. You can stay for a few days in the iconic houseboat and take a shikara ride on the lake. Trek to the top of Shankaracharya Temple, go water skiing or enjoy bird watching. Mughal Gardens, Pari Mahal, Chashme Shahi Garden, and Nishat Bagh are also popular among the locals and the tourists. Srinagar is home to the largest Tulip Garden in Asia, but the blooming season lasts in the months of March and April. Srinagar has it all and should be the first stopover for every traveler to Kashmir.
2. Kupwara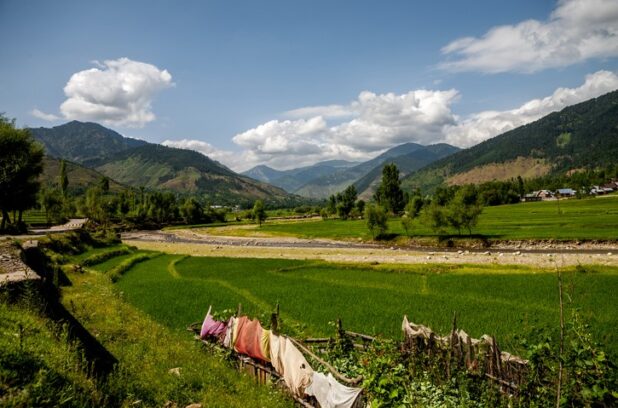 Kupwara has located about 90 km from Srinagar and is blessed with some of the finest views of nature with thriving meadows and is surrounded by alpine mountains. The city embodies the complete beauty of Kashmir. There is plenty to do and see here, and some of the tourist sites include names like Lolab Valley, Baba Fateh Ullah Shrine, Hazrat Mehmood Shah Shrine, Bungus Valley, Sadhna Pass Viewpoint, and more. Get ready to explore some of the relatively unknown areas of Kashmir once you reach Kupwara. Some of the key religious attractions here include Gozi Masjid, Jamia Masjid, and Kheer Bhawani Temple.
3. Pahalgam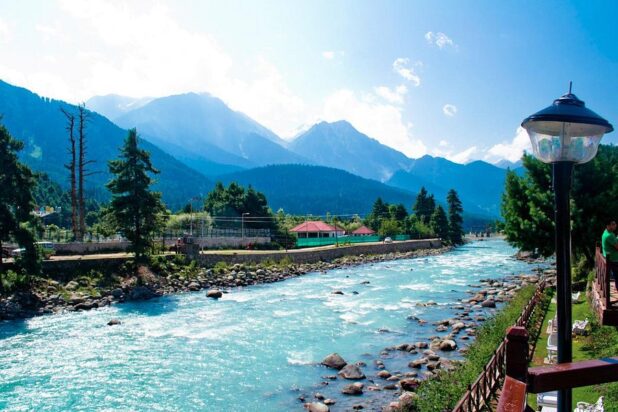 Pahalgam is the best place to experience and explore exhilarating deep valleys and enjoy clear water rivers. Located at an altitude of about 2700 m, Pahalgam is surrounded by dense forests and meadows of flowers. One experiences complete tranquility and serenity when they land at the hill station and forget all about their stressful life in the cities. Adventure lovers can enjoy river rafting at Lidder Lake or play golf or enjoy horse riding in the picturesque valleys. They can take any of the mountain trails and explore the Overa Aru Wildlife Sanctuary. Tullian Lake and Lidder River are other major attractions, and pilgrims take the route to Amarnath Cave Temple from Pahalgam.
4. Hemis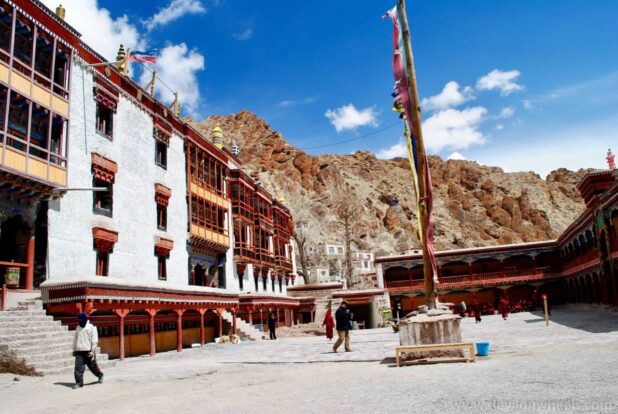 Hemis is a small village that is located southeast of Leh and epitomizes natural beauty, just like any other popular city or town in Kashmir. The relatively unexplored destination is well known for its magnificent monasteries and national park. So, if you are a wildlife enthusiast, you should visit Hemis and its national park that boasts of rare species like the snow leopard and bharals. The Buddhist monastery is the most visited during the annual Hemis Festival and is seen as one of the wealthiest monasteries in India. Other tourist attractions include Gotsang Gompa and Stakna Gompa that overlook some of the most panoramic and beautiful views of the valley. It is mesmerizing to listen to the chanting of the monks. While at the Hemis, you will be tempted to try your hands on the painting and shop for some souvenirs.
5. Kargil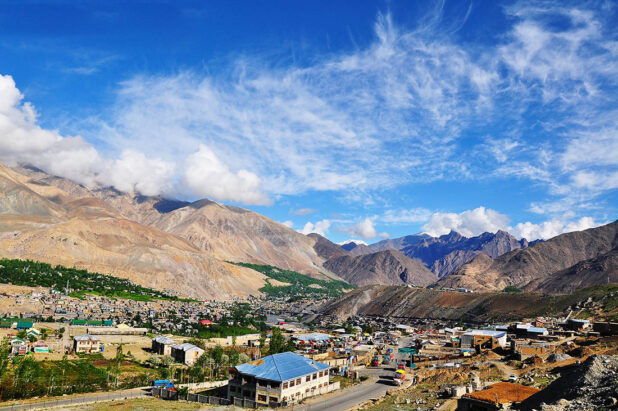 Kargil is a small city which is located about 200 km from Srinagar. Although the city is more known for the Kargil war, it is a must-visit for every traveler who is in Kashmir and looking for an enchanting experience. Get ready for some scintillating views as you escape to nature's lap. There are a plethora of tourist attractions within the small town, such as the Drass war memorial that will evoke patriotism within you or the Maitreya monastery with a tall statue of Buddha. You will love to explore and shop in the busy main street of the city, which is indeed a shopper's paradise. Suru basin is well known for its splendid greenery and is seen as the most fertile green region that produces wheat, barley, radish, and grapes.
6. Sonamarg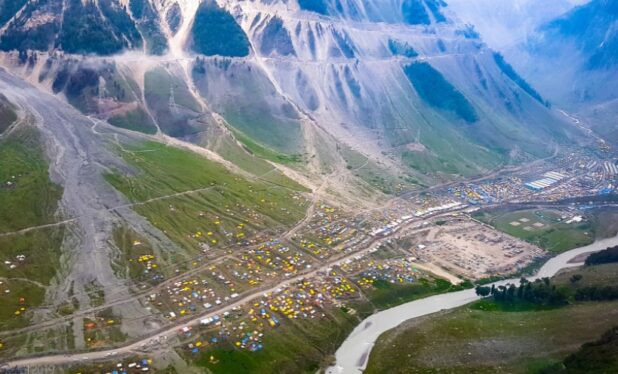 The name Sonmarg suggests or 'the meadow of gold," and it is indeed like a meadow of golden hues with its stunning flowers amidst green grasslands that are surrounded by snow-clad mountains. Sonmarg is also the starting point for the pilgrimage to Amarnath. Adventure lovers enjoy trekking, river rafting, and other various events around popular tourist spots. Explore a number of trekking routes that boast breathtaking views. Sonamarg itself is home to many beautiful lakes such as Satsar lake, Gadsar Lake, and Gangabal Lake. Wherever you go, you are sure to see alpine glaciers, passes, and more. Enjoy hiking, trekking, and camping amidst the most stunning places in the whole of Kashmir.
7. Gulmarg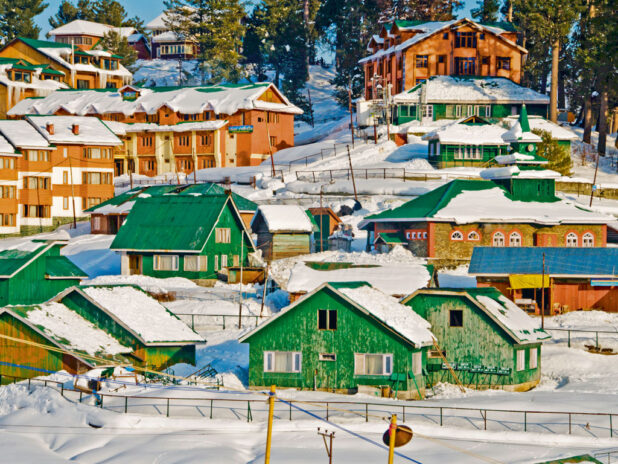 Well known as the 'Meadow of Flowers', Gulmarg is also referred to as the skier's paradise of Kashmir. Get ready to experience some of the fascinating views from the world's highest points and feast your eyes on the contrasting spread of vibrant flowers against snowcapped mountains and green meadows. This region of Kashmir is a favorite among the adventurers who come here to enjoy biking, trekking, skiing, and more. You can even learn skiing here or try your hand at golf. Seek holy blessings of Baba Reshi Shrine and spend some peaceful moments at St. Mary's Church. Other points of interest in Gulmarg include Maharani Temple, Khilanmarg, Single Nallah, Alpather Lake, and more.
Read Also:
Top 5 Best Tourist Places to Visit in Ladakh