Whether you are a physically disabled person in a wheelchair or met with an accident and have to move in a wheelchair, it might be risky and hard to enter or exit your home. As a result, installing a wheelchair ramp in your home will make everything easy.
What You Should Be Aware Of Prior To Installing A Wheelchair Ramp
Check out the essential aspects you have to consider prior to purchasing or installing a ramp in your residence.
Size Of The Ramp
It would be easy to measure the ideal height, length, and width of the ramp after you determine the location for installing the ramp. Examine all of your alternatives' safety features to verify that the ramp you choose is the best option for you. If you are going to be traveling a lot, it would be better to consider a simple wheelchair ramp construction method.
Ramp Material
Wheelchair ramps are available in plenty of materials and sizes. Portable stair ramps are frequently made of aluminum or steel because they are simple to install. If the ramp's material is heavy and bulky, it would be harder to install and transport it.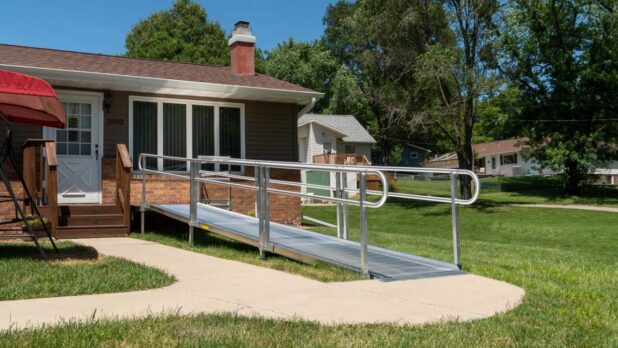 Type Of Ramp
The sort of ramp that is installed is totally determined by the structure. It is possible that all you require is an outdoor ramp or a portable wheelchair ramp. Prior to buying any simple-to-install ramp, make sure it can support the weight of the wheelchair along with the person. It is because some poor quality models can not support the total weight, increasing the safety concern. If you want to get a decent-quality wheelchair ramp, it is better to visit this site.
Weather Impact
In case you are likely to use your wheelchair ramp outside often, it is necessary to think about how the weather may affect it. If you reside in an area where it rains or snows frequently, steel ramps are more susceptible to rust, so you need to select another model. If your ramp is composed of heat-sensitive material, severe heat could be a problem since nobody wants to burn their hands while packing up the ramp.
Maintenance
Another factor to look after is maintenance. The amount of time you utilize the ramp will determine how frequently it has to be overhauled. Based on the usage levels, substances, and other factors, specific manufacturers might provide maintenance on a regular basis or expanded warranties.
Tips For Wheelchair Ramp Installation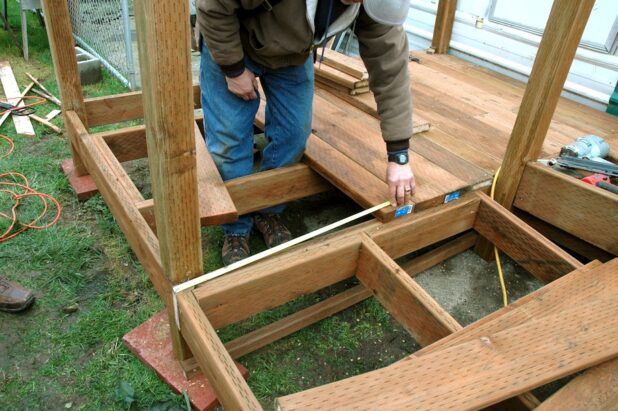 Here we have listed the best tips for installing a wheelchair ramp at your house.
1. Consider Your Space
The preliminary planning, getting the proportions, and creating the sketches of the ramp you want to install are vital in order to make accessible adjustments within your home for installing the wheelchair ramp. The majority of individuals believe that an external wheelchair ramp should be installed at the front door. Two things must be considered in order to determine which is ideal for you.
The first proportion is from the threshold of the main gate to the ground level. Since the ultimate steepness ratio is 1:12, if the main entrance is 2 feet above ground level, it is necessary to get a ramp that measures 24 feet. In addition, determine whether there is adequate room in the front of your house to construct a ramp or not.
If not, it is better to install the exterior ramp directing to the backside gate or a side door if your property has one. If it is also not possible, it would be best to select a stair or chair lift which may be a better solution than a wheelchair ramp.
2. Check the Slope, Rise, and Width of the Ramp
The ramp needs to have an ultimate slope of 1:12 and an absolute elevation of 30 inches. The slant and height will assure that the wheelchair can easily navigate the ramp without putting the person under any pressure. Make sure to construct the ramp from a sturdy, reliable, and slip-resistant substance to adjust to various weather situations.
It should have an appropriate slope to deter water from gathering on the surface. In order to fit the wheelchair, the ramp's width has to be 36 inches at the very minimum. Make sure to calculate the wheelchair to determine the appropriate size.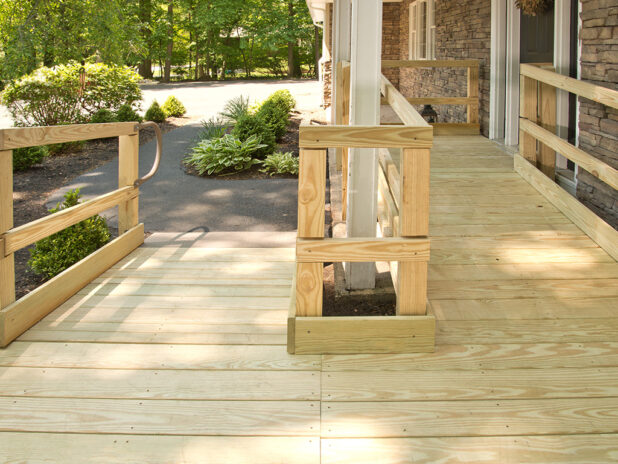 3. Consider Constructing Landings And Handrails
Both sides of the ramp need to possess handrails, which have to be built 1.5 inches from the fence. Handrails must be rounded at the edges or retrieved to the ground or pole. For people with restricted mobility, the handrails will deliver extra support. The ramp landings need to be as broad as the ramp and have an ultimate length of 60 inches.
4. Protection From Weather Elements
In order for a person in a typical manual wheelchair to safely climb or come down the ramp in a moist climate, the ramp needs to have a slip-resistant surface. A wooden ramp is insufficiently safe on its own. So, it is better to consider a stainless steel surface that is slip-resistant.
5. Make Sure To Comply With The Safety Standards
The Americans with Disabilities Act (ADA) establishes a bunch of guidelines for the construction of ramps, which you must follow. It is to ensure the primary safety of the person in the wheelchair.
In a nutshell, the slope should not be vertical than 1:12, which means it can only increase a single inch for 12 inches of length. Without a built-in seating outlet, the ramp should be 36 inches wide, and it should not be lengthier than 30 feet.
The ramp should be well-protected with sturdy railings on both sides. Handrails and other elements that are involved in the ramp installation have their own set of specifications. According to ADA guidelines, handrails and grab bars must have an outer diameter of 1-¼ inches to 1-1/2 inches.
Bottom Line
If you want to construct a sturdy wheelchair ramp at your home, make sure to follow the above-listed tips and other safety precautions. It is better to buy a reliable ramp not to compromise the safety factor.