If you recently found out that you and your partner are expecting a baby, you've probably immediately started thinking about how you'll decorate the nursery. And, if you both love visiting places all over the globe, you might have decided that you should create a travel-inspired nursery for your little one.
However, creating a nursery with this theme might be a little bit daunting and complex, especially if you've never decorated a nursery before. So, if you started feeling overwhelmed, don't worry, our article will help you. Here is our list of the top eight ways that you can create a travel-inspired nursery:
1. It's Easier to Mix Things Together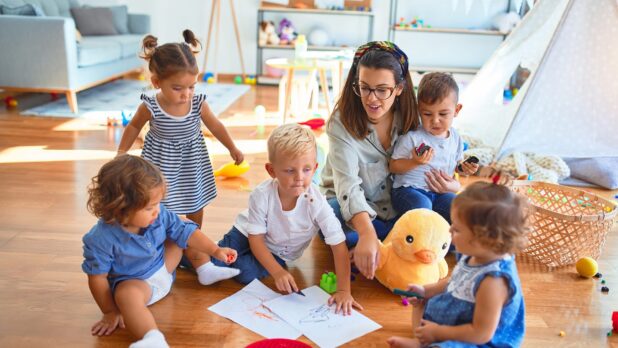 Before we take a look at some other tips that can help you design a travel-inspired nursery, the first thing that you should remember is that it'll be easier if you choose to mix the theme with basic items. For example, if you opted for bedding that features trains, you don't really need to have curtains and other items with trains as well, instead, you can choose something basic. Hence, when decorating, ensure that you mix various prints, textiles, and décor together so that you don't overdo it with the theme.
2. Let Your Creativity Run Wild
As we already mentioned, the entire nursery doesn't have to feature only travel-inspired items – meaning that it shouldn't all be vintage maps, globes, and transportation means. Additionally, when opting for décor, it might be tempting to opt for all cliché items for the theme, but if you do this, you might end up with a room that looks completely messy. Because of this, incorporating subtle elements of the theme is a must.
For instance, if you opted for white shelves, you could decorate them with some elements such as a small colorful sailboat or you could choose to place a vintage airplane on one of them. You could even choose to add some hanging ornaments such as clouds, air balloons, or even a globe! Be careful about not going overboard and if you manage to incorporate subtle details into the room, everything will look more appealing.
3. The Feeling of Exploration Can Be Added With Wallpapers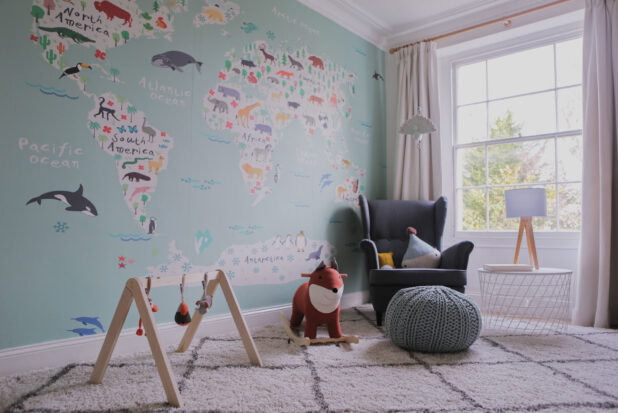 If you, for example, want to add one or two travel elements to the nursery, you could choose to place wallpapers on one of the walls. Whether you'll choose a wallpaper that features the natural beauties of Africa or if you want to opt for a map, you'll definitely evoke the feeling of exploration. There is a wide range of options available on the market and if you want to see what kids' map wallpaper you can opt for, check out https://www.wallmur.com/wallpaper.
4. Wall Decor is a Must!
If there is one thing that you should take away from this list, it's that you must ensure that you add decoration to the walls. Besides choosing some photographs or prints of various countries, you could also, for example, choose to add a paper rhino head to a wall. Whatever you opt for, ensure that you choose frames that go well with the rest of the furniture you purchased, which leads us to our next point…
5. Choose The Furniture Carefully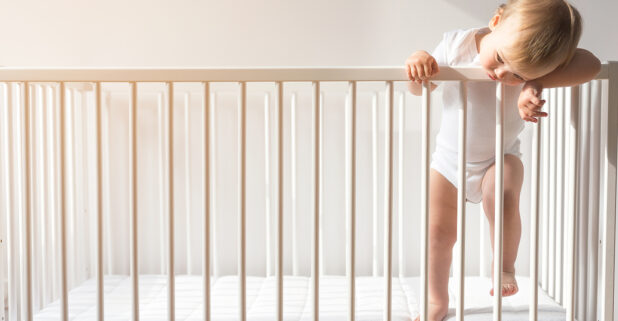 You probably know that there isn't a lot of travel-inspired furniture – cribs and changing stations – out there, which is why you might want to transform the pieces you purchase! For example, if you purchased a white crib, you could sand down one side and paint them in colors that remind you of traveling. Green might remind you of nature, while blue could represent the sea, and no matter what colors remind you of what, think about transforming the furniture in the nursery.
6. Add a Little Bit of Vintage to The Mix
Nothing says wanderlust and travel like a few vintage items. Because of this, you might want to, for instance, add an old suitcase or a carpet that is rustic. Additionally, you could choose to create some vintage items by yourself, such as a direction sign. There are literally endless things that you could add, hence, when you're browsing through the options that you have, you should choose something vintage as well.
7. Opt For Travel-Inspired Bedding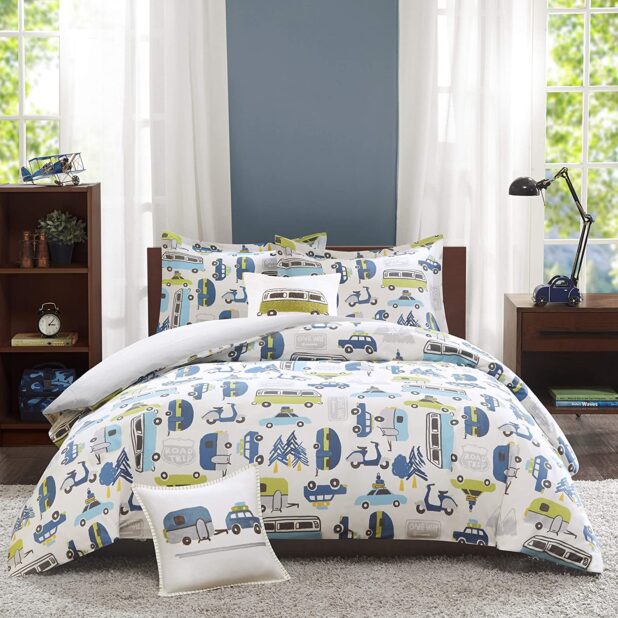 When you're almost done decorating the room, you might want to move on to purchasing bedding for your little one. There are various options that you could choose including bedding featuring maps, roads, planes, trains, or the ocean. Also, since you'll be nursing your little one in the same room, you could opt for adding a few pillows with similar motifs so that you can tie the entire place together nicely.
8. Think About Adding World Currencies Into Frames
Last on our list of tips, but definitely as interesting as the rest of the things we've mentioned is that you might want to consider adding world currencies into frames. Now, if you gathered some currencies while you were traveling, you could choose to add them to frames, however, if you don't have a lot of them, don't worry, you could find the pictures online, print and cut them, and simply frame them!
Another fun thing that you could do is to place the currencies under the glass of a table that you might want to use for placing your items while feeding your baby. Again, you can purchase such tables online or in brick-and-mortar businesses and simply add the currencies underneath the glass. Doing this will create a really nice decoration and as your child grows, they might ask you questions about different currencies.
Conclusion
Although it might be a bit daunting and complex to decorate a travel-inspired nursery, it doesn't have to be like that. And if you choose to follow some or most of the tips we've mentioned above, you'll be able to make the entire process easier, but more importantly, you can make sure that you create a wonderful area for your little one.
Since you've now learned what are some of the basic elements of a travel-inspired nursery, you shouldn't lose any more of your free time. Instead, you might want to start browsing different websites in order to find the furniture and décor you need for making a travel-inspired nursery.