When you talk about the best power forwards in NBA history the name Tim Duncan is never far from the conversation but who exactly is the man behind the name?
Here we take a look at his life and how he became a legend of basketball.
Tim Duncan's Early Life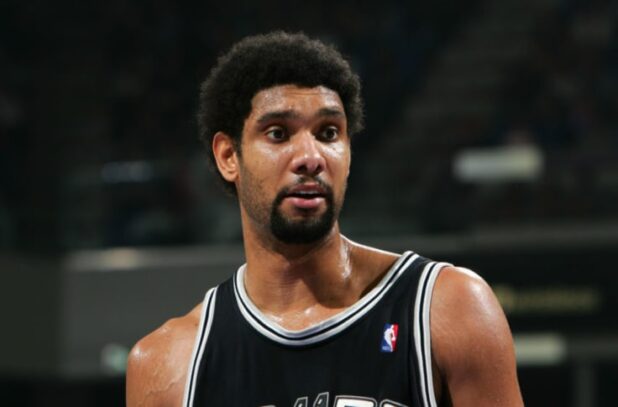 Lines.com reports that Duncan was born to parents William and Ione in April 1976. He spent his formative years on the island of his birth – the US Virgin Island of Saint Croix. In hindsight, the 6'11 giant looked destined for a career on the court but it was another sport that had him daydreaming as a youngster.
Swimming. That's right, it was only after a hurricane destroyed his only means of pool practice that Duncan's desire to go to the Olympics waned.
Things weren't plain sailing for the now legendary San Antonio Spurs man. He lost his mother at the age of 14. Something good did come out of it though; he took up basketball to help alleviate his stress and torment.
At the start, he had the size of a basketball player but not the skill. Still, that didn't take long to develop and, had it not been for a promise he made to his mum about obtaining a degree, he would have been in the NBA before his four years at Wake Forest was up.
NBA career
The San Antonio Spurs took Duncan as the number one overall pick at the 1997 draft but he joined a side devoid of confidence after a pretty horrific season that saw them lose over 60 games. Duncan's arrival – along with the return to fitness of David Robinson – helped go some way to solving that problem.
Duncan, in particular, was a monster in his inaugural campaign with 21.1 points per game and 11.9 rebounds. It saw him named to the NBA First Team alongside his honor of being named Rookie of the Year.
The individual awards just kept rolling in for Duncan throughout his career. It helped his team massively too and in just his second season he led the Spurs to their first-ever NBA Championship as he was named finals MVP.
It was the first of three seasons where that combination of honors found their way to San Antonio with the Spurs having triumphed in 2003 and 2005 also.
The second Championship winning season also saw Duncan named league MVP for the second consecutive season.
The 2002 award was helped by a career PB of 25.5 points per game whilst the 2003 win showed the other side of Duncan's repertoire as he posted another career-best but this time in the shape of 12.9 rebounds.
All in all, Duncan's NBA career saw him win five Championship titles – the last one coming in 2014 – whilst he made the All-Star game on 15 occasions.
In 2009, the basketball magazine Slam ranked Duncan as 8th among the best basketball players of all time. Sports Illustrated named him the player of the first decade of the XXI century in 2009.
Tim Duncan also tops the list of the best power forwards in NBA history according to BetAmerica. Click here to read more: https://extra.betamerica.com/nba/the-best-power-forwards-in-nba-history/
When he's not balling
Duncan finally called time on his decorated playing career in 2016 but he's hardly struggling for things to do away from the court.
For starters, he has a busy home life with three children from two relationships but on top of that, he also operates two companies.
The first is 'The Duncan Foundation', which was started by Duncan not long after entering the NBA and looks to support amateur sport in San Antonio and back in his homeland.
The 'Duncan Foundation' funds research and education programs, as well as youth sports and recreation in health awareness and research, education, and youth sports and recreation. It supports people in San Antonio, the Virgin Islands, and Winston-Salem (North Carolina).
The other business is a vehicle bodywork shop based near the Spurs training ground. Located in San Antonio, Texas, the BlackJack Speed Shop was founded in 2013.
Both of Tim's projects collaborated in 2017, during Hurricane Harvey, to provide supplies for all families affected by this natural tragedy.
Despite all of this, Duncan still found time for another chapter in his San Antonio Spurs book. He joined the team as an assistant coach last year but vacated his position after just 18 months.
Personal Life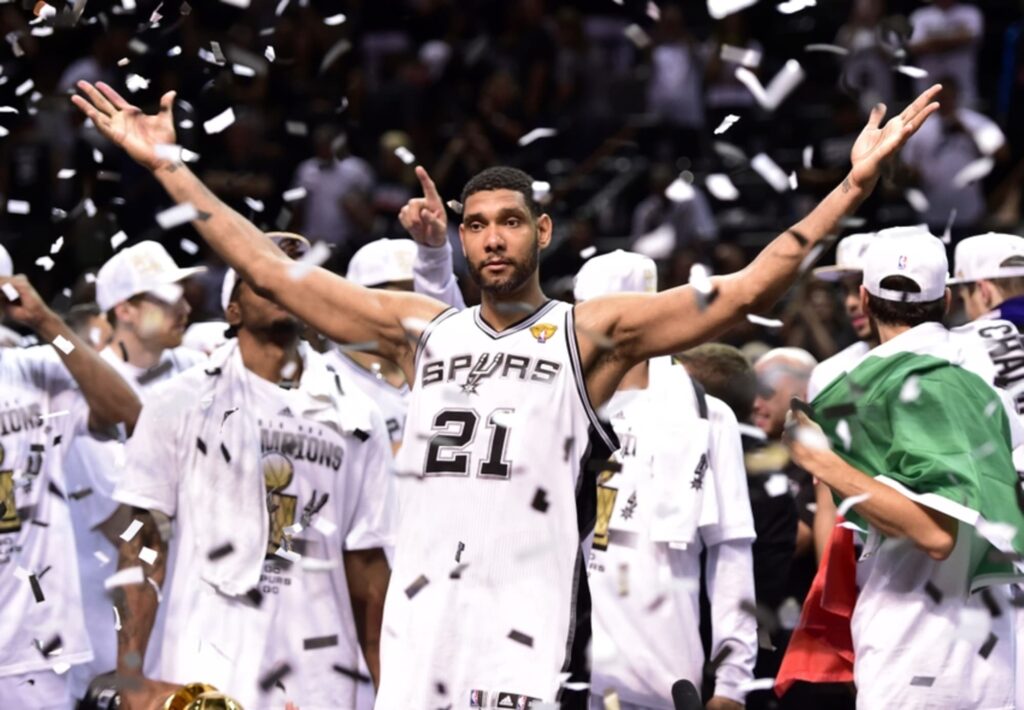 As we mentioned before, Tim has 3 children. Sydney and Draven are from his marriage with Amy Sherill, which took place in July 2001. The couple would eventually divorce in 2013.
Four years later, Tim had a third child, named Quill, with his girlfriend Vanessa Macias.
His personal motto is: "Good, Better, Best. Never let it rest / Until your Good is Better, and your Better is your Best".
This was a nursery rhyme that Tim's mother taught him, and the former Spurs player says that his late mum was also his main inspiration. His basketball childhood icon was former Lakers legend, Magic Johnson.
Duncan was awarded the medal of honor of the Virgin Islands, the highest merit prize given by the territory.
In his spare time, Tim Duncan also assumed he likes to visit Renaissance Fairs and play Dungeons & Dragons.
Closing thoughts
When Tim Duncan retired in 2016, Spurs retired his number 21, which should never be used again. He was the 8th player in the history of the NBA team to have his number retired.
Duncan is one of just a few names that boasts more than 1,000 career wins and when he accepts his place in the Hall of Fame in 2023 there shouldn't be a single person questioning it.
The fact his journey into basketball started so late, just adds further magic to his story. Furthermore, besides having been a terrific basketball player, with lots of titles to cement his legacy, Tim is a really humble individual, who doesn't shy away from helping others in need.
A true example of a human being, which we can all connect with.