Coming up with a unique gift for your spouse is never easy. Whether it is your anniversary, her birthday, or you just want to give her something special, you need to do a lot of thinking to ensure that you are getting the right thing. But, if you cannot come up with anything unique for this year, there is nothing wrong with finding inspiration online. One of the trendier things that you could give your wife as a present is a cigar.
Of course, this only applies if your girlfriend or wife is a smoker. It does not really make sense to give them anything related to tobacco if they do not smoke.
However, if she does, there are so many good gift ideas out there that are specifically focused on this topic.
To help you find the best cigar possible for your spouse, I decided to write this article and create a list of some of the best contenders.
Romeo y Julieta Vintage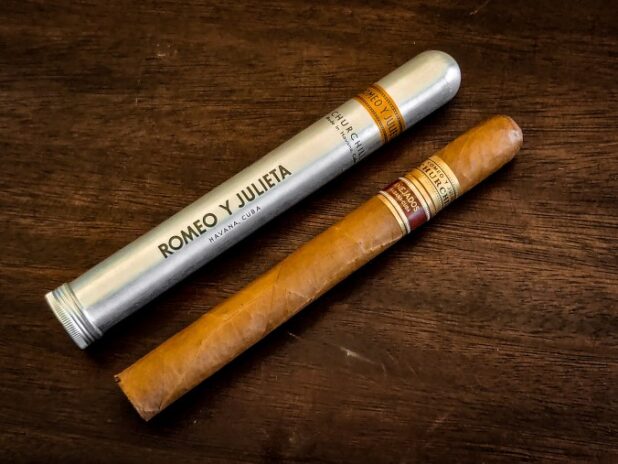 If you are looking for something a little bit traditional, but also affordable, you should probably consider getting the Vintage brand from Romeo y Julieta. These cigars are rolled with Dominican fillers, Ecuadorian Connecticut Shade wrappers, and Mexican binders. It's an all-in-one.
However, the reason why I am putting this on the list is a great gift is because it is the dream brand of every cigar smoker in the world. Your spouse will definitely appreciate it when you show up with a pack of Romeo y Julieta Vintage.
Currently, these products are coming out of Cuba and the Dominican Republic which are the top two most famous places for cigar manufacturing.
It is pretty easy to smoke, it is mellow and not too hard. If you are like is not a very heavy smoker, this might be the perfect option. It also tastes a little bit sweet and woody. Not bad at all.
You could probably get five of these for about $40. If you want to buy a whole box that is probably going to cost you around $200.
Odyssey Sweet Tip Gigante
Of course, if you want something even more affordable and simpler, you could go with the Odyssey brand. These sweet-tipped Odyssey cigars can be a great gift for anyone, especially for your spouse. The wrapper is from Nicaragua, the binder is from Honduras and the filler is Honduran too.
Overall, the strength of the taste is mellow. Reviewers say that the taste is pretty okay, but that the burn is a bit uneven. This can make every next cigar unpredictable, but if your wife does not really care about that that I guess it does not matter.
The tips is also sweetened to make the experience a little bit easier on the smoker.
If you are considering this as an option for a gift, you could try to read more about the product to determine whether this is really the perfect present for your spouse.
Cohiba Connecticut
For those that are looking for something a little bit premium, this is the option. One part of these premium cigars are produced in Cuba while the other in the Dominican Republic.
To get a pack of five of these, you will probably have to pay around $90. That is almost 3 times more expensive than the other options I mentioned in this article.
To make the gift a little bit more special, you could get a box of 20. However, that is going to cost you more than $450. Although at the time of writing this article, the box of 20 is currently on a huge discount of about $100.
Whether that is worth it that is entirely up to you. Again, the strength of the taste is mellow and it is combined with a creamy flavor. While smoking the cigar, you may notice hints of almonds, cocoa, cream, and several other flavors.
If your wife is a fan of mixed flavors in light brown wrappers, Cohiba Connecticut should be your first pick.
Number 6 – Rocky Patel
A bit cheaper than the Cohiba Connecticut box of 20, but it is still over $250. And that is with a discount.
The country of origin for these cigars is Nicaraguan and Honduran. It is top-rated by a lot of experts, so if your wife really knows her way around cigars, this should be high up on your list. In fact, in 2023, it grabbed number ninth spot for the best cigar. That is quite an achievement.
Again, the taste is a little bit sweet with hints of honey, coffee, earth, bread, and vanilla. All of the slavers mixed into one makes for one amazing experience. The overall strength is medium but closer to mellow.
What makes Number 6 even more interesting is the fact that you can sometimes feel the taste of orange peel, black pepper, and something spicy.
Rocky Patel ALR Second Edition
If your wife is not into sweet flavors and she wants something nuttier and chewy, the ALR Second Edition from Rocky Patel is an interesting option.
The overall strength of the taste is medium, but close to full. This one is truly for those experienced smokers.
There is a huge mix of flavors in this product and once you light it up, you will notice all of them. You will notice coffee, specifically espresso, wood, dark fruits, earth, toasted bread, and a few other flavors.
To get this special edition box of 20, you will have to fork around $270.
Keep in mind, this ALR Second Edition by Rocky Patel is very high in demand, so finding the box of 20 in stock is going to prove difficult. Make sure to frequent their store so you can grab the box.
There are probably dozens of other options as a gift that I could have mentioned, but I believe that these five cigars numbered above are some of the most positively rated ones of 2023. They are the perfect gift for a spouse.