Bongs are special devices used for smoking herbal substances like cannabis. It is a variation of the water pipe that not only cools, but also filters the smoke from the burnt herbs before it is inhaled by the smoker.
If you are interested in this device, then you will have noticed that it can come in various sizes, shapes and designs. With these variations can also come a few differences in their operations. Choosing one from the many options available can be confusing. So, in this article, we will be looking at some of the top options for your consideration.
Note that these are just some examples of the weed bongs that you will find. There are many other variations out there. It's up to you to explore if you think you require more options.
1. Bong Dual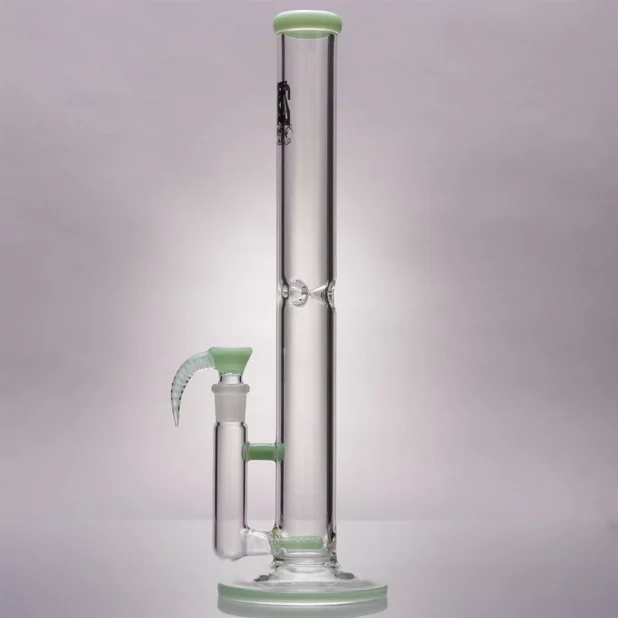 Standing at 23 inches, this is a variation of the freeze pipe bong that offers a two-level filtration system. Regarded as top level product among the freeze family, it offers better filtration and a more efficient cooling mechanism. This is thanks to its upgraded base, UFO percolator, larger glycerin chamber, upgraded glycerin coil and more.
Its major features include:
A showerhead base
High grade borosilicate glass
2-level filtration (showerhead and UFO percolator)
Revolver glycerin coil for a more efficient air flow and ease of cleaning
A large glycerin chamber
18mm bowl
1 hour freeze time
Easy cleaning design
If you love freeze pipe bongs, they you should consider checking this out.
2. Beaker Bong
This is a classic beaker bong that features freeze pipe twist. It includes a glycerin coil that enhances the cooling process, delivering a smoke that is way cooler than anything ice cubes can deliver. The absence of water from melted ice further increases the devices efficiency.
It's made with borosilicate glass, which offers more resistance to thermal shock than any other type of glass. This clearly assures of durability. Add to this the devices ergonomic design and you have a bong that doesn't just perform excellently, but is also convenient and comfortable to hold.
This device features:
A 14mm downstem percolator
A glycerin coil that enhances the cooling process
Easy to clean design
11 inch stature with a 45 degree joint
This is a great device for users who prefer the classics.
3. Mini Bong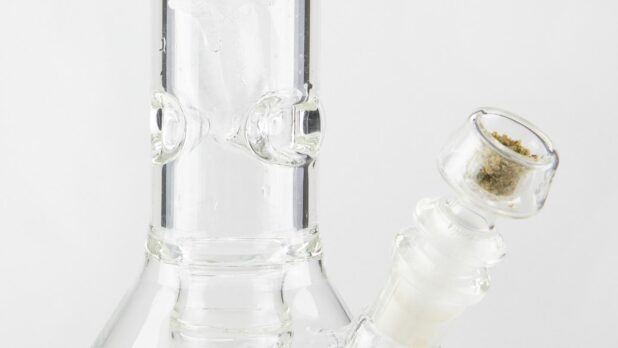 At 1lbs., this is truly a mini bong. Despite its mini frame, it still offers two levels of filtration through its honeycomb percolator and the inline percolator. It doesn't end here as it also features a revolver coil enhances air flow while also making maintenance easier.
This mini bong features:
A compact and portable design for increased convenience
2-level percolation system for a smoother hit
Revolver glycerin coil for a better air flow and easier cleaning
Honeycomb bowl with pipe cleaning burch
Borosilicate glass with a wide base
11.5 inch height and 14mm bowl
This mini bong will be ideal for users who want something that can easily carry around without much fuzz.
4. Tornado Bong
This 15-inch tall bong promises the best of efficiency with as little a fuzz as possible. One of its most interesting features is its multi-directional percolators. While in action, it creates a cyclone effect that's actually efficient as a filtration system. The fact that it's fascinating to look at is just a bonus.
This bong features:
Twin turbine percolators that create a unique filtration system
Ergonomic design with its Z-handle that promotes easy grip
Glycerin chambers that provides enhanced cooling
Revolver glycerin coil for improved air-flow and cleaning
Honeycomb bowl
Borosilicate glass construction.
For increased ease of use without sacrificing efficiency, consider this model.
5. Recycler Bong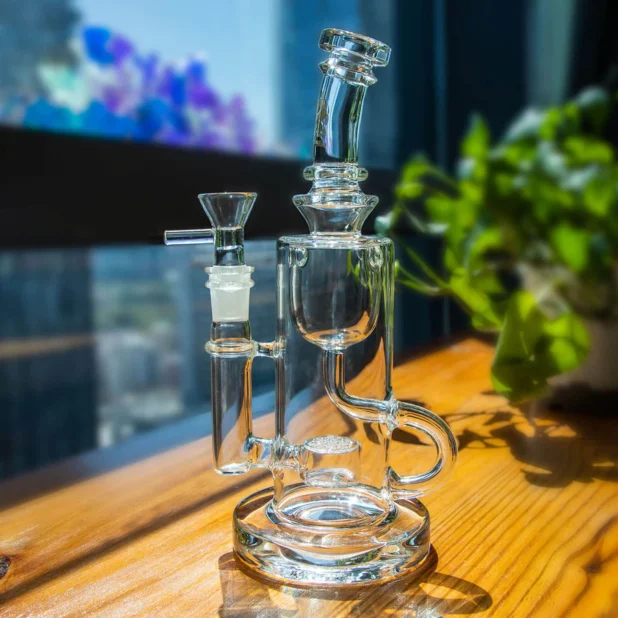 The recycler bong is a highly versatile device that offers its users smoking experience devoid of the discomfort that comes after burns and coughing. By continuously circulating water and smoke, thanks to its recycling system, constant filtration which results in a smoke that is smoother than what many have ever experienced is achieved.
It features:
A recycling water function that enhances air flow
Inline percolator for better filtration and a smoother hit
Upgraded revolver glycerin coil offers even more air-flow
Quick freezing design – Freezes in an hour and stays frozen for much longer
Multi-level cooling design – water and glycerin
High quality borosilicate glass for more durability
17 inch tall with a 14mm bowl
Whether you are smoking flowers or dabs, this is one bong that you will most certainly want to try out.
6. Hammer Bubblers
This hammer-styled glass bong's stand out feature is its highly efficient percolators. As far as filtration goes, these percolators will remove as much irritant causing materials as possible from the system. This will leave you with a perfectly smooth hit. Add to this the glycerin chambers with its quick freezing content that will quickly cool the smoke and you get for yourself a coughing and after burn free inhalation experience.
This bong features:
Powerful percolators for enhanced filtration
Quick freezing glycerin that stays frozen for long
Two-levels of cooling and filtration for a more comfortable hit
5.5inch design with 18mm standard bowl, female joint
Spiral glycerin coil
Six tree-arm percolators
This is an ideal bong for anyone looking for something smaller but packs a punch. Don't be deceived by its seeming smaller size. It will hit you really hard.
7. Bubbler Pro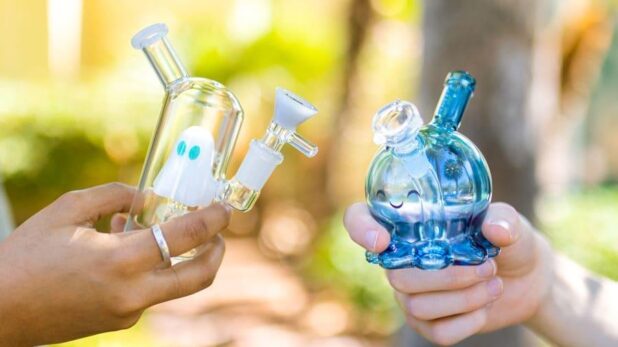 For anyone who loved the bubbler discussed above, then they may just be swept away by the bubbler pro. This bongs still maintains the same 5.5-inch height and 18mm joint. It however ups the game with its upgraded showerhead percolator which improves the filtration process, an upgraded revolver glycerin coil, delivering a more efficient air flow as well as ease of cleaning. In place of the standard bowl present in the bubbler, the pro version comes with a honeycomb bowl which generally makes for a cleaner device.
The bubbler pro features:
A 5.5 inch height
An 18mm joint
Double showerhead percolator
Revolver glycerin coil
Honeycomb bowl
While the price difference between these two may not be much, you are sure to feel the different on your first hit.
The list above is by no means exhaustive. You can check out other types of bongs you can choose at the market.
Conclusion
We've taken some time to review a few cool bongs that you can get right away if you're looking to try the device. If however you're not yet sure whether or not you want to give it a try, take your time and get as much information as you need on the device before finally committing. Whenever you are ready, you'll be sure to find one that will fit your needs the best.