If you're a frequent traveler, smart luggage might be something worth considering. Smart luggage can be convenient, and it's great if you're a technology lover.
At the same time, you have to be careful about the options you choose and whether they have features like a lithium-ion battery, because of the possible explosions. According to chaffinluhana.com, it is quite common for battery explosion lawsuits to take place at court, which is why you need to double check whether this feature is available or you can take your luggage freely on the plane with you.
Below, we provide you with everything you need to know about smart luggage so you can decide if it's a suitable investment for you.
What Is Smart Luggage?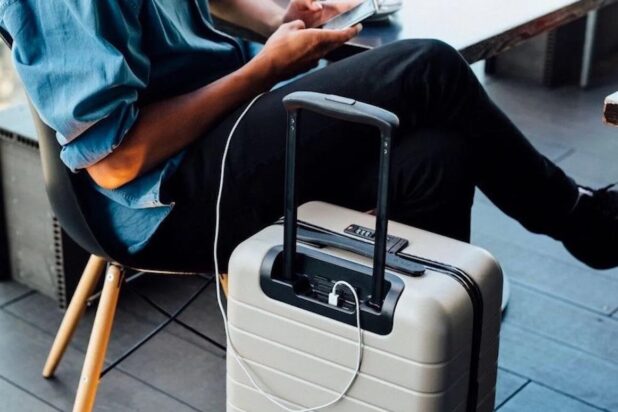 Smart luggage is a broad term that refers to bags that are equipped with certain tech-driven features. However, some airlines have started banning certain types of smart luggage, citing the lithium battery that could potentially explode, creating a security hazard. This has become confusing for travelers because they're often unsure what's allowed and what isn't.
Smart luggage is usually any type of baggage, including suitcases and backpacks, with a built-in battery.
The International Air Transport Association says that smart luggage has a battery to power itself and recharge other devices. The word smart in this context refers to the additional features the bag offers because of the power supply it contains.
Common features included with smart luggage are:
Luggage tracking helps you know where your bag is at any given time thanks to the use of an app. The way the luggage is actually tracked depends on the brand. It might be Wi-Fi, GPS or Bluetooth for example. If you were to lose your bag or it was stolen, having this feature can be pretty helpful. Plus, if your luggage got lost by the airline in transit, you can pull up your app and figure out where it is.
Auto-locking and unlocking features controlled by Bluetooth are increasingly common on smart luggage. The locks function with an app, and some of these suitcases also have an auto-locking feature. For example, if your bag is outside of the range of your phone, it may lock itself. The locks are also TSA-approved, so they can get into them if they need to with a master key.
Built-in digital scales can save you the hassle of having to take things out of your bag at the ticket counter. When your luggage is equipped with a digital scale, you can check how much it weighs with a mobile app. You won't have to pay those exorbitant overweight fees or scramble at the last minute.
Some types of smart luggage have a drop-drown tray, which isn't necessarily high-tech, but it is convenient if you want to do work on the go and can't find an empty table.
There's baggage with RFID-blocking technology in the interior pockets. So what exactly is this? RFID stands for Radio Frequency Identification. These RFID-blocking products can prevent electronic pickpocketing. You can protect your personal information that's on your passport for example.
The most frequently seen feature of smart luggage is built-in power banks. You can charge all of your electronics no matter where you are.
There's also motorized luggage that you can ride on through the airport. These bags come with removable lithium batteries, and while motorized suitcases do typically follow TSA rules, you might still be questioned by security.
Is Smart Luggage Banned?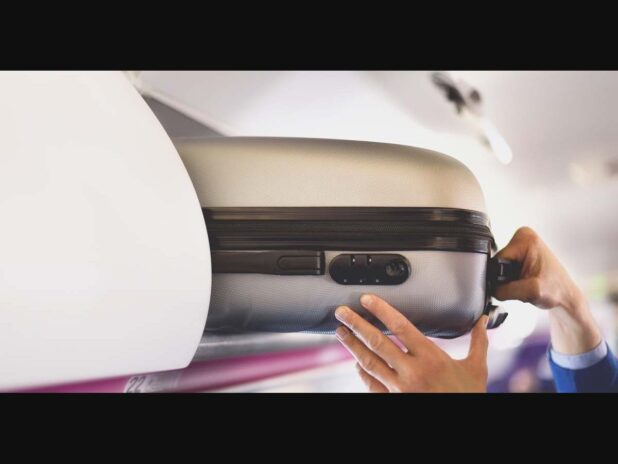 Now here's the big question—if you spend money on a high-end smart bag, are you even going to be able to use it?
The smart luggage that's banned has non-removable batteries. As long as you can remove the battery, you can carry your luggage onboard a plane. The removed battery can't be checked. This rule applies to lithium-ion and lithium-metal batteries, but not traditional batteries.
You can also only have 100 watt-hours on a lithium-ion battery and two grams of lithium metal if you have something with a lithium-metal battery.
It wasn't until 2017 that the use of smart luggage started to be questioned because until then it was new technology. In 2015, major airlines banned hoverboards on planes because of the potential for spontaneous fires to start due to the lithium-ion batteries, which created a cascading effect.
In 2016, the TSA announced they were banning Samsung Galaxy 7 phones on all planes because of a manufacturing issue leading to fires.
Then airlines started to take notice, and now they're especially cautious about anything that has a built-in lithium battery. If you have smart luggage with a battery you can't take out, just remember it's essentially useless if you fly.
Popular Brands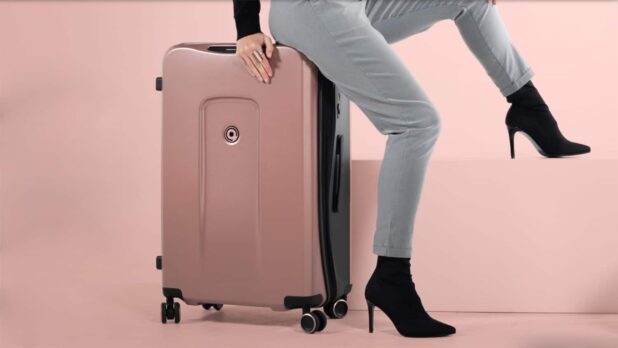 Away Luggage is one of the most popular baggage brands in general, and their bags do have some smart features. The company has carry-ons, checked bags and kids' suitcases and they're all made from durable aluminum or polycarbonate. They have a lifetime warranty, and you can take the battery out.
Away features a sleek design, and former executives from Warby Parker founded the company. The Bigger Carry-On is an excellent option because it gives you a lot of interior space but still fits into the overhead bins.
Andiamo luggage is great if you want RFID-blocking technology, and there's also a USB port. You have to provide your own removable battery if you go with this option.
The Samsara bag is perfect if you're truly a lover of all things technology. It features an LED light system and Bluetooth sensors that let you know when your bag is opened. There are two USB ports, and the flat top works as a shelf for your laptop. It's also lightweight compared to other aluminum alloy bags.
Finally, the Modobag was a viral hit recently. It's the first motorized suitcase globally, and it will give you a ride to the terminal. There are LED light controls, tracking controlled by an app, a proximity alert, and two USB ports. It also has an extensive riding range of up to eight miles.
The Modobag does come with a high price tag for all that convenience, however.