After spending so much time curled up on your sofa through the darkness and cold of the less enjoyable months, it's time to refresh your space for the summer. Clean, bright, comfortable, and natural is the theme for a light and fresh summer look. Now that Covid restrictions are easing and vaccinated people begin again to gather with friends indoors after more than a year apart, it is so important to have a beautiful and welcoming space in which to host visitors from near and far.
1. It's never too late for spring cleaning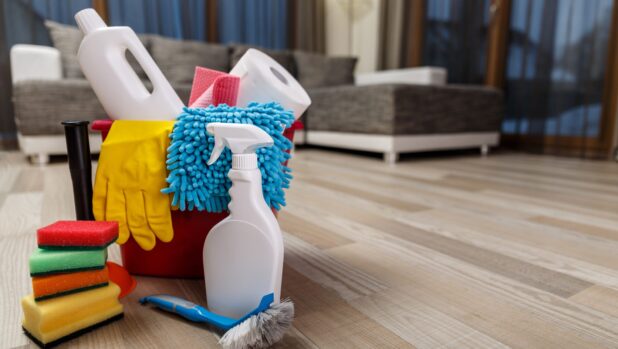 Clear off the stack of old magazines from the coffee table, dig out the duster and vacuum from the cabinet, and start tidying up! The first steps to making space feel truly refreshed are decluttering and deep cleaning. Check out this spring cleaning checklist for tips and tricks to make your space shine. Throw out the things you don't need, put away the things you never use, and reorganize your space. Once that's done, it's time to change out your dark, heavy winter blankets for lightweight ones and to change or wash your pillow covers.
2. Brighten up your space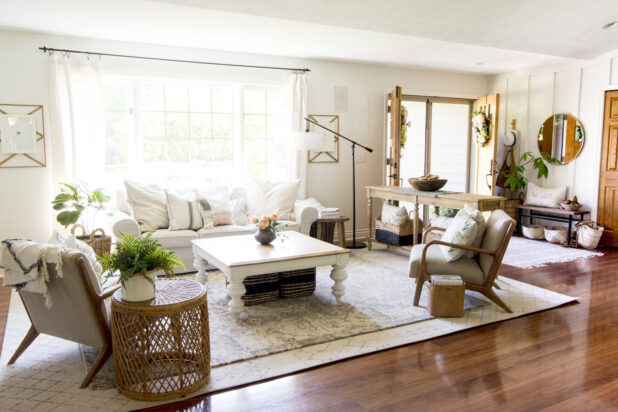 Are your dark and scuffed walls bringing you down? Maybe it's time to paint. Look at neutrals or pastels for wall color. Remember that the small sample square of a color that's just a touch too pink or blue will look glaring so once it's coating all four walls from floor to ceiling. A fresh coat of paint can truly transform a space. Details such as an accent wall, wainscoting, or painting baseboards or door frames a different color can also liven up your space.
Another way to brighten your space is to add decorative lighting. Replacing burnt-out incandescent bulbs with LEDs can brighten your space while reducing your energy consumption and the frequency with which you have to change the bulbs. Adding floor lamps or installing recessed lighting, wall sconces, or a chandelier can also brighten your space.
Nothing says summer quite like sunshine. If you're fortunate enough to have plenty of natural light in the summer, capitalize on it. Pull up the blinds and change out heavy drapes for light and breezy sheer curtains to let the light in. Hang a mirror and watch as the reflected light fills every last inch of your space with sunlight.
3. Is it time to replace the largest pieces in the room?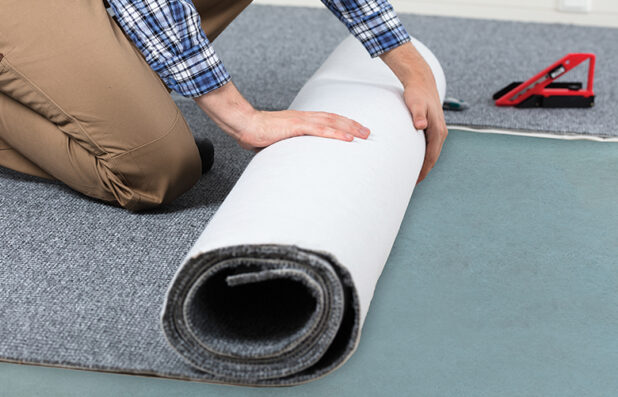 Is your stained, smelly, saggy, dark, and heavy-looking carpet or couch ruining your now otherwise light and open space? Have a peek here to get it cleaned. As the largest items in the room, your area rug and couch have the biggest impacts on the feel of your design. Washing or even steam cleaning may lighten the stains and smell but the worn and pulled shag rug and sagging couch cushions will keep you from true style and comfort.
Instead, consider replacing your rug with a new one and your sectional with a modular sofa. Modular sofas allow you to customize the size and shape of your new couch so that you can create the perfect piece for your refreshed space. With water and stain-resistant fabrics that are suitable for outdoor furniture as well, it's never been easier to relax on your sofa without worry after a long day spent in the great outdoors.
4. Go green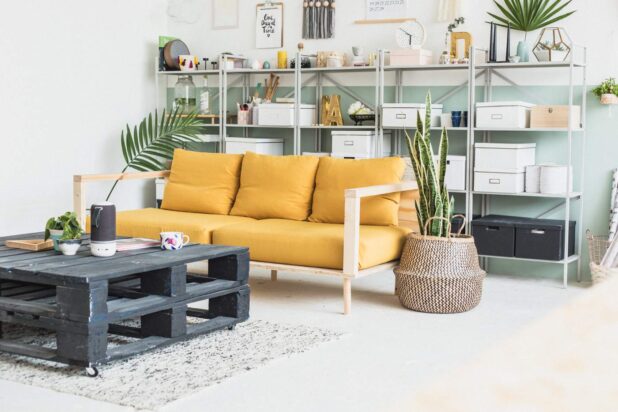 Not only is dark green the trending color this season, but embracing mother nature this summer by adopting eco-friendly changes is a great way to celebrate this beautiful season. Use reusable straws for fruit smoothies. Switch to efficient LED bulbs to keep your space bright while reducing your energy consumption and saving on your bill. Choose sustainably made soft textiles for any replacement blankets or pillows; bamboo, cotton, hemp, linen, cashmere, wool, leather, and even banana fibre textiles are now available.
Offering various feels, looks, durability, wear patterns, costs, and uses, consider turning to natural fabrics for drapes, furniture, blankets, and more. These high-quality clothes will bring an element of luxury to your cozy space. Install a ceiling fan in common spaces and open windows for a cross breeze instead of blasting AC in your entire home. These simple changes are both cost-effective and will help save the planet.
Repurposed items can also bring colors, patterns, and textures into your space sustainably. You can either repurpose items in your home for which you have no use or go out and find some as inspiration for your next DIY project. Use an old sugarcane press as an entry table, an antique fish mold as shiny decor, an old medicine cabinet as living room storage, turn axe handles into stools, or old glass railroad insulators into modern pendant lights. A mix of old and new is a beautiful way to mix practicality with history in a design that embraces both who you were and who you are today.
5. Bring the outside in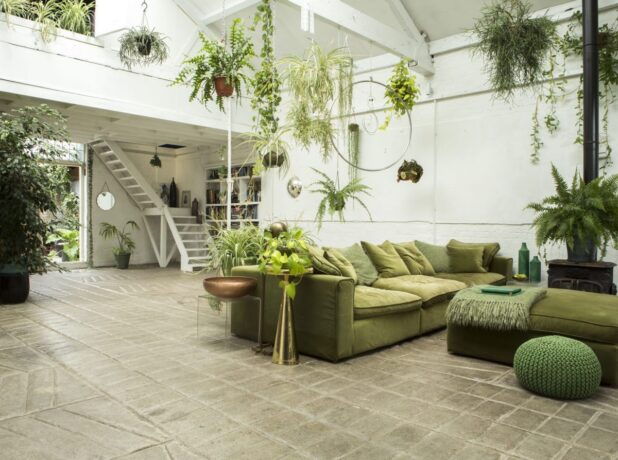 Add plants to bring the outdoors in and add a pop of dark green–this season's trendy color–to your space. It's the easiest way to feel that spring has sprung and summer has begun. If you have a green thumb, a houseplant can bring life into your home. Find suitable indoor houseplants and learn how it can go along well with your home interior design here. If you're someone who can't seem to convince a houseplant to stay green or if you have a long vacation planned, succulents can be a safe bet. The safest bet of all, for those not looking for that level of responsibility and commitment, is to introduce greenery through peel-and-stick leaf wallpaper, art, or pressed flowers. Display a shell from a recent outing to the beach and open your doors and windows to bring in fresh air and the beautiful smells of summer.
Now it's finally time to enjoy your hard work. Light the lovely scented candle that's sitting forgotten in the back of a cabinet, make a jug of ice-cold lemonade, and welcome your friends into your newly refreshed space.