The online casino industry is becoming increasingly popular as more and more of the world becomes digitised. Like with any industry, gambling has taken much of its business to the Internet, and many people find it far more convenient to gamble from the comfort of their own homes.
However, many gambling veterans and casino enthusiasts make the argument that an online casino can't match the atmosphere and feeling that a physical, land-based casino provides. Many of these veteran gamblers get dressed in their nicest suits and head to the casino and play their favourite casino games.
But the industry continues to shift and grow, in spite of the attitudes of veteran casino goers. The industry experts understand the profit potential that exists in moving the gambling industry online.
Many newcomers to gambling and casinos are also from younger generations, that have grown up during the digital era. Gambling online for younger audiences feels more natural, and it makes sense for them to prefer an online platform over a brick-and-mortar casino.
But which is actually better? What are the pros and cons of gambling online vs. gambling at a physical casino? This article will break down the arguments for both so that you can choose between gambling online or going to your local casino. Let's jump into it.
Online Casinos are More Convenient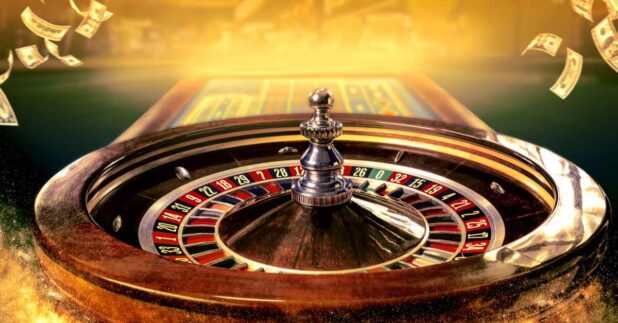 One of the most obvious answers in favour of visiting online gambling platforms over land-based casinos is the convenience factor. This is the main draw of digitising any industry – the fact that having everything online means you don't ever have to leave the house.
Being able to gamble online means that you can stay in your most comfy pyjamas, turn on your computer or your tablet, and simply log onto an online casino. From there you can play all your favourite casino games from slot machines to blackjack, roulette, and poker. All the games that you can play at the local casino will be available from the comfort of your own home.
This convenience factor is a massive draw that contributes to the rapid growth of the online gambling industry. Many experts predict that online platforms for gambling will be far more profitable than physical casinos if they are not more profitable already.
The Social Aspect of Gambling
One of the biggest losses of choosing to gamble at an online casino is the fact that you lose the social aspect of gambling. Many veteran gamblers argue that one of the main draws of visiting the casino is the fact that you can meet other gamblers, network with wealthy people, and simply get out of the house.
Gambling online means that you'll be gambling on your lonesome. It's just you, your computer, and your favourite casino games. Now, for some of the newer generation of gamblers, this may sound perfect.
Not having to interact with other people may relieve some of the pressure that many newcomers to casinos may feel when they visit for the first few times. However, for long-time casino visitors, gambling online may just not feel the same.
One must also consider the progress being made with virtual and augmented reality technology. Soon, all you'll need to do is pop your headset on and visiting an online casino may feel just like visiting the real deal physical casino.
Whether or not these advances in VR technology will kill the physical casino industry as a whole is yet to be seen.
The Variety of Games is Larger Online
Physical casinos have the restriction of physical space. This is just a matter of fact. A casino owner can only fit as many games into their casino depending on the size of the venue. The number of games available for patrons is restricted by the size of the building.
This is not a problem that faces the online gambling world. An online platform can store as many games as they want and provide a larger variety of games to their patrons. This is showcased by the fact that most online casinos stock thousands and thousands of slot machines for their clientele to choose from.
You'll notice that when you visit Black Lotus online casino, the choices for the games that you can play will truly be endless. You'll never run out of games to play, and you'll never get bored. Who knows, you may even find games that you've never heard of before.
Before you know it, you may have a few new favourites when gambling that you never thought you'd be playing before. This is undoubtedly one of the largest benefits of the online gambling world that is drawing in so many new gamblers.
Many online gambling platforms even offer sports and esports betting options for their customers. This means that you'll be able to diversify your gambling and create more pathways to make big winnings.
Security
One of the major issues that many veteran gamblers have when deciding to gamble online is the issue of security. Many gamblers are worried that by signing up for an online gambling platform they may be exposed to cyber-attacks and hacks, due to the online nature of the industry.
This worry simply does not exist when visiting a local, in-person casino.
The worries surrounding the security of online gambling platforms are understandable, even if they are rather unfounded. Many online gambling platforms employ harsh security measures such as two-factor authentication and encryption methods to keep their patron's money and data safe.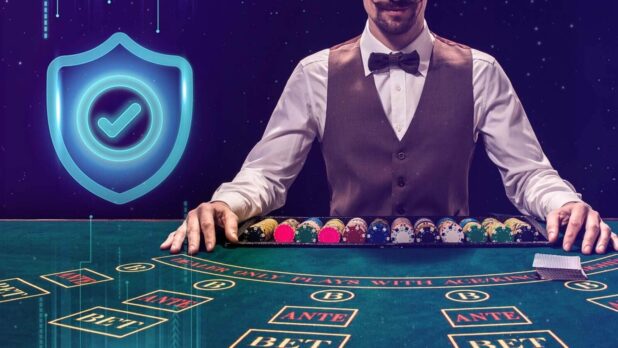 The Bottom Line
There are strong arguments for both sides of the online gambling vs. physical casino debate. Online casinos are far more convenient, while land-based casinos have a stronger social aspect as of right now.
Many people also worry about the security considerations surrounding gambling online, even though many online platforms take the necessary action to keep their patrons safe.
All-in-all, online casinos are here to stay and are, in fact, growing at a rapid pace. If you're a veteran gambler, or a newcomer to casino visiting, an online platform may be the way to go, for the future.