With the coronavirus pandemic beginning to abate and our lives beginning to return to normal, a lot of us are incredibly excited about the prospect of getting back to our favorite activities.
For many, that means the chance to eat out at a great restaurant. But what makes a restaurant great? Clearly, the menu offered by an establishment plays a part, the variety of dishes and the creativity involved in the process, plus of course, the quality of the food itself.
Some are especially keen on having an outstanding level of service when it comes to the key ingredients of a top-quality restaurant. Another hugely important factor comes in the form of the design and decor of the restaurant in question.
It's an area of the industry that has become more and more crucial, and one imagines that in a post-COVID-19 era, it's something that will become all the more critical as the numbers of us venturing to restaurants are likely to be low for the foreseeable future. This will lead to a massive battle from restaurants for our business.
Here are a number of critical elements when it comes to restaurant interiors.
Furniture, Fixtures, and Fittings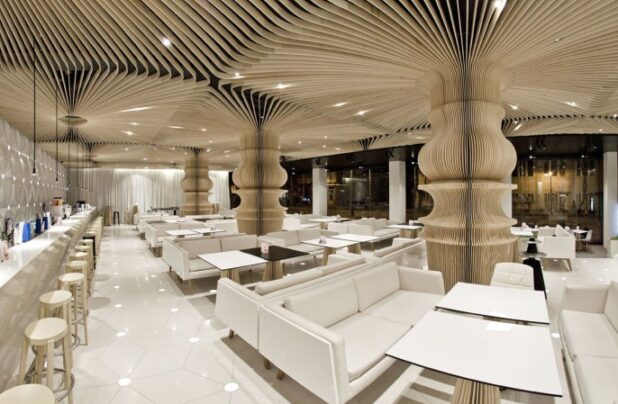 Some people make the mistake of thinking that the interior of a restaurant, and the excellence of this factor, only relates to high-end eateries, but it plays a part in every single restaurant you care to mention.
No one wants to go and eat in a location that isn't designed well and isn't fit for purpose. You may be surprised just how much effort and planning goes into the furniture, fixtures, and fittings that make up a restaurant interior. The restaurant furniture is essential when it comes to reflecting the values and ethos that the owners are trying to put across and here is a good place to start when it comes to stylish purpose-built solutions to your restaurant's specific needs in this department.
If the restaurant is expensive and minimalist in nature, then everything about the place must key in with that mindset. Similarly, if the idea is that the restaurant is more down to earth, perhaps selling soul food and is deliberately more 'homely, then the set-up will have to reflect that way of thinking.
Spacing
Gone are the days of squeezing as many diners as possible into your restaurant. In the current climate, it's key to give people space, and this may be all the more relevant if restrictions come back into play, if another lockdown of sorts occurs.
Again the approach to the layout of tables and chairs should be in line with your overall design and shouldn't be just an afterthought or an exercise in reaching capacity. If your restaurant is more family-centric, your spacing will be a certain way, while if it's a more romantic-leaning aesthetic, the spaces may be more exaggerated.
Acoustics
This is a factor that a great many restaurants don't pay enough attention to. As well as being an attractive proposition on the eye, your eatery should also be attentive to the ear. In large spaces, this can be surprisingly problematic.
Some locations are very tinny in terms of their acoustics, and others don't allow sound to travel at all, leading to even a sparsely attended restaurant sounding as if it's full to the brim and not in a good way. Do the relevant research and planning to make sure you hit a happy medium. Music can play a crucial role in creating the right ambiance for a restaurant, especially when dealing with challenging acoustics. Many establishments have turned to the restaurant streaming industry to provide them with curated playlists that match their brand and vibe, while also ensuring that the sound quality is optimized for their particular space. By utilizing the services of a restaurant streaming provider, owners can rest assured that their guests will be able to enjoy the right music at the right volume without being overwhelmed by the acoustics of the space.
Lighting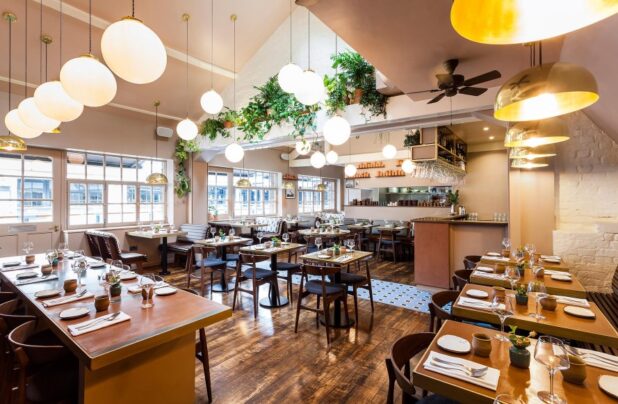 Lighting is key to indicating mood. The way you choose to light your restaurant will say a lot to a prospective diner. The moment they walk into the place, they'll get a sense of the type of place you are running.
Maybe you'll choose a dimly lit approach, or you may, depending on the location of your restaurant, opt for more of a natural light path. The mode of lighting is also important; you could select highly decorative forms of lighting or maybe a concealed LED appearance.
Whatever you choose, it should be in line with the overall look and feel as otherwise; it could knock your whole style scheme off-kilter.
Detailing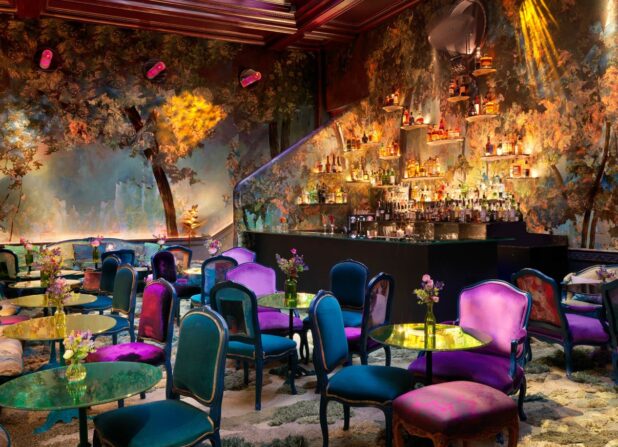 Sometimes it can be all about the detailing. If you think of your restaurant as a brand, then the little touches you make in terms of your interior could be a great way to leave an indelible mark on your patrons.
Try to go for some bespoke touches and a splash of the unique, something to remember your restaurant by. This kind of thing makes diners sit up and take notice. We'd strongly suggest you get a relevant agency or assistance for this and don't try and wing it.
These elements of detailing may relate to menu design, style of cutlery, or the motifs you opt for in your wall space designs. Effectively these act as a kind of reinforcement of your restaurant's spirit and character.
Don't Forget the Exterior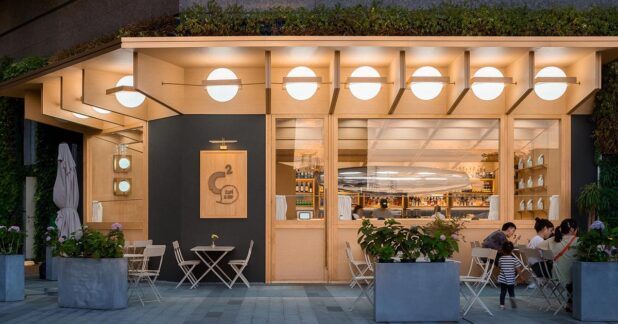 In 2023 and beyond, the exterior will prove more and more important to restaurants up and down the country. Those who had large outdoor spaces found dealing with the guidelines and restrictions of COVID far easier, and it's always good to have more than one option when it comes to accommodating your customers.
Either make the most of the outdoor space you have or look to re-design and plan for having as much as you can logistically deal with. Eating outside is going to become more and more popular, and depending on the location of your restaurant (in terms of weather and conditions), you'll have to plan accordingly.
The outdoor area offers you more room to breathe, both literally and figuratively, especially if further waves of the virus affect the business negatively.
Plan, Plan, and Plan Some More
Whatever you are doing in terms of your restaurant's design, you should make sure the decisions you make are the result of informed research. Don't be complacent. Don't, for one second, think that having a great chef and amazing food to offer your diners is enough.
The way your customers feel before, during, and after they consume your meals is key to whether they come back for more. A great dining experience will result in a loyal customer, and in the current situation, these are unicorns and should be treated as such.