Born on October 4, 1861, in the United States, Frederic Sackrider Remington was a painter, illustrator, sculptor, writer, and expert in Western American Art. Cowboys, American Indians, and the US Cavalry are among the subjects of his paintings that portray the Western United States in the final quarter of the 19th century. On December 26, 1909, he passed away.
His paintings of the American West are what made him most well-known. He was raised in upstate New York and was born in Canton, New York. Remington pursued his studies in art at Yale and later in Paris. He became a successful illustrator and worked for various magazines, including Harper's Weekly. He also created a series of bronze sculptures depicting scenes from the American West, including cowboys, American Indian warriors, and horses.
This article will explore the famous artist Frederic Remington's final years and last paintings. The focus will be on the latter years of his life and the final paintings of his illustrious career. Read on to learn more about Frederic Remington's art.
Remington and The West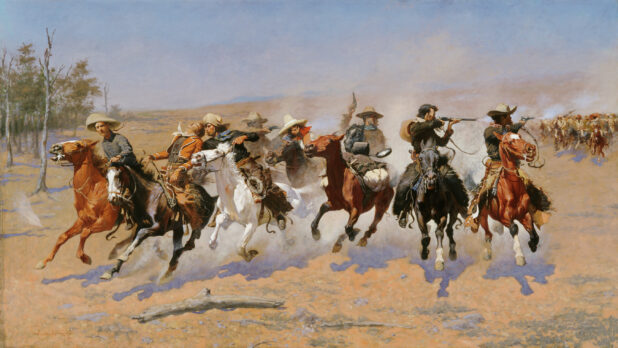 Midway through the 1880s, his career took off when he started creating western pictures for Harper's Weekly and many other well-known New York periodicals. With both true and fictional stories of the Old West, Remington's images provided the eastern public with visual knowledge. He received recognition and respect for the correctness of the details in his work.
Many people believed-and still believe-that he was a westerner, if not a soldier or a cowboy in his own right. In actuality, he was an Easterner who shared his audience's fascination with the subjects he painted.
Famous artist Frederic Remington frequently traveled to the west. He cherished the notion of the frontier and had the utmost respect for the tough and brave cowboys and soldiers he encountered there. As a journalist and illustrator, he was delighted to get to know them, learn about their lives, and follow them during his visits. Among other things, he admired them for appearing unfazed by the many aspects of frontier life that Remington himself could only just tolerate, such as the meager and sparse "grub", the protracted horseback rides, and the lengthy intervals between bathing.
Remington gathered an enormous amount of stuff on these journeys to utilize as props in his New Rochelle, New York, workshop to produce convincingly detailed drawings, paintings, and bronzes. Using a camera, he created his images for note-taking rather than as works of art. He purchased many readily accessible western landscapes and Native American portraits. He kept sketchbooks with him and drew everything, from far-off horizons to the specifics of the creases on leather boots. He had a unique bond with and love for the American West.
Early Career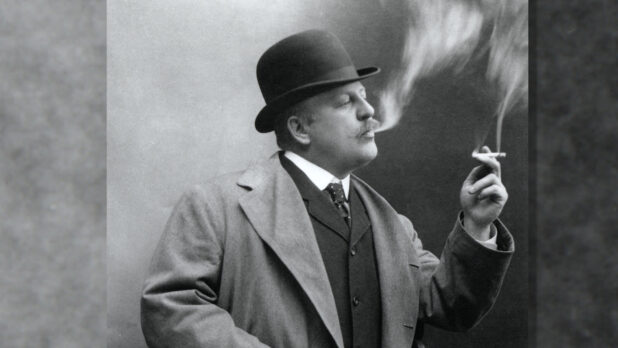 Frederic Remington's early career was focused on illustration. He studied at the Yale School of Fine Arts and later in Paris but found limited success as a painter. So he turned to illustration and quickly became known for his dramatic and action-packed depictions of the American West, which were published in magazines such as Harper's Weekly.
Remington's illustrations captured the rugged spirit of the West and its people, including cowboys, American Indian warriors, and horses. His illustrations were so popular that he became one of the most sought-after illustrators of his time. This success led to a demand for Remington's art and allowed him to establish himself as a respected and successful artist in the early years of his career.
In 1890, he held his first one-man exhibition at the American Art Galleries, which included twenty-one works. With success virtually guaranteed, Remington established himself in society. His character, "pseudo-cowboy" speech pattern, and "Wild West" reputation were powerful social draws. Unfortunately, his biography erroneously supported some of the misconceptions he spread about his adventures in the West.
Journey to Cuba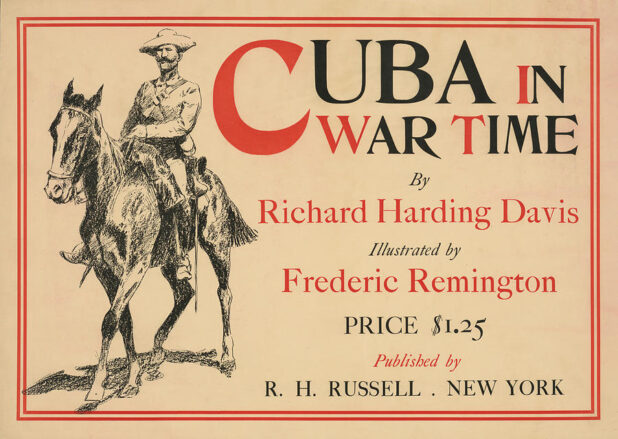 Richard Harding Davis, a famous journalist who was a friend and supporter of Theodore Roosevelt, and Remington were sent to Cuba together. Since Cuba seemed to be tranquil, they had nothing to report. This resulted in the well-known but possibly fictitious telegram exchange between Remington and Hearst that reads as follows:
"Everything is quiet. There is no trouble. There will be no war. So I wish to return".
"Please remain. You furnish the pictures, and I'll furnish the war".
He had quite an experience in Cuba, eventually. As in his Scream of the Shrapnel (1899), which depicts a fatal ambush on American forces by an unidentified adversary, his comments and sketches upon his return focused not only on the troops but also on the brave generals.
Last Paintings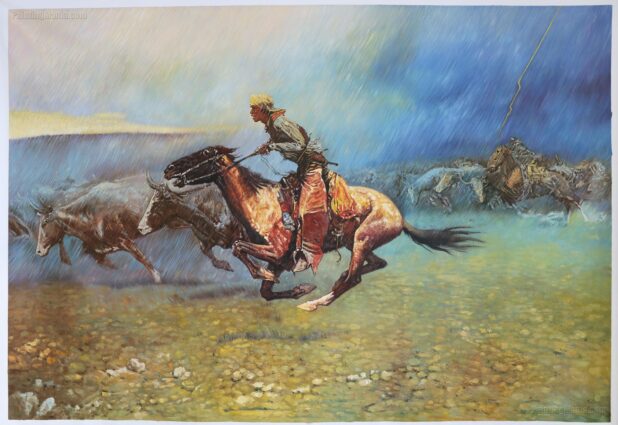 Frederic Remington's last paintings were completed in the late 1890s and early 1900s, near the end of his life. Some of his most notable works from this period include "The Outlaw" (1900), "The Signal" (1902), and "The Scout" (1908).
These works continued Remington's tradition of depicting the American West and its people, including cowboys, horses, and the American Indian. Despite his declining health, Remington continued to work until his death in 1909.
His final paintings are considered some of his best works, showcasing his artistic skill and deep understanding of the American West. These works remain highly valued by collectors and fans of Remington's art today.
Final Years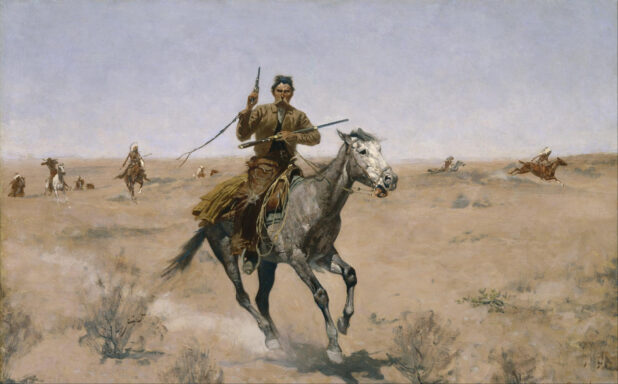 Frederic Remington's final years were marked by declining health and financial difficulties. Despite his success as an artist and illustrator, Remington struggled with alcohol and had several health problems, including a heart condition. Yet, despite his struggles, he continued to work, producing some of his best-known paintings and sculptures. During this period, he focused on capturing the rugged spirit of the American West and its people, including cowboys, horses, and American Indian warriors.
In his final years, Remington was with lots of financial difficulties. The declining popularity of illustrations and the increasing competition from other artists made it difficult for him to maintain his success. He attempted to branch out into new areas, including advertising and film, but these ventures were unsuccessful. Despite these challenges, Remington remained dedicated to his art, and his final works are considered some of his best. He died in 1909 at 48, leaving behind a legacy that continues to influence artists and shape the way the American West is depicted in popular culture.
Conclusion
In summary, Frederic Remington played a key role in the late 19th and early 20th-century art world. His depictions of the American West in sketches and paintings helped to shape how it was seen in popular culture by capturing its energy and drama. Despite his deteriorating health and financial challenges, Remington produced some of his most well-known works during his final years. His legacy still inspires artists and shapes how the public views the American West today. He is regarded as a gifted and committed artist who significantly contributed to American art and culture.